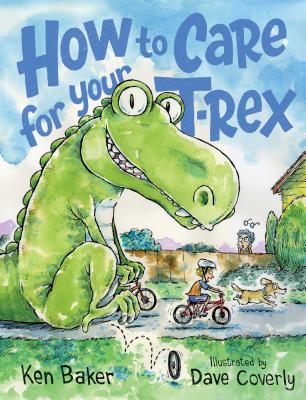 How to Care for Your T-Rex (Hardcover)
Henry Holt and Co. (BYR), 9781250137517, 36pp.
Publication Date: April 30, 2019
* Individual store prices may vary.
Description
Find out how to babysit a dinosaur in this very funny read-aloud picture book.
There are a few important things to know about your pet T-Rex:
What does it like to eat? Your T-Rex will eat approximately 300 pounds of food each day. Where will it have space to exercise? Your T-Rex can cover fifteen feet in a single step. How do you brush its many teeth? Especially when those teeth are nine inches long.
And, most of all, how do you show your T-Rex that you love it? Get ready for a day full of giant adventures in dinosaur care!
Christy Ottaviano Books
About the Author
DAVE COVERLY is a nationally syndicated cartoonist whose Speed Bump cartoons appear in more than 200 newspapers, including The Washington Post, the Chicago Tribune, and Parade magazine. He lives in Ann Arbor, Michigan.
Praise For How to Care for Your T-Rex…
"Baker offers general guidance on how to keep a dino-pet (or many other sorts) fed, clean, and well-behaved . . . In loosely drawn cartoon scenes the illustrator tucks an inconspicuously diverse cast of small human figures—the children excited, the grown-ups mildly dismayed—around a humongous green Tyrannosaurus rex. A playful twist on an ever popular theme."--Kirkus Reviews