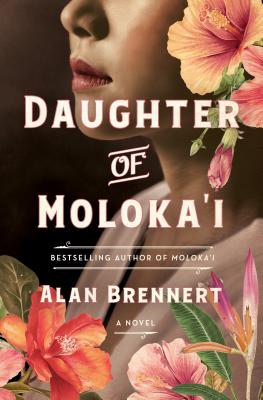 Daughter of Moloka'i
A Novel
Hardcover

* Individual store prices may vary.
Other Editions of This Title:
Paperback (1/7/2020)
Library Binding, Large Print (4/8/2020)
Description
NOW A LOS ANGELES TIMES BESTSELLER | NAMED A BEST/MOST ANTICIPATED BOOK BY: USA Today • BookRiot • BookBub • LibraryReads • OC Register • Never Ending Voyage

The highly anticipated sequel to Alan Brennert's acclaimed book club favorite, and national bestseller, Moloka'i

"A novel of illumination and affection." —USA Today

Alan Brennert's beloved novel Moloka'i, currently has over 600,000 copies in print. This companion tale tells the story of Ruth, the daughter that Rachel Kalama—quarantined for most of her life at the isolated leprosy settlement of Kalaupapa—was forced to give up at birth.
The book follows young Ruth from her arrival at the Kapi'olani Home for Girls in Honolulu, to her adoption by a Japanese couple who raise her on a strawberry and grape farm in California, her marriage and unjust internment at Manzanar Relocation Camp during World War II—and then, after the war, to the life-altering day when she receives a letter from a woman who says she is Ruth's birth mother, Rachel.
Daughter of Moloka'i expands upon Ruth and Rachel's 22-year relationship, only hinted at in Moloka'i. It's a richly emotional tale of two women—different in some ways, similar in others—who never expected to meet, much less come to love, one another. And for Ruth it is a story of discovery, the unfolding of a past she knew nothing about. Told in vivid, evocative prose that conjures up the beauty and history of both Hawaiian and Japanese cultures, it's the powerful and poignant tale that readers of Moloka'i have been awaiting for fifteen years.
Praise For Daughter of Moloka'i: A Novel…
2019 LibraryReads PICK | Austin Women's NINE BOOKS ON OUR SUMMER READING LIST | BookBub's 12 HISTORICAL FICTION NOVELS WE LOVED IN 2019
"This captivating novel beautifully depicts both Hawaiian and Japanese cultures while exploring the themes of family and growth, and how our past influences our future." —Book Bub
"Tracing the lives of a daughter and mother, Daughter of Moloka'i offers an intimate look at the experience of Japanese Americans growing up in California during WWII. It's beautifully written and I learned so much about a dark period of U.S. history." —Courtney Runn, Austin Women
"Book a long weekend for this one and hold the calls, please." —Honolulu Magazine
"Alan Brennert does more than deliver the long-awaited sequel to has 2003 bestseller, Moloka'i....Brennert's polished work extends an evocative, emotionally rich family saga to an important moment in American history." —USA Today
"The reunion and blossoming relationship between mother and daughter is rooted in a deep love of Hawaii. Have tissues at hand." —National Geographic
"A stirring story that's destined to join its predecessor on bestseller lists." —The Toronto Star
"A moving story of love, loss, and family bonds." —The Orange County Register
"[An] emotional, gripping sequel to Brennert's Moloka'i...In Brennert's skilled hands, Ruth's story is powerful and urgent." —Publishers Weekly
"Strikes all the right emotional notes.. A historically solid, ultimately hopeful novel about injustice, survival, and unbreakable family bonds." —Booklist
"Compelling … will be welcomed by readers." —Library Journal

"Vivid...The pages are filled with love, sadness, family history and our history." —The Bozeman Daily Chronicle
"Alan Brennert excels at uncovering the intersection of the big movements of history with the personal stories of ordinary people. He writes with compassion and beauty about both the history of Hawai'i and of the human heart." —Tatjana Soli, author of the The Lotus Eaters

"Daughter of Moloka'i brings to the reader the same heart-wrenching emotional engagement as its predecessor, but also adds another dimension as we witness the differences between the cultures of Hawaiians and Japanese." —Andy Ross, former owner of Cody's Books in Berkeley
"If you enjoy Moloka'i, don't miss the new sequel, Daughter of Moloka'i, which follows Rachel's daughter. Although it's mostly set in California with a focus on the internment of Japanese Americans during WWII, it also features Honolulu and Maui." —Never Ending Voyage

Praise for Moloka'i:

"Alan Brennert is a brilliant scriptwriter. He's an even better novelist." —George R.R. Martin
"A dazzling historical saga." —The Washington Post
"Filled with original, fully realized characters who walk right off the page and into our hearts." —Jim Fergus, author of One Thousand White Women
"Beauty emanates from this poignant historical novel . . . The exquisite splendor of the setting complements the shining portrayal of the human spirit." —The Huffington Post
"I cannot shake the power of [this] epic novel . . . combining deep historical research with a fired imagination." —Dan Barry, author of The Boys in the Bunkhouse, in Commonweal Magazine
"A haunting story of tragedy in a Pacific paradise." —Robert Morgan, author of Gap Creek
"Alan Brennert draws on historical accounts of Kalaupapa and weaves in traditional Hawaiian stories and customs . . . Set against the backdrop of the Hawaiians' loss of independence to the U.S., Moloka'i is the story of people who had much taken from them but also gained an unexpected new family and community in the process." —Chicago Tribune
"A poignant story." —Los Angeles Times
"Compellingly original … Brennert's compassion makes Rachel a memorable character, and his smooth storytelling vividly brings early 20th-century Hawaii to life." —Publishers Weekly (starred review)
"A moving story…a vivid picture of Hawai'i before it became the Touristland it is today." —Larry McMurtry, author of Lonesome Dove
"Brennert evokes the evolution of—and hardships on—Moloka'i in engaging prose that conveys a strong sense of place." —National Geographic Traveler
St. Martin's Press, 9781250137661, 320pp.
Publication Date: February 19, 2019
About the Author
Alan Brennert is a novelist, screenwriter, and playwright. He grew up in New Jersey but moved to California in 1973. His novel Moloka'i was a national bestseller and a One Book, One San Diego selection for 2012. It also received the Bookies Award, sponsored by the Contra Costa Library, for the 2006 Book Club Book of the Year. His next novel, Honolulu, won First Prize in Elle Magazine's Literary Grand Prix for Fiction and was named one of the best books of 2009 by The Washington Post. Of his novel Palisades Park, People Magazine said: "Brennert writes his valentine to the New Jersey playground of his youth in Ragtime-style, mixing fact and fiction. It's a memorable ride."
His work as a writer-producer for the television series L.A. Law earned him an Emmy Award and a People's Choice Award in 1991. He has been nominated for an Emmy on two other occasions, once for a Golden Globe Award, and three times for the Writers Guild Award for Outstanding Teleplay of the Year.
Alan's short story"Ma Qui" was honored with a Nebula Award in 1992. His story "Her Pilgrim Soul" was adapted by Brennert himself for the Alan Menken musical Weird Romance in 1992.
His novel, Daughter of Moloka'i is a follow-up to Moloka'i that tells the story of Rachel Kalama's daughter Ruth, her early life, her internment during World War II, and her eventual meeting with her birth mother, Rachel. The novel explores the women's 22-year relationship, only hinted at it in Moloka'i.
or
Not Currently Available for Direct Purchase