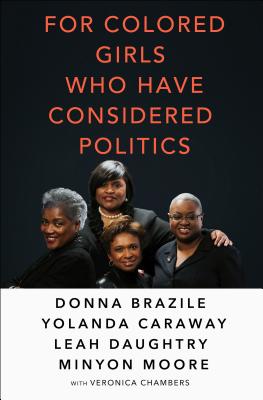 For Colored Girls Who Have Considered Politics
Hardcover

* Individual store prices may vary.
Other Editions of This Title:
Digital Audiobook (10/1/2018)
Paperback (10/1/2019)
CD-Audio (10/16/2018)
Description
"For Colored Girls Who Have Considered Politics. It's a wonderful, necessary book."
– Hillary Clinton

The four most powerful African American women in politics share the story of their friendship and how it has changed politics in America.

The lives of black women in American politics are remarkably absent from the shelves of bookstores and libraries. For Colored Girls Who Have Considered Politics is a sweeping view of American history from the vantage points of four women who have lived and worked behind the scenes in politics for over thirty years—Donna Brazile, Yolanda Caraway, Leah Daughtry, and Minyon Moore—a group of women who call themselves The Colored Girls. Like many people who have spent their careers in public service, they view their lives in four-year waves where presidential campaigns and elections have been common threads. For most of the Colored Girls, their story starts with Jesse Jackson's first campaign for president. From there, they went on to work on the presidential campaigns of Walter Mondale, Michael Dukakis, Bill Clinton, Al Gore, Barack Obama and Hillary Rodham Clinton.

Over the years, they've filled many roles: in the corporate world, on campaigns, in unions, in churches, in their own businesses and in the White House. Through all of this, they've worked with those who have shaped our country's history—US Presidents such as Bill Clinton and Barack Obama, well-known political figures such as Terry McAuliffe and Howard Dean, and legendary activists and historical figures such as Jesse Jackson, Coretta Scott King, and Betty Shabazz.

For Colored Girls Who Have Considered Politics is filled with personal stories that bring to life heroic figures we all know and introduce us to some of those who've worked behind the scenes but are still hidden. Whatever their perch, the Colored Girls are always focused on the larger goal of "hurrying history" so that every American — regardless of race, gender or religious background — can have a seat at the table. This is their story.
Praise For For Colored Girls Who Have Considered Politics…
"For Colored Girls Who Have Considered Politics. It's a wonderful, necessary book."
— Hillary Clinton

"When I launched the Vote or Die campaign, I knew I needed to have the 'Colored Girls' advice and knowledge. With their expertise and commitment to change, we were able to register and motivate hundreds of thousands of young voters and make issues that they care about part of the national conversation. We knew then what continues to be the true now, what's missing in politics, in our democracy, is the organized voices of young people of color. This powerhouse group of black women who have worked hard behind the scenes for decades to make our country better, are inspiring the next generation of leaders. For Colored Girls is the blueprint."
—Sean "Diddy" Combs

"For Colored Girls is basically part history book and part biography but wholly significant. I'm so glad this book exists because the stories of these 4 women, who were instrumental in so many moments of history needed to be told. I'm honored that we can take a sip of their life tea in this way, because what they've done and been a part of are the watershed moments of this nation's contemporary politics. It also doesn't hurt that it's super juicy. The transparency of The Colored Girls as they tell their stories, is admirable. When I finished this book, what I understood is how we have walking icons in our midst and this was the opportunity to sit at their feet and soak in their lessons, wisdom and #NoirPixieDust. I'm basically gonna start calling them all my aunties. The Colored Girls are Peak Aunty Goals. I salute you, Leah, Donna, Yolanda, Minyon. Thank you for showing Black girls and women, that we too belong in the rooms we're in."
—Luvvie Ajayi, New York Times-bestselling author of I'M JUDGING YOU: The Do-Better Manual

"For Colored Girls is an interesting, informative, inspiring, motivating and just plain delightful read. These are four colored girls who weren't born on third base in privilege, but came from relatively humble beginnings. They started with menial jobs and through discipline, strategic thinking and hard work achieved meaningful careers for themselves and better lives for other people through politics. They considered careers in business, health care, law and civil rights, but found their calling and fulfillment in politics. Their choices benefited all of us."
—Reverend Jesse L. Jackson, Sr., Founder and President, Rainbow PUSH Coalition

"How blessed we are in these times that fortune deigned that the hearts of these four exceptionally driven, intellectually brilliant, socially conscious sisters would intersect. Their lives dedicated from the beginning for service to community, family and nation is the refreshing cross breeze of authenticity needed in Washington politics. A compelling memoir of cultivated dreams, "For Colored Girls..." provides insight into and illumination of the undeniable call to service and the ways in which these four navigated a sometimes perilous and truly circuitous journey."
—Angela Bassett

"This is a remarkable book about five extraordinary Black women who through strength of character, humility and just plain smarts, became indispensable in every Democratic presidential campaign since 1984. They played a major role in building the modern Democratic Party and, perhaps most importantly, mentored a generation of young people who became activists and candidates in their own right. Finally, this book is a great window into modern African American History as it is still being written. It would be a mistake for anyone who aspires to build a better America not to read this."
—Governor Howard Dean, former Chair of the Democratic Party

"We who are faithful have never doubted the power of women with hearts set on justice, equality and opportunity to shape and sharpen the conscience of a nation. These African-American women, known collectively as the Colored Girls, have written the handbook on movement building and changing the world through progressive politics. This is a book I will be sharing with my daughters and every activist woman I know. As the mothers of the church used to sing, 'I'm glad she didn't keep it to herself.'"
—Reverend William Barber, President and Lecturer, Repairers of the Breach


"The fascinating story of four women who got into politics in the 1960s and '70s and are now the rare Washington insiders who understand people from all areas of the nation...You don't need to be black or a minority to grasp the need to stand up and fight in today's political world. The authors lay it out well in this solid primer on how to 'dare to enter the halls of power.'"—Kirkus Reviews

"Told with obvious deep respect and affection, this is a spirited look at the politics and personal lives of four iconic women. Readers will avidly seek the wisdom of these high-profile political experts."—Booklist, Starred Review

"Provides much-needed inspiration. This illuminating tome is a road map for those who want to enter the realm of government."—ESSENCE

"For Colored Girls Who Have Considered Politics is a fascinating look at the cultural diaspora charting their path as the behind-the-scenes movers of American history. And hopefully, as candidates of color rise, this tome can soon lead to stories of diverse, female figureheads leading the torch for generations to come."—Nick Fouriezos, Ozy

"While much of this year has felt like an unfortunate backslide, one silver lining has been the emergence of important narratives that have previously gone untold—For Colored Girls Who Have Considered Politics is one such story." —Vanity Fair


"The authors have mastered the act of 'swinging people through—keeping doors open for others to follow—and they invite 'dear sister candidates' to demand seats at the table."—Ms. Magazine
St. Martin's Press, 9781250137715, 336pp.
Publication Date: October 2, 2018
About the Author
Donna Brazile, a veteran Democratic political strategist, is an adjunct professor at Georgetown University, author, television political commentator and former Interim Chair of the Democratic Party. She is the author of Cooking with Grease and the New York Times Bestseller Hacks.

Yolanda Caraway is the founder of The Caraway Group, Inc., a nationally recognized public relations and public affairs agency. She has played a major role in shaping the goals and objectives of the National Democratic Party.

The Reverend Leah Daughtry is a nationally recognized preacher, speaker, organizer, leader, strategist and CEO of the 2008 and 2016 Democratic National Conventions.

Minyon Moore is a partner at the Dewey Square Group, was formerly CEO of the Democratic National Committee, and served as Assistant to the President of the United States and director of the White House Office of Public Liaison, and director of White House political affairs under President Bill Clinton.

VERONICA CHAMBERS is the editor of the New York Times archival storytelling team, a new initiative devoted to publishing articles based on photographs recently rediscovered as the paper digitizes millions of images. She is the editor of The Meaning of Michelle, celebrating the former first lady, which was a Los Angeles Times bestseller and a Time Magazine Top Nonfiction of the year. Veronica has written several books as well, including Mama's Girl, a critically acclaimed memoir, and she co-wrote Yes, Chef with Marcus Samuelsson and 32 Yolks with Eric Ripert.
or
Not Currently Available for Direct Purchase