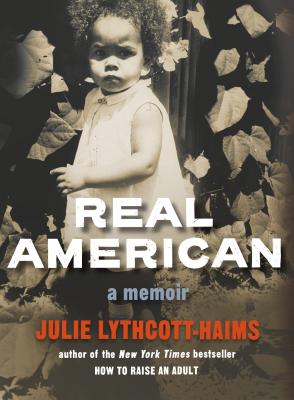 Real American
A Memoir
Hardcover

* Individual store prices may vary.
Other Editions of This Title:
Digital Audiobook (10/23/2017)
Paperback (8/21/2018)
CD-Audio (11/7/2017)
Description
"Courageous, achingly honest."
—Michelle Alexander, New York Times bestselling author of The New Jim Crow: Mass Incarceration in the Age of Colorblindness
"A compelling, incisive and thoughtful examination of race, origin and what it means to be called an American. Engaging, heartfelt and beautifully written, Lythcott-Haims explores the American spectrum of identity with refreshing courage and compassion."
—Bryan Stevenson, New York Times bestselling author of Just Mercy: A Story of Justice and Redemption
A fearless memoir in which beloved and bestselling How to Raise an Adult author Julie Lythcott-Haims pulls no punches in her recollections of growing up a black woman in America.
Bringing a poetic sensibility to her prose to stunning effect, Lythcott-Haims briskly and stirringly evokes her personal battle with the low self-esteem that American racism routinely inflicts on people of color. The only child of a marriage between an African-American father and a white British mother, she shows indelibly how so-called "micro" aggressions in addition to blunt force insults can puncture a person's inner life with a thousand sharp cuts. Real American expresses also, through Lythcott-Haims's path to self-acceptance, the healing power of community in overcoming the hurtful isolation of being incessantly considered "the other."
The author of the New York Times bestselling anti-helicopter parenting manifesto How to Raise an Adult, Lythcott-Haims has written a different sort of book this time out, but one that will nevertheless resonate with the legions of students, educators and parents to whom she is now well known, by whom she is beloved, and to whom she has always provided wise and necessary counsel about how to embrace and nurture their best selves. Real American is an affecting memoir, an unforgettable cri de coeur, and a clarion call to all of us to live more wisely, generously and fully.
Praise For Real American: A Memoir…
"Lythcott-Haims never comes to a tidy conclusion about how to view race relations in America, because there isn't one. By allowing us to witness a woman coming to terms with herself, and finding nothing but pride and love there, she offers a blueprint for how others might try to do the same."
—The New York Times Book Review
"In daringly original prose . . . [Lythcott-Haims] wades defiantly into the tricky waters of racism and its devastating impact on building institutions and undermining individuals."­
—Essence Magazine
"A necessary and timely read for anyone looking not just to learn but to understand."
—Glamour

"A thoroughly riveting poetic memoir of a mixed-race woman questioning her identity and place in American life and culture. Genuinely inspiring."
—San Francisco Chronicle
"A bold, impassioned memoir that . . . riveting[ly] and deeply . . . sheds fresh light on race and discrimination in American society."
—Publishers Weekly
"A candid, deeply personal look at race relations within a family and a nation, and a story that will feel familiar to anyone who hungers for a sense of belonging."
—Chicago Tribune

"A powerful memoir of poetic prose."
—The Baltimore Sun
"[A] brilliant, unflinching portrayal of what it's been like . . . to grow up in a racially paralyzed America. . . . [Lythcott-Haims] shares in Real American a story that will connect with anyone whose mothers or fathers came of age in harsher circumstances. We're torn between celebrating the raw realities of their journeys—or hiding from them. She's managed to fit the whole messy, beautiful truth between two covers."
—Forbes
"Breaks the silence on what it means to grow up mixed-race in America. Her spare but powerful prose has an emotional rawness that will profoundly resonate with all readers and help many feel a little less alone."
—Heidi W. Durrow, New York Times bestselling author of The Girl Who Fell from the Sky
"A cathartic and bold truth-telling."
—Danzy Senna, bestselling author of Caucasia and New People
"A powerful, honest book that should be required reading for everyone."
—Anita Amirrezvani, author of The Blood of Flowers and Equal of the Sun
"Real American is beautifully written, heartbreaking, and a real page-turner. I couldn't put this extraordinary memoir down. An essential read for anyone who wishes to understand the conversation about racial injustice."
—Jean Kwok, New York Times bestselling author of Mambo in Chinatown and Girl in Translation
"To write with such an open heart about race and Blackness takes great courage. To do so in prose that is at once elegant and raw takes great talent."
—Ayelet Waldman, bestselling author of Bad Mother and of A Really Good Day

"Real American is a courageous, achingly honest meditation on what it means to come to consciousness as a mixed race child and adult in a nation where Black lives weren't meant to matter."
—Michelle Alexander, New York Times bestselling author of The New Jim Crow: Mass Incarceration in the Age of Colorblindness

"In the vein of Ta-Nehisi Coates's Between the World and Me and Claudia Rankine's Citizen, Julie Lythcott-Haims's Real American fuses autobiography with politics, showing how the sinister nature of racism (institutional and otherwise) scars even those who may pass as unaffected. . . . [Lythcott-Haims takes] a combative stance toward anyone who thinks they are on firm footing regarding race, and the book is all the better for it."
—Shelf Awareness
"A true achievement . . . so much more than a personal memoir . . . [Lythcott-Haims] channels the shrewdness of Eula Biss and the compassion of Ta-Nehisi Coates."
—Lee Daniel Kravetz, international bestselling author of Strange Contagion and Supersurvivors
"In a text that resembles a memoir, a prose poem, and an album of verbal snapshots, a writer from a mixed racial background chronicles her journey—and battle—to understand her racial identity . . . Many potent and painful reminders that we have a long, long way to go regarding race and identity."
—Kirkus Reviews

"Powerful . . . a memoir that [illuminates] the psychic cost of racism to those who are cast as 'other.' The journey of self-healing and the empowerment . . . is a story of triumph from which all of us can learn."
—Beverly Daniel Tatum, author of Why Are All the Black Kids Sitting Together in the Cafeteria? and Can We Talk About Race?
"Stands for, and stands up for, Americans who are questioned, confronted, disregarded and unnerved by our citizen country . . . Real American will be one of those books that is passed from hand to hand, with passages marked where readers find strong words that speak truth."
—A.J. Verdelle, author of The Good Negress
"Shows once again, plainly and unforgettably, that if you are Black in America, it does not matter who you are, racism will come knocking. Lythcott-Haims . . . Real American is the story of that insidious harm and of a woman who became alert to the American racism within herself and fought back. Real American is not only an excellent, satisfying read but a book that can help us "stay woke"—as we must—to the sometimes stealthy and always life-threatening danger of racism, so that we all can fight back."
—Barbara Lee, U.S. Representative and author of Renegade for Peace and Justice: A Memoir of Political and Personal Courage
"A memoir isn't worth the paper on which it is printed if it is not, first and foremost, brutally honest. Julie Lythcott-Haims' memoir, Real American, is not only worth the paper on which it is written, it is priceless. Real American is the humorous and heartbreaking story of the coming of age of an American woman born to a Black father and a White mother. Lythcott-Haims writes movingly and courageously of her struggle to figure out to which race she belongs . . . It isn't easy being biracial in this country; Real American compellingly and honestly tells you why."
—LaDoris Hazzard Cordell, retired California judge and former Vice Provost at Stanford University
"A poignant, sensitive, and often times painful personal account of growing up as a biracial person in color-conscious, contemporary America. This gem of a book provides compelling stories about how race permeates the American psyche and how it so heavily weighs on people 'too white to be black and too black to be white.'"
—Albert Camarillo, Professor of American History and founding director of Stanford University's Center for Comparative Studies in Race and Ethnicity
" . . . No punches pulled. The tortuous path of being and becoming and insisting as we each have a right to be a real American."
—Mary Frances Berry, the Geraldine Segal Professor of American Social Thought, University of Pennsylvania, and former Chairperson United States Commission on Civil Rights
"In this raw, accessible exploration of what it is to be truly American, author Julie Lythcott-Haims offers up her lifelong struggle with racial identity and internalized oppression. Her fascinating family—prominent black American father and resilient white British mother, married in newly-independent West Africa—provides a front row to history, while Julie's journey—like that of so many Civil Rights babies—reveals the limitations of privilege, from getting an Ivy League degree and professional career, to marrying white and American-dreaming in the suburbs. A fearless invitation to the important conversations black and white America needs to be having."
—Faith Adiele, author of Meeting Faith and The Nigerian-Nordic Girl's Guide to Lady Problems

"Fierce and emphatic from the first page, Julie Lythcott-Haims's self-searching memoir unrolls her own relationship to race and its evolving meaning in her world. . . . Throughout the memoir, painful questions ring like ominous bells, hopefully raising alarm for all readers."
—The Improper Bostonian
"Written in short, impressionistic, elegant chapters, Real American focuses on the evolution of Lythcott-Haims's own consciousness, from her grappling with slavery to her thoughts about the Charleston church slayings—and, most interestingly, her own identity."
—The National Book Review
Henry Holt and Co., 9781250137746, 288pp.
Publication Date: October 3, 2017
About the Author
Julie Lythcott-Haims is the New York Times bestselling author of How to Raise an Adult. She holds a BA from Stanford, a JD from Harvard Law School, and an MFA in writing from California College of the Arts. She is a member of the San Francisco Writers' Grotto, and resides in the Bay Area with her husband, their two teenagers, and her mother.