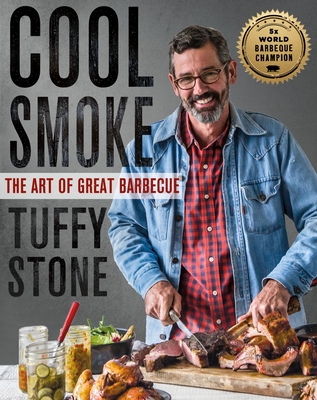 Cool Smoke
The Art of Great Barbecue
Hardcover

* Individual store prices may vary.
Description
Five time Barbecue World Champion Tuffy Stone's complete guide to barbeque

Flame, smoke, and meat—these simple elements combine to make great barbecue. Creating the perfect bite of tender, spicy, smoky barbecue is a science and an art form, and Tuffy Stone—five time World Champion Pitmaster, co-host and judge of Destination America's BBQ Pitmasters, and co-owner of the award-winning Q Barbecue restaurants—has mastered it.

Cool Smoke is the distillation of all his years of experience and wisdom. Inside you'll find a wealth of barbecue information including:

- How to choose the right cooker
- The best way to trim a cut of meat
- How to prepare your own brines, rubs, and sauces
- Insider tips and hints for taking on the competition circuit
- Over 100 creative, delicious recipes to make you a barbecue master

The recipes include classic barbecue dishes with updated preparations like Smoked Ribs with Cherry Barbecue Sauce, Dove Breasts with Crispy Bacon and Chipotle White Sauce, and even the Holy Grail of barbecue: the Whole Hog. As no plate of 'cue is complete without a generous helping of sides, there are also recipes for Corn Pudding with Poblano Pepper, Collard Greens with Pepper Relish, and Pineapple Hot Pot, along with delicious desserts like Frozen Coconut Lime Pie.

For backyard barbecuers who are interested in taking on the competition circuit, Cool Smoke offers tips and tricks from one of the best in the business. Stone's competition secrets—gleaned from more than a decade of success on the circuit—have never before been shared beyond the walls of his cook school in Richmond, Virginia. Cool Smoke gives an insider's look behind the scenes and offers advice on creating perfect competition turn-ins that have made Stone a World Champion five times over.

With mouthwatering recipes, over 200 hundred color photos, essential guides to cookers and equipment, and expert advice, Tuffy Stone's Cool Smoke is the definitive guide to all things barbecue.
Praise For Cool Smoke: The Art of Great Barbecue…
"Enjoyable…accessible…Stone is an exuberant, knowledgeable guide to backyard barbecuing."
—Publishers Weekly

"Barbecue-champion Stone delivers a thorough, well-organized, liberally illustrated handbook that will fully serve readers at any skill level, from casual weekend grillers to serious chefs whose sights are set on competing....Stone's enthusiasm and competence jump off the page." —Alan Moores, Booklist

"In this brave new world of short attention spans, genuine mastery informed by passion is a rare commodity. I traveled to The Mideast with Tuffy to cook true BBQ for thousands of troops, produced television shows featuring him, even competed against the man in contests (no contest), and, unflappably, his clear-eyed command of this culinary art has transformed him into a sensei of smoked meat. Even more remarkably, he'll share with you his lifetime of knowledge just for the asking. Other pitmasters famously cling to that one secret, but Tuffy Stone always opens wide his vault, which is deep and bountiful. And that's what makes his first cookbook a genuine treasure."

—John Markus, co-creator of BBQ Pitmasters, chief cook of competition team Central Pork West, and an Emmy and Peabody award-winning writer


"The art of making world class Barbecue is deep rooted in "The Process". Thousands of hours spent tending fires, designing recipes, and studying the science. Tuffy's book is a brilliant journey through all those painstaking hours."
—Billy Durney, Hometown Bar-B-Que


"There are very few people in this world that know BBQ live BBQ and can actually teach you about the art of BBQ. Tuffy Stone is definitely one of those people!"


—John Tesar, Chef and owner of Knife Steak and Knife Burger, author of Knife: Texas Steak House Meals at Home


"TuffyStone is the hardest working person in barbecue, always perfecting his craft, looking for the utopian bite. His dedication to the art of cooking makes him a master of not only barbecue, but any genre of cooking. I am always amazed by his food and can taste his heart and soul in every bite. Quite simply, he is the gold-standard of barbecue and an inspiration to me."

—Melissa Cookston, World Champion Barbecue Pitmaster, Chef and Owner of Memphis Barbecue Company and Barbecue Hall of Fame Inductee


"This timeless collection of recipes from a live fire master is a must have for any serious cooking enthusiast. Cool Smoke not only delves into the championship-winning barbecue Tuffy is famous for, but pushes well beyond the realm of pulled pork with a host of interesting ingredients and thoughtful dishes. A perfect mashup of chef and cook—Tuffy's cooking is like a professional palate unleashed at a campfire."
—Jess Pryles, cook, author, TV host, and co-founder of the Australasian Barbecue Alliance


"A successful barbecue is a communal event, as is Tuffy Stone's first book. Tuffy's inviting charm welcomes the reader into his world of fire, smoke, and outdoor cooking. His recipes and techniques are a mix of tradition, science, creativity, and art, explained as a friend would, while sharing a grill."
—Chris Lilly, World Championship Pitmaster, Big Bob Gibson Bar-B-Q


"DAVID!!!DAVID! What in the world??? Are you licking that book??? My wife catching me licking the pages of Tuffy Stone's new cookbook—it takes a real man to admit that he's done something as foolish as getting caught licking the pages of new cookbook! Folks if you love great tasting barbecue and if you ever wanted to learn all the deepest dark secrets of mastering your grill from one of America's most revered, award-winning barbecue pitmasters then you absolutely need to get this gorgeous barbecue cookbook. The recipes are beyond delicious, the pictures will cause you to drool, and what you smoke-up or grill-up will make you instant barbecue royalty in your neighborhood! Get you this cookbook now—you're gonna love it "I guaran-damn-tee it!"
—Famous Dave Anderson, America's Rib King and BBQ Hall of Famer, Founder of Jimmey's Old Southern BBQ Smokehouse, and Famous Dave's Legendary Pit Barbecue


"Being a third generation barbecue man myself, I appreciate, and am proud of the folks who preserve the tradition of what it really means to cook it in it's purest form. Tuffy Stone is one of those people. His book is a peek inside what it truly means, and where it comes from. Not just where to source protein, or ingredients, but where it really comes from, and that is the heart. Tuffy has a big heart, and his food comes from the soul. When you find talent, integrity, kindness, and passion in a person, you have a treasure. Tuffy Stone is that treasure, and I am honored to call him a friend."
—Sam Jones, Third Generation Barbecue Man, Legendary Whole Hog Cook, and Owner of Sam Jones BBQ


"Cool Smoke is a thoughtful collection of stories, techniques and well tested recipes that reflect the balance between discipline and meticulous craft that makes Tuffy one the best bbq cooks there is..."
—Aaron Franklin, host of BBQ with Franklin and owner of Austin's Franklin Barbecue


"Tuffy Stone is both a highly skilled chef and a seasoned pitmaster — a winning combination that has led to unparalleled success on the barbecue circuit. Applying his meticulous and methodical manner and knowledge, he has written a book that will help any aspiring barbecue cook master the art of cooking with fire. This long-awaited tome will be a welcome addition to every barbecuer's arsenal. Barbecue is as much a culture and a family as it is a food group and Tuffy epitomizes the spirit of barbecue. We are privileged to call him a friend."
—Mike Mills and Amy Mills, authors of Praise the Lard and owners of 17th Street Barbecue
St. Martin's Griffin, 9781250137845, 304pp.
Publication Date: May 15, 2018
About the Author
TUFFY STONE is a World Record-breaking champion pitmaster, a former Marine, a classically-trained chef, an acclaimed caterer, ?and ?an occasional reality television star. Dubbed "The Professor," Tuffy's legendary precision and obsession with the science of smoke make him one of the most influential people in barbecue.? ?In the 13 years since he founded Cool Smoke Barbeque, the team has won hundreds of trophies including more than 40 Grand Championships and five World Grand Championships. Cool Smoke is the only team in history to have won the prestigious Jack Daniel's Barbecue World Championship back to back and the only team to have won it three times, doing so in 2013, 2015, and 2016. As a result of his success on the competition circuit and his extensive knowledge of all things barbecue, ?he was selected to join Destination America's show Barbecue Pitmasters, in 2012. ?Tuffy's life is barbecue has taken him all over the world including cooking for the troops in Kuwait?,? and heading to Meatstock in Australia to teach his famous Cool Smoke ?B?arbeque Class. ? Most recently he cook?ed? for sold out crowds at the James Beard House, a rarity for a barbecue pitmaster.

STEVEN RAICHLEN is a multi-award-winning author, journalist, and television host. His twenty-nine books include the international blockbusters The Barbecue Bible, How to Grill, and the New York Times bestselling Planet Barbecue. His books have won five James Beard Awards and have been translated into 16 languages. Island Apart is his first novel. A former Watson Foundation Fellow with a degree in French literature, Raichlen hosts Primal Grill and Barbecue University on PBS and the French language TV show Le Maitre du Grill. He has lectured at the Smithsonian Institution and the Library of Congress and has appeared frequently on National Public Radio and the Today show. He and his wife, Barbara, divide their time between Chappaquiddick Island, Massachusetts, and Coconut Grove, Florida.