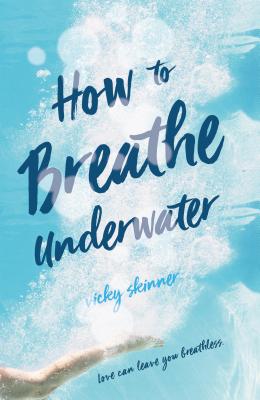 How to Breathe Underwater (Hardcover)
Swoon Reads, 9781250137876, 336pp.
Publication Date: August 14, 2018
Other Editions of This Title:
Paperback (5/28/2019)
* Individual store prices may vary.
Description
Kate's father has been pressuring her to be perfect for her whole life, pushing her to be the best swimmer she can be. But when Kate finds her dad cheating on her mom, Kate's perfect world comes crashing down, and Kate is forced to leave home and the swim team she's been a part of her whole life.
Now in a new home and new school, faced with the prospect of starting over, Kate isn't so sure that swimming is what she wants anymore. But when she decides to quit, her whole world seems to fall apart. But when Kate gets to know Michael, the cute boy that lives across the hall, she starts to think that starting over might not be so bad. There's only one problem: Michael has a girlfriend.
As the pressures of love, family, and success press down on her, can Kate keep her head above water?
Praise for How to Breathe Underwater:
"Well-developed characters, interesting storyline, clean writing, I'm hooked." —Christy Hintz, reader on SwoonReads.com
"A very lovely story and an enjoyable read." —Katie Kaleski, reader on SwoonReads.com
"The strength of this book are the highly developed characters who have such depth..." —Kathryn Berla, reader on SwoonReads.com
About the Author
Vicky Skinner was born and raised in Texas. She doesn't like country music or horseback-riding, but she does like her motorcycle-riding husband and her two adorable Labs. Everyone told her not to get a degree in Literature, but she did it anyway. She works as a full-time homemaker and a part-time nanny, and if she's not at home in her office/library, she's probably hanging out with her church group or eating at the nearest pizza place. How to Drown is her debut novel.
Praise For How to Breathe Underwater…
Praise for How to Breathe Underwater, from our Swoon Readers:

"So good. So, so good. I enjoyed this one all the way through. Well-developed characters, interesting storyline, clean writing, I'm hooked." —Christy Hintz, reader on SwoonReads.com
"I really enjoyed this book! I loved how you incorporated the subject of rocky parental relationships and pressure." —YC, reader on SwoonReads.com
"I had such a nice time reading this! I really liked Michael and just wanted to give him a big hug! Boy did you tug at my heartstrings! A very lovely story and an enjoyable read." —Katie Kaleski, reader on SwoonReads.com
"The strength of this book are the highly developed characters who have such depth... They're 100% believable so the reader is invested from the start. Add to that a very poignant story and you've got a winner. You've done a wonderful job and created a beautiful story." —Kathryn Berla, reader on SwoonReads.com