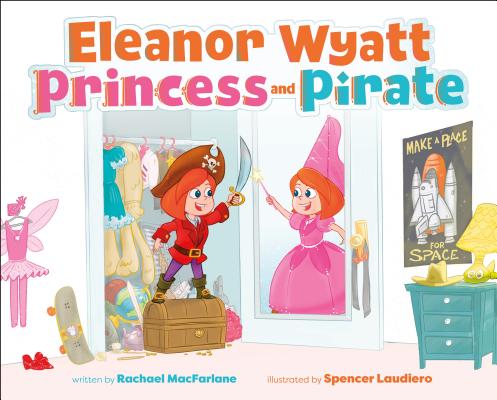 Eleanor Wyatt, Princess and Pirate (Eleanor Wyatt and Harrison Dwight)
Hardcover

* Individual store prices may vary.
Description
A young girl discovers that playtime is as boundless as imagination in this empowering, rhyming picture book.

I can be anything that I want to be,

I'm a princess, a pirate, and I'm also just me!

Her name is Eleanor Wyatt, and some days she's a princess, some days she's a pirate.

Eleanor's parents have taught her she can be anything she wants to be, from a ninja to a cowgirl to a fairy with wings.

She can even star in her own book! Join Eleanor and her friends as they romp through tea parties and sword fights and to discover the best treasure of all—being yourself!

An Imprint Book

"Eleanor Wyatt demonstrates that a girl doesn't have to limit herself to one identity... May resonate with children who don't self-identify according to societal expectations." —Kirkus Reviews

"In this playful book that gently breaks down gender expectations, readers will find plenty of empowering messages encouraging creativity, individuality, and freewheeling fun." —Booklist
Imprint, 9781250138576, 32pp.
Publication Date: November 6, 2018
About the Author
Author
Rachael MacFarlane
has been giving a voice to animated characters for more than fifteen years, on shows such as Disney's
Sofia the First
and
The Tom and Jerry Show.
She is widely known for her role as Hayley Smith on the popular animated sitcom
American Dad.
Also a recording artist, when she is not in the booth, Rachael spends her time with her two little princess/pirates and her husband Spencer. They live in LA with a menagerie of rescued animals.
Eleanor Wyatt, Princess and Pirate
is her debut picture book.
Illustrator Spencer Laudiero is a graduate of the University of the Arts in Philadelphia and works in the animation industry. As a TV animation director, he has worked on such shows as Comedy Central's Brickleberry, Disney's Sheriff Callie, and Fox's Family Guy.

When he is not drawing and directing, Spencer spends his time with his two daughters and wife, Rachael. Eleanor Wyatt, Princess and Pirate is his debut picture book.