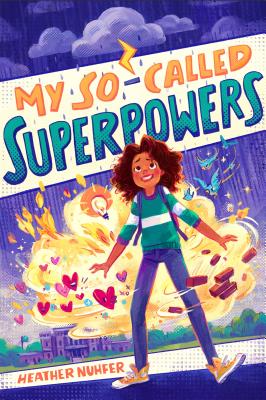 My So-Called Superpowers (Hardcover)
Imprint, 9781250138606, 256pp.
Publication Date: January 23, 2018
Other Editions of This Title:
Hardcover (1/21/2020)
Paperback (1/21/2022)
Hardcover (1/22/2019)
Paperback (1/22/2019)
* Individual store prices may vary.
Description
The first book in a new middle grade series, Heather Nuhfer's My So-Called Superpowers is a quirky and funny coming-of-age novel celebrating individuality.
More than anything, Veronica McGowan wants to fit in with the cool kids. There's just one problem: they barely know she exists. Veronica wishes for something, anything to fix her nobody status—and gets more than she bargained for when she wakes up with "stupidpowers."
Suddenly, her strongest emotions come to life for the whole school to see. She belches fire when she's angry, dark clouds rain on her when she's sad, and cutesy hearts pop up whenever she daydreams about her crush. She's broadcasting her feelings likes living emojis—it's a nightmare!
Veronica and her best friend Charlie must work together to solve the mystery before her powers totally humiliate her. Did she inherit these powers from her mom, who left long ago? What can she really do with them? And is that teacher at school really just a teacher or is she part of some secret government agency?
An Imprint Book
"Heather Nuhfer has hilariously and achingly captured what it's like to be in middle school, trying to control the weird things that make you different but also super. It's impossible not to root for Veronica. Super real, super fun, and just generally and genuinely super."
—Dana Simpson, New York Times–bestselling author of the Phoebe and Her Unicorn series
"My So-Called Superpowers is vibrant, lively, and hums along at a snappy pace. It has a genuinely warm, welcoming Saturday-morning cartoon feeling to it."
—Tony Cliff, New York Times–bestselling author of the Delilah Dirk series
"Readers will be delighted at Veronica's relatable quirkiness... a whimsical, good-humored, straightforward take on just loving yourself for who you are."
—Booklist
"A hilarious tale of a girl so desperate to be cool that she defies her best judgment to get what she wants." —The Bulletin
About the Author
Heather Nuhfer writes for all ages, both children's books and graphic novels. She has penned numerous original stories for comic book titles including, Scooby Doo, Wonder Woman, Teen Titans GO!, Fraggle Rock, Lisa Simpson, and Monster High. Her My Little Pony: Friendship is Magic graphic novels are international bestsellers. My So-Called Superpowers is her first prose novel.
When she isn't writing, Heather loves to knit while watching bad 1990s action movies with her beloved furbaby, Einstein.
Simini Blocker
is an illustrator currently working in Texas. She has recently worked on several middle-grade and YA titles, including
Almost Midnight
, and the
My So-Called Superpowers
series. When not illustrating, she loves experimenting with embroidery, traveling as much as possible, and collecting too many stationary supplies.
The Singing Rock
is her first graphic novel.
Praise For My So-Called Superpowers…
"Heather Nuhfer has hilariously and achingly captured what it's like to be in middle school, trying to control the weird things that make you different but also super. It's impossible not to root for Veronica. Super real, super fun, and just generally and genuinely super."
—Dana Simpson, New York Times–bestselling author of the Phoebe and Her Unicorn series
"My So-Called Superpowers is vibrant, lively, and hums along at a snappy pace. It has a genuinely warm, welcoming Saturday-morning cartoon feeling to it."
—Tony Cliff, New York Times–bestselling author of the Delilah Dirk series
"Readers will be delighted at Veronica's relatable quirkiness... a whimsical, good-humored, straightforward take on just loving yourself for who you are." —Booklist
"A hilarious tale of a girl so desperate to be cool that she defies her best judgment to get what she wants." —Bulletin of the Center for Children's Books
"My So-Called Superpowers is a super-engaging read with plenty of action, mystery, humor, and heart. Readers will love Veronica and her adventures!"
—Terri Libenson, author of Invisible Emmie and Positively Izzy