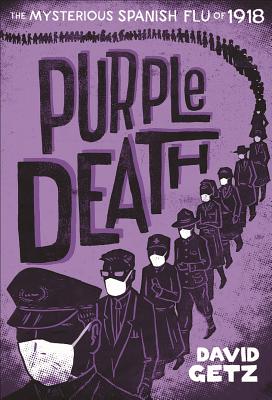 Purple Death (Paperback)
The Mysterious Spanish Flu of 1918
Square Fish, 9781250139092, 96pp.
Publication Date: September 19, 2017
Other Editions of This Title:
Hardcover (10/1/2000)
* Individual store prices may vary.
Description
The Spanish Flu was the worst epidemic in this country's history, and the search for its cause is still one of science's most urgent quests. In this riveting account, acclaimed nonfiction author David Getz tells young readers the story of the mysterious flu known as the Purple Death—the virus responsible for the worst epidemic in American history.
It was 1918, the last year of World War 1. Thousands of men lived in the crowded army training camps that were scattered all across the United States. That spring, a strange flu struck the soldiers at a camp in the Midwest. Healthy young men went to the hospital complaining of sore throats and fevers. Within hours they had suffocated, their skin taking on a terrible purplish hue.
The devastating flu spread like wildfire across the country, infecting soldiers and civilians alike. It killed more than half a million people in a matter of months, then disappeared as suddenly as it had come.
To this day, no one knows what caused a common flu to become so deadly, but scientists are still searching for answers. What they discover could save millions of lives if another common flu virus suddenly turns into a killer.
Praise for Purple Death: The Mysterious Spanish Flu of 1918:
"Combining cogent accounts both of a worldwide tragedy and some classic medical detective work, this is certain to please and to sober a wide audience." —Kirkus Reviews
"Illustrated with riveting black-and-white photographs as well as haunting pencil sketches, this short and easily accessible book traces the desperate search for the cause of and cure for the flu. Especially intriguing are the descriptions of efforts to obtain 'live' samples of the virus." —VOYA
"Soft, charcoal-pencil drawings capture the somber mood. . . . The painstaking and heroic deeds scientists must take on in order to identify a disease and develop a cure will be interesting to budding scientists." —School Library Journal
"With the same mysterious, intriguing style of his previous books about frozen mummies, the author tells a gripping story of the influenza pandemic of 1918 that infected two billion people." —Children's Literature
"[Getz] writes clearly and dramatically, whether he's describing how vaccines work, how pneumonia was treated before the discovery of antibiotics, or what today's researchers are doing to find the flu virus preserved in the lungs of frozen bodies. . . . And always there's the question, What if there's a pandemic today?" —Booklist

About the Author
David Getz is the award-winning author of the middle-grade novels Thin Air and Almost Famous, and the nonfiction books Frozen Man and Frozen Girl. When not writing, Mr. Getz works as an elementary-school principal in New York City.
Peter McCarty
is the author and illustrator of
T Is for Terrible
,
Baby Steps
,
Little Bunny on the Move
and
Hondo and Fabian
, for which he won a Caldecott Honor. He lives with his wife and two children in Upstate New York.
Praise For Purple Death: The Mysterious Spanish Flu of 1918…
"Combining cogent accounts both of a worldwide tragedy and some classic medical detective work, this is certain to please and to sober a wide audience." —Kirkus Reviews
"Illustrated with riveting black-and-white photographs as well as haunting pencil sketches, this short and easily accessible book traces the desperate search for the cause of and cure for the flu. Especially intriguing are the descriptions of efforts to obtain 'live' samples of the virus." —VOYA
"Soft, charcoal-pencil drawings capture the somber mood. . . . The painstaking and heroic deeds scientists must take on in order to identify a disease and develop a cure will be interesting to budding scientists." —School Library Journal
"With the same mysterious, intriguing style of his previous books about frozen mummies, the author tells a gripping story of the influenza pandemic of 1918 that infected two billion people." —Children's Literature

"[Getz] writes clearly and dramatically, whether he's describing how vaccines work, how pneumonia was treated before the discovery of antibiotics, or what today's researchers are doing to find the flu virus preserved in the lungs of frozen bodies. . . . And always there's the question, What if there's a pandemic today?" —Booklist