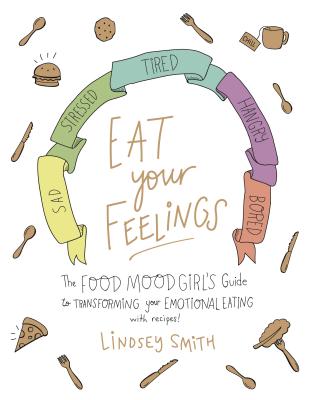 Eat Your Feelings
The Food Mood Girl's Guide to Transforming Your Emotional Eating
Paperback

* Individual store prices may vary.
Description
**WINNER: Silver Award in the Cookbooks: Natural, Nutrition, Organic, Vegetarian category of the 2018 Living Now Book Award**

**One of the Atlanta Journal-Consitution's self-help books to help you live your best life in 2018**

Cosmopolitan: "Take a bite of [Smith's] tasty advice."

Brit + Co: "Offers intriguing insight into why we reach for certain (junk) foods when we're sad, stressed, tired, hangry, and bored, and which nutrient-rich foods we should aim to eat instead."

Lindsey Smith, The Food Mood Girl, shows how you can transform your lifestyle by learning from your cravings and using mood-boosting ingredients every day

Blending together Lindsey Smith's passion for health and wellness, food and humor, Eat Your Feelings is a humorous, lighthearted take on your typical diet book.

Busy young professionals wrestle with long hours, an exhausting dating culture, and the stress of the modern world. As days whiz by, it's normal to gravitate toward food—a quick slice of pizza, a chocolate bar, or a bag of chips—that fulfills a craving of the moment or gives a quick energy boost. And this impulse makes sense. Food gives us a sense of pleasure and joy. It can provide us with satisfaction and comfort. Food can awaken each of our senses to something new each time we eat. It gives us energy, and quite literally sustains life as we know it. It should be emotional.

If you are feeling sad, stressed, exhausted, hangry, or bored, it's comforting to eat dishes you love and crave. But Lindsey Smith shows how simple it is to make those same meals and snacks with mood-boosting ingredients that will physically nourish instead of processed foods. In Eat Your Feelings, Lindsey Smith, the Food Mood Girl, will look at ways to eat healthy food based on what people tend to crave the most during heightened emotional states, introducing recipes with crunchy, cheesy, creamy, sweet, and salty themes and drink alternatives for those who tend to chug soda or coffee when all worked up.

It's crucial to listen to your cravings: they are the gatekeepers that unlock the secrets to our unique bodies. But a major element of the Food Mood lifestyle is love, and revolutionizing the way you treat your body and your cravings will not only rid yourself of hanger pains but will also teach you how to listen and respond to your body with healthy ingredients and recipes.
Praise For Eat Your Feelings: The Food Mood Girl's Guide to Transforming Your Emotional Eating…
"Clear writing, empathy, and culinary expertise stir up a deliciously healthy read for young adults." —School Library Journal

"Offers intriguing insight into why we reach for certain (junk) foods when we're sad, stressed, tired, hangry, and bored, and which nutrient-rich foods we should aim to eat instead." —Brit + Co

"Smith shows readers how to end the cycle of emotional eating by focusing on daily recipes that contain mood-boosting ingredients and a big dose of self-love." —The Atlanta Journal-Constitution

"Lindsey Smith turns to nourishing ingredients (such as leafy vegetables) instead of processed foods to shake herself out of a funk—and she shares dozens of her satisfying recipes." —Oprah.com

"Filled with science-backed facts, but it's not stuffy. With a fun writing style and interesting insight, she helps readers understand why they may crave certain foods when experiencing different emotions, and then gives them practical solutions to help them eat (and feel) better during those times." —RealSimple

"A delight in content and design." —Pittsburgh City Paper

"Shows how to curb outta-control emotional cravings with satisfying, healthy alternatives. Her philosophy: Feeding feelings like stress, sadness, and fatigue with solid, mood-boosting nutrients instead of garbage can quell your hankerings and soothe your emo 'tude. Take a bit of her tasty advice." —Cosmopolitan

"Looks at topics such as why we crave, which foods help with which moods, and how to cook healthy foods." —Plate

"The health coach and blogger behind Food Mood Girl lays out tips on how to battle cravings during heightened emotional states, from cleaning out your pantry to a rundown of mood-boosting foods to recipes for when you're stressed." —amNY

"Eat Your Feelings is a joyful, judgement-free zone. Lindsey helps us take an honest look at our relationship to food so we can tune into cravings, understand them, and ultimately make smart long-term choices. She provides us with the inspiration to playfully navigate each day with colorful, delicious, healthful recipe options that satisfy any mood. This book is an opportunity to answer your body's call in an informed and delicious way!" —Heather Crosby, Yum Universe

"A must-have for anyone looking to ditch the stress around food and feel more beautiful inside and out." —Lorraine Miller, author of A Year of Daily Gratitude

"Take a bite out of this book to help satisfy your innermost cravings. Emotional eating has never tasted so good!" —Andrea Beaman, author of Happy Healthy Thyroid – The Essential Steps to Healing Naturally

"Grab this book to deconstruct your cravings, find the foods that make you feel fabulous, and get inspired to cook delicious, mood-boosting meals every day." —Jolene Hart, health coach and author of the Eat Pretty series

"I'm usually intimidated or avoidant of anything that would push me to better my health or become a 'responsible adult,' but I was tickled to find that Eat Your Feelings is absolutely devourable!" —Sara Armour, comedian, producer and not-ironic life coach
Wednesday Books, 9781250139412, 272pp.
Publication Date: December 26, 2017
About the Author
Lindsey Smith, aka: The Food Mood Girl, is a Pittsburgh-based author, health coach, and speaker nationally recognized for her work. Best known for her books Junk Foods & Junk Moods and Food Guilt No More, Lindsey has reached thousands of people looking to enhance their mood, decrease their anxiety and learn to love themselves just a little more.

As a TEDx speaker, Lindsey has been featured both on-stage and in the media nationwide. She's been featured on the Zagat documentary Hangry, the Lisa Oz Show, MindBodyGreen, CBS News, and in Girl's Life Magazine, and is a regular media fixture for Today Show Food and Huffington Post.

Lindsey's passion sparked after she was diagnosed with anxiety as a kid. Through navigating her diagnosis, Lindsey learned the role foods play in impacting our moods and how self-love was a major missing ingredient. By ninth grade, Lindsey was teaching stress management classes to her peers. As a health coach and culinary expert, Lindsey believes a well-balanced life involves eating your veggies and occasionally indulging in that double chocolate brownie.

When not helping others, Lindsey is typically spending time in her hometown with her husband and dog, Winnie Cooper. If she isn't spotted at a local coffee shop or Pilates studio, then chances are she's listening to or writing a rap, or cooking up a new recipe.
or
Not Currently Available for Direct Purchase