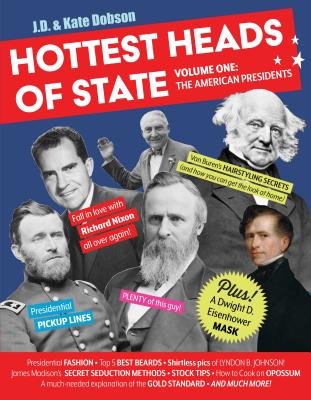 Hottest Heads of State (Paperback)
Volume One: The American Presidents
Holt Paperbacks, 9781250139689, 240pp.
Publication Date: January 30, 2018
* Individual store prices may vary.
Description
TigerBeat for U.S. presidents—a tour of our nation's history through its irresistible commanders-in-chief
Is there anything hotter than former U.S. presidents? Obviously, there is not. And yet, until now, there was no way to learn about these handsome and mysterious men that is funny, educational, and includes thoughtful analysis of which ones would make good boyfriends. Thankfully, Hottest Heads of State fills this void. Get to know each president intimately with an individual profile outlining his particular charms (or, in some cases, "charms"). Plus, inside you'll find:
· GAMES including "Match the Mistress to her POTUS"
· QUIZZES like "Which President has a Secret Crush on You?" and "Can You Cover Up Watergate?"
· that POSTER of Rutherford B. Hayes you've always secretly wanted!
J. D. and Kate Dobson's wickedly smart and refreshingly bipartisan debut is a spot-on parody of a teen magazine featuring such unlikely heartthrobs as Richard Nixon and William H. Taft. In the end, you'll learn centuries' worth of cocktail party-worthy trivia, and you'll be slightly more prepared to take the AP U.S. History exam. You'll also start tingling whenever you hear the name Herbert Hoover.
About the Author
J. D. Dobson is a former U.S. Senate aide, federal lobbyist, and crisis communications consultant. Now he spends his time in the basement making candles that smell like presidents because he and Kate started a business selling candles that smell like presidents. It's a can't-miss business model.

Kate Dobson is a former assistant comics editor for the Washington Post and head writer for Brown University's humor magazine. These days, when she's not writing, she enjoys serving food to her small children and, later, vacuuming that same food up off the floor.
Praise For Hottest Heads of State: Volume One: The American Presidents…
"A near perfect nexus of political reporting, history, and hirsute hotness. I knew a classic was born reading the words, 'You probably thought to yourself, 'Boy, I'd like to be in a Grover Cleveland sandwich.''" —Berkeley Breathed, Pulitzer-winning creator of "Bloom County"

"J.D. and Kate Dobson reveal the presidents' little known charms and unusual quirks in their hysterical book."—Real Simple
"Combining biting satire with gleeful absurdity, this is a relentlessly funny, bipartisan exploration of America's presidents that judges each as a potential partner."—BookPage

"It's hilarious, but also surprisingly informative. If you ever need a crash course in the gold standard written à la Buzzfeed, the Dobsons are at your service."—RiverfrontTimes