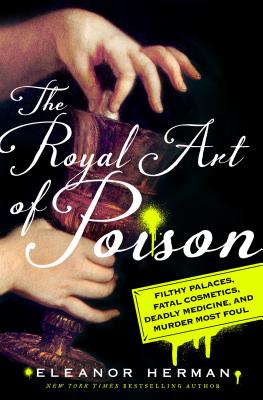 The Royal Art of Poison
Filthy Palaces, Fatal Cosmetics, Deadly Medicine, and Murder Most Foul
Hardcover

* Individual store prices may vary.
Other Editions of This Title:
Digital Audiobook (7/3/2019)
Compact Disc (9/10/2018)
MP3 CD (9/10/2018)
Description
One of Washington Independent Review of Books' 50 Favorite Books of 2018 • A Buzzfeed Best Book of 2018

"Morbidly witty." —Marilyn Stasio, The New York Times

"A heady mix of erudite history and delicious gossip." —Aja Raden, author of Stoned

Hugely entertaining, a work of pop history that traces the use of poison as a political—and cosmetic—tool in the royal courts of Western Europe from the Middle Ages to the Kremlin today

The story of poison is the story of power. For centuries, royal families have feared the gut-roiling, vomit-inducing agony of a little something added to their food or wine by an enemy. To avoid poison, they depended on tasters, unicorn horns, and antidotes tested on condemned prisoners. Servants licked the royal family's spoons, tried on their underpants and tested their chamber pots.

Ironically, royals terrified of poison were unknowingly poisoning themselves daily with their cosmetics, medications, and filthy living conditions. Women wore makeup made with mercury and lead. Men rubbed turds on their bald spots. Physicians prescribed mercury enemas, arsenic skin cream, drinks of lead filings, and potions of human fat and skull, fresh from the executioner. The most gorgeous palaces were little better than filthy latrines. Gazing at gorgeous portraits of centuries past, we don't see what lies beneath the royal robes and the stench of unwashed bodies; the lice feasting on private parts; and worms nesting in the intestines.

In The Royal Art of Poison, Eleanor Herman combines her unique access to royal archives with cutting-edge forensic discoveries to tell the true story of Europe's glittering palaces: one of medical bafflement, poisonous cosmetics, ever-present excrement, festering natural illness, and, sometimes, murder.
Praise For The Royal Art of Poison: Filthy Palaces, Fatal Cosmetics, Deadly Medicine, and Murder Most Foul…
Included in Northern Virginia Magazine's "What We're Reading This Month," June 2018

"Reads like juicy historical gossip." —Buzzfeed

"Morbidly witty... Among the chapters packed with information on the appalling health habits of past generations, my favorite is 'Putrid Palaces.'" —Marilyn Stasio, The New York Times

"[A] macabre and entertaining romp...[Herman] writes vividly and with great humor, combining detailed research with easy narrative, making her book both enthralling and sinister." —The Washington Times

"Potions nerds, this one's for you. In this fresh new book, Eleanor Herman dives into the history of poison, and all the truly strange "remedies" people used to use in an attempt to prevent poisonings. Slughorn would totally approve." —Bustle

"I want to read The Royal Art of Poison, Eleanor Herman's history of poisons. Were I to commit murder, poison would be my weapon of choice. Please note that I do not intend to murder anyone." —A.J. Finn

"Rip-roaring pop history...By turns fascinating and stomach-churning, the book's detailed descriptions of different types of poisons will both shock and delight history buffs and enthusiasts of the macabre." —Publishers Weekly

"A pernicious history that will make jaws drop and pages fly." —Booklist

"This book is filled with blood and guts and other unsavory things, so it's not for the squeamish. Curious folks will love it, though, and European history lovers won't want to pass on The Royal Art of Poison." —Terri Schlichenmeyer, "The Bookworm Sez"

"Herman has a delightful appreciation for all things beautiful and terrible. With her dishy signature style and a dazzling command of the facts, she brews up a heady mix of erudite history and delicious gossip." —Aja Raden, New York Times bestselling author of Stoned

"Whether deliberate, accidental or the result of an antidote, the gruesome outcome of ingestion of toxins is deftly described in The Royal Art of Poison. Add political intrigue, disgusting sanitation, ubiquitous filth, horrendous medical procedures, and every sort of vermin and you get a very different picture to what we romantically assume to be the 'good old days.'" —Penny Le Couteur, author of Napoleon's Button
St. Martin's Press, 9781250140869, 304pp.
Publication Date: June 12, 2018
About the Author
Eleanor Herman is the author of Sex with Kings, Sex with the Queen, and several other works of popular history. She has hosted Lost Worlds for The History Channel, The Madness of Henry VIII for the National Geographic Channel, and is now filming her second season of America: Fact vs. Fiction for The American Heroes Channel. Herman, who happily dresses in Renaissance gowns, lives with her husband, their black lab, and her four very dignified cats in McLean, VA.
or
Not Currently Available for Direct Purchase