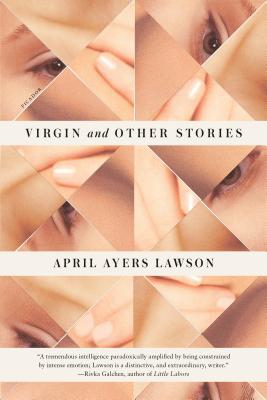 Virgin and Other Stories (Paperback)
Picador, 9781250141231, 192pp.
Publication Date: November 7, 2017
Other Editions of This Title:
Hardcover (11/1/2016)
* Individual store prices may vary.
Description
One of The Irish Times "Best debuts of 2017"

One of New York Magazine's "45 New Books to Read This Fall"
One of The Millions' "Most Anticipated" for the second half of 2016
One of The Huffington Post's "20 New Books You'll Need For Your Shelf in Fall 2016"
One of The Boston Globe's "most anticipated" for Fall 2016
One of Bookriot's "16 Books to Read This Fall"
One of Harper's Bazaar's "16 Books You Need to Read in November"

Set in the American South, at the crossroads of a world that is both secular and devoutly Christian, April Ayers Lawson's stories mine the inner lives of young women and men navigating sexual, emotional, and spiritual awakenings. In the title story, Jake grapples with the growing chasm between him and his wife, Sheila, who was a virgin when they wed. In "Three Friends in a Hammock" the tension and attraction is palpable between three sexy, insecure young women as they tug and toe the rope of their shared sack. "The Way You Must Play Always" invites us into the mind of Gretchen, young-looking even for thirteen, as she attends her weekly piano lesson, anxiously anticipating her illicit meeting with Wesley, her instructor's adult brother who is recovering from a brain tumor. Conner, the cynical sixteen-year-old narrator of "The Negative Effects of Homeschooling," escorts his mink-wearing mother to the funeral of her best friend, Charlene, a woman who was once a man. And in "Vulnerability" we accompany a young married painter to New York City, lured there by an art dealer and one of his artists. Both are self-involved and have questionable intentions, but nevertheless she is enticed.
Nodding to the Southern Gothic but channeling an energy all its own, Virgin and Other Stories is a mesmerizing debut from an uncannily gifted young writer. With self-assurance and sensuality, April Ayers Lawson unravels the intertwining imperatives of intimacy—sex and love, violation and trust, spirituality and desire—eyeing, unblinkingly, what happens when we succumb to temptation.
About the Author
April Ayers Lawson is the recipient of the 2011 George Plimpton Award for Fiction, as well as a 2015 writing fellowship from The Corporation of Yaddo. "Virgin" was also named a 2011 favorite short story of the year by Flavorwire Magazine and anthologized in The Unprofessionals: New American Writing From The Paris Review (Penguin 2016). Her fiction has appeared in the Norwegian version of Granta, Oxford American, Vice, ZYZZYVA, Crazyhorse, and Five Chapters, among others. She has lectured in the Creative Writing Department at Emory University, and is the 2016-2017 Kenan Visiting Writer at University Of North Carolina, Chapel Hill.
Praise For Virgin and Other Stories…
"Fans of Jamie Quatro's I Want to Show You More will be drawn to Lawson's lyric, expansive dramatizations of Southern evangelical Christians, as she straddles the intersection of sexuality and faith. Her sentences, so sharp, are meant to linger." –The Millions
"A tremendous intelligence paradoxically amplified by being constrained by intense emotion; Lawson is a distinctive, and extraordinary, writer." —Rivka Galchen, author of Little Labors
"April Ayers Lawson is one of the boldest young writers alive. Reckless and brave, Virgin and
Other Stories swirls with characters who emotionally shape-shift through complicated worlds of sexuality, anticipation, and guilt. This is a book where each action and emotion means three things at once and where characters bleed into one another like strange, cut-up puzzles. It's a book asking you to look into its eyes, even if you know this look will lead only to disaster. But go ahead. Stare even. It's what you want anyway." —Scott McClanahan, author of Crapalachia and Hill William
"The stories in Virgin are sensual, and smart, and theologically informed—but what I find most captivating is the refined elegance of the prose itself. Like Virginia Woolf and Samantha Harvey, Lawson renders her fine, often painfully precise details in a lyric, near-transcendent voice. She probes, without fear or inhibition, the deepest psychologies of her characters, holding their feet to the proverbial fire while never losing sight of the fact that what makes them characters are the small, specific moments of embodiment: two naked legs touching, the way a man cuffs his sleeves, an intense sexual violation—the little corks marking a vast submerged net, as Woolf would say. Virgin is an important, immersive work by a young writer on the cusp of what I predict will be a tidal wave career." —Jamie Quatro, author of I Want to Show You More
"April Ayers Lawson renders complete portraits of sexual relationships, from start to finish, in a way that is fully honest and brave and even occasionally shameless, in the highest sense. Fearless, bold, these stories are entertaining contemporary classics." —Amie Barrodale, author of You Are Having a Good Time
"['Virgin' is] an astonishment. All sex and brains and feeling. And it's funny too." –Lorin Stein, TheEconomist.com