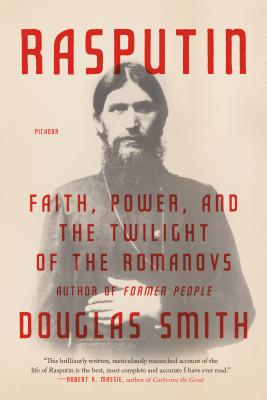 Rasputin
Faith, Power, and the Twilight of the Romanovs
Paperback

* Individual store prices may vary.
Other Editions of This Title:
Digital Audiobook (11/21/2016)
Hardcover (11/22/2016)
Description
On the centenary of the death of Rasputin comes a definitive biography that will dramatically change our understanding of this fascinating figure

A hundred years after his murder, Rasputin continues to excite the popular imagination as the personification of evil. Numerous biographies, novels, and films recount his mysterious rise to power as Nicholas and Alexandra's confidant and the guardian of the sickly heir to the Russian throne. His debauchery and sinister political influence are the stuff of legend, and the downfall of the Romanov dynasty was laid at his feet.

But as the prizewinning historian Douglas Smith shows, the true story of Rasputin's life and death has remained shrouded in myth. A major new work that combines probing scholarship and powerful storytelling, Rasputin separates fact from fiction to reveal the real life of one of history's most alluring figures. Drawing on a wealth of forgotten documents from archives in seven countries, Smith presents Rasputin in all his complexity--man of God, voice of peace, loyal subject, adulterer, drunkard. Rasputin is not just a definitive biography of an extraordinary and legendary man but a fascinating portrait of the twilight of imperial Russia as it lurched toward catastrophe.
Praise For Rasputin: Faith, Power, and the Twilight of the Romanovs…
"[The] definitive biography of this most mysterious and controversial figure . . . Under Smith's probing eye, archives yield up impressive detail and previously unknown accounts that place Rasputin's life in a new, more realistic context." —Greg King, The Washington Post

"[Douglas Smith's] scrupulous, insightful and thorough study will surely be the definitive account of one of the most controversial personalities of Russian (and European) history . . . Mr. Smith's research busts various Rasputin myths through a careful analysis of contemporary sources and a meticulous attention to the archives . . . All of this Mr. Smith presents lucidly, vividly and sympathetically . . . Rasputin is sharply drawn and unmistakable." —Edward Lucas, The Wall Street Journal

"Douglas Smith has delivered the definitive biography [of Rasputin] that is brilliantly gripping, as hypnotic, wild and erotic in its revelations as the Mad Monk himself, sensitive in its human portrait, astute in its political analysis, superbly researched with rich new material gathered in faraway archives, and populated with the zaniest cast of the deranged Romanovs, depraved bishops, whores, mountebanks, adventuresses, mystics and murderers." —Simon Sebag Montefiore, Evening Standard (UK)

"From the opening pages of his colossal biography of Grigory Rasputin, the historian Douglas Smith dismantles many of the myths enshrouding the monk who exerted inordinate influence over Nicholas II and Alexandra, emperor and empress of Russia, during the twilight of the Romanov dynasty a century ago . . . In Mr. Smith's telling, Rasputin was neither a sinner nor a saint, and very much a product of his time." —Steven Lee Myers, The New York Times

"Magisterial . . . This balanced, impeccably researched book is a revelation, as richly detailed and engrossing as any novel." —Boris Dralyuk, Los Angeles Review of Books

"Definitive." —Anne Applebaum, Harper's Magazine

"Powerful . . . [Douglas Smith] scoured diaries, letters, police files and archives to create the definitive portrait of a man whose deeply held religious beliefs were often overshadowed by such debauchery and drunkenness that he's fixed in the popular imagination as the 'mad monk.' It is a masterful display of storytelling." —Patricia Treble, Maclean's (Canada)

"Substantial, meticulously researched, and fluently written." —Rodric Braithwaite, The Observer (UK)

"Superb and authoritative." —Donald Rayfield, Literary Review (UK)

"[Rasputin] is by far the most comprehensive account of Rasputin to date, brimming with complexities and fascinating detail, and stands as an enlightening re-evaluation of this crucial figure in Russian history." —Helen Rappaport, The Telegraph (UK)

"How much does the mythology misrepresent [Rasputin]? Was everything he did bad for Russia? These are the two central questions Douglas Smith sets out to answer in this astounding biography. And he succeeds, eschewing the gossip and innuendo that have long surrounded his subject to produce a well-rounded portrait of a complex individual." —J.P. O'Malley, The Mail on Sunday (UK)

"The definitive account of Grigory Rasputin's life and times . . . Smith not only reinterprets the work of his predecessors but also provides a wealth of new information about Rasputin . . . Far from uncovering banal reality behind Rasputin's supposed mystical talents, Smith instead explains how the man's forceful personality came to have such an impact on intelligent, learned people such as the Tsar and Tsarina . . . Smith's book reads like a revelatory work of revisionist history, unearthing a flesh-and-blood person from a century's worth of lies and exaggerations." —Hank Stephenson, Shelf Awareness

"Gripping . . . a fascinating, often entertaining biography." —Gerard DeGroot, The Times (Saturday Review) (UK)

"Utterly fascinating and forensically detailed … There are plenty of Rasputin biographies, but its superlative scholarship and attention to detail place this one in a class of its own." —Dominic Sandbrook, The Sunday Times (UK)

"[Smith] renders in great detail the ten years that Rasputin spent on the national stage, from 1906 until his murder in 1916. Sorting through the Rasputin mythology, Smith discards the apocryphal and weighs the plausible, balancing the extraordinary mix of mysticism and debauchery that made the peasant monk notorious. Digging through countless and often conflicting firsthand accounts and impressions, Smith gives Rasputin's mystique a depth and a fine edge missing from prior histories." —Robert Legvold, Foreign Affairs

"In this monumental and soul-shaking biography, historian and translator Douglas Smith demystifies the figure of Grigory Rasputin . . . With a Dostoyevskian flair for noir and obsession, Smith exposes the base motivations behind Rasputin's enemies . . . [and] expertly handles the intricacies of the salacious scandals that enveloped the empire in anti-Rasputin hysteria and that eerily presaged the fall of the Romanovs in 1917 . . . Smith's depravity-laden history of turn-of-the-20th-century Russia hinges on his insightful readings of myth and motive, and their tragic consequences." —Publishers Weekly (starred review)

"[Smith] stuns with a scrupulously exhaustive biography of the monk's role in the Russian empire's fall and the rise of Bolshevism . . . His dedication to extricating Rasputin's experience from newly available Soviet Union primary sources and international archives surpasses all previous academic works in breadth and scope . . . Smith's study will surely be considered the seminal scholarly work on Rasputin, an essential read for students of Imperial Russia's downfall." —Jessica Bushore,Library Journal (starred review)

"[An] amazingly detailed, deeply researched biography. [Douglas Smith] carefully lifts the myths away from the real story, which nevertheless is presented here as a greatly compelling picture of a figure who at the zenith of his influence was known all over Russia." —Booklist (starred review)

"This brilliantly written, meticulously researched account of the life of Rasputin is the best, most complete and accurate I have ever read. Step by step, day by day, week by week, Douglas Smith tells the story from its humble beginnings, through its obscene sexual chapters, to its violent end. He describes how a peasant became 'our Friend' to the last emperor and empress of Russia. He explains why this dependency came at a terrible cost for the imperial couple, for their children, for Russia, and for the twentieth-century world. Readers will begin by saying that this is an impossible story to believe. They will read on because, in Douglas Smith's mesmerizing telling, it must be believed. And because it did happen." —Robert K. Massie, author of Catherine the Great

"In his research, comprehensive to the nth degree, Douglas Smith has dug up previously unseen archives, followed previously unexplored leads, and connected the dots across the Russian landscape. They're dots of blood. Rasputin reveals the true character of the man without minimizing his malign hold on the feckless Romanovs." —Ken Kalfus, author of The Commissariat of Enlightenment

"It is hard to imagine a historical figure more barnacled with myth than Rasputin. Douglas Smith unravels Rasputin's complex narrative in unprecedented detail, showing how he was a kind of chimera onto which could be hung all the ills of a disintegrating Russia. In the process, Smith vividly exposes the astonishing blindness of the ruling class that made its tragic end inevitable. A brilliant achievement." —Rosemary Sullivan, author of Stalin's Daughter: The Extraordinary and Tumultuous Life of Svetlana Alliluyeva

"In his magisterial, exhaustively researched work on Rasputin, Douglas Smith paints a rich, detailed portrait of one of history's most fascinating individuals while also chronicling the dramatic last days of the tsar. It's a wondrous read." —Neal Bascomb, author of The Winter Fortress: The Epic Mission to Sabotage Hitler's Atomic Bomb

"A big book about a big figure in the demise of tsarism. Douglas Smith supplies chapter and verse on the extraordinary life of Grigory Rasputin, the eminence grise behind the Romanov throne. Without denying the salacious and corrupt ways of the 'holy man,' the book brilliantly and thoughtfully defends Rasputin against the worst of the myths that swirled around him. A tour de force." —Robert Service, author of The End of the Cold War: 1985–1991 and Lenin: A Biography

"The most complete and masterful study of Rasputin that I've read. Douglas Smith's work is not only extraordinarily readable, but rich in detail." —Robert Alexander, author of The Kitchen Boy: A Novel of the Last Tsar

"Some years ago, when working on a historical novel, I had to read all the existing Rasputin biographies—and they do abound, in all literary styles and in many languages. What a pity that Douglas Smith's Rasputin had not yet been published; it would have saved me a lot of time. If you are interested in the story of the Romanovs' pet prophet, this is the book to read." —Boris Akunin, author of The Coronation

"A prodigious piece of scholarship. Douglas Smith's exhaustive and forensic examination of a wealth of new and previously unseen evidence finally lays to rest the tired old myth of 'the mad monk' and rightly positions Rasputin as a crucial figure in late Imperial Russian history." —Helen Rappaport, author of The Romanov Sisters: The Lost Lives of the Daughters of Nicholas and Alexandra
Picador, 9781250141262, 880pp.
Publication Date: November 7, 2017
About the Author
Douglas Smith is an award-winning historian and translator and the author of Rasputin and Former People, which was a bestseller in the U.K. His books have been translated into a dozen languages. The recipient of a Guggenheim Fellowship, he has written for The New York Times and Wall Street Journal and has appeared in documentaries with the BBC, National Geographic, and Netflix. Before becoming a historian, he worked for the U.S. State Department in the Soviet Union and as a Russian affairs analyst for Radio Free Europe/Radio Liberty. He lives with his family in Seattle.