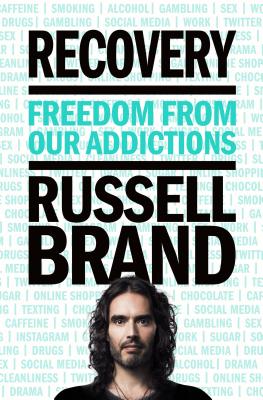 Recovery
Freedom from Our Addictions
Hardcover

* Individual store prices may vary.
Other Editions of This Title:
Digital Audiobook (10/2/2017)
Paperback (12/31/2018)
CD-Audio (10/3/2017)
Description
A guide to all kinds of addiction from a star who has struggled with heroin, alcohol, sex, fame, food and eBay, that will help addicts and their loved ones make the first steps into recovery

"This manual for self-realization comes not from a mountain but from the mud...My qualification is not that I am better than you but I am worse." —Russell Brand

With a rare mix of honesty, humor, and compassion, comedian and movie star Russell Brand mines his own wild story and shares the advice and wisdom he has gained through his fourteen years of recovery. Brand speaks to those suffering along the full spectrum of addiction—from drugs, alcohol, caffeine, and sugar addictions to addictions to work, stress, bad relationships, digital media, and fame. Brand understands that addiction can take many shapes and sizes and how the process of staying clean, sane, and unhooked is a daily activity. He believes that the question is not "Why are you addicted?" but "What pain is your addiction masking? Why are you running—into the wrong job, the wrong life, the wrong person's arms?"

Russell has been in all the twelve-step fellowships going, he's started his own men's group, he's a therapy regular and a practiced yogi—and while he's worked on this material as part of his comedy and previous bestsellers, he's never before shared the tools that really took him out of it, that keep him clean and clear. Here he provides not only a recovery plan, but an attempt to make sense of the ailing world.
Praise For Recovery: Freedom from Our Addictions…
"A thought-provoking explication of the 12-step program run through the Mixmaster of Mr. Brand's verbal pyrotechnics . . . spellbinding . . . stunning." —The New York Times

"A no B.S. program to conquer all." —Us Weekly

"Russell Brand brings an exhaustive and profound understanding of what it means to be felled by addiction and how to stand back up again. It is potentially there in all of us." —Men's Health

"With a rare mix of honesty, humor, and compassion, comedian and movie star Russell Brand mines his own wild story and shares the advice and wisdom he has gained through his fourteen years of recovery." —InRecovery Magazine

"Transformative . . . entertaining and easy to read . . . eye-popping." —The Guardian

"Russell Brand is a gift to this world! His ability to translate how to transform your life using modern language and humor is an invaluable resource for a new generation. This book is a must read!" —Tony Robbins, New York Times bestselling author of Unshakable: Your Financial Freedom Playbook and Money: Master the Game

"This is a brave and useful book, that I read in one day. It offers real insight into addiction and the stuff that drives it and Russell has done a great service in tackling the classic twelve steps in a non-reverential and totally entertaining kind of way that will help a lot of people. It feels wrong to say it is an addictive read, given the subject, but it really is. Russell doesn't just want to save our souls he wants to entertain us on the way." —Matt Haig, author of How to Stop Time and Reasons to Stay Alive

"Recovery should be read by the world." —Ruby Wax, author of Sane New World

"The premise of his program is that the 12 steps followed by Alcoholics Anonymous can work for anyone. Recovery is the 12 steps, as translated by Russell Brand." —Sunday Times (UK)

"While the insights are not original, the experience of them is unique and it's Brand's own story that gives the book its energy. For anyone with an abiding interest in Russell Brand." —The Observer (UK)

"Personally it always struck me as a bit unfair that only raging alcoholics and hopeless drug addicts got to practice the 12 steps, given how they provide such an invaluable emotional toolbox?now, thanks to the vision (his critics might say the ego) of Russell Brand, they are available to all." —Suzanne Harrington, Irish Examiner

"There is no better lesson to be learnt than by someone who has lived it. And with that in mind, Russell Brand is a man to listen to. Carefully. Beneath the performance he talks sense. A lot of it." —Stylist (UK)

"One of his most endearing qualities is his emotional honesty—his openness about his flaws and ignorance, and his confidence despite them." —CALM (UK)
Henry Holt and Co., 9781250141927, 288pp.
Publication Date: October 3, 2017
About the Author
Russell Brand is a comedian and an addict. He's been addicted to drugs, sex, fame, money and power. Even now as a father, more than fifteen years into recovery he still writes about himself in the third person and that can't be healthy. He is the author of several books, including the New York Times bestseller Recovery. He still performs as a comic and is studying for an MA in Religion in Global Politics. He has two cats, two dogs, a wife, two daughters, ten chickens and sixty thousand bees in spite of being vegan curious. He is certain that the material world is an illusion but still keeps licking the walls of the hologram.