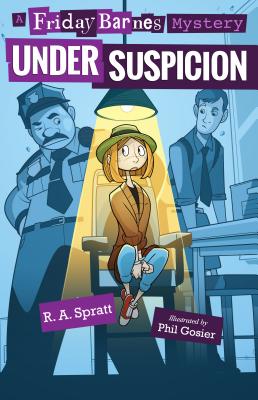 Under Suspicion (Paperback)
A Friday Barnes Mystery (Friday Barnes Mysteries)
Square Fish, 9781250141996, 304pp.
Publication Date: August 1, 2017
* Individual store prices may vary.
Description
"A must-have series for middle-grade readers." —Booklist
Friday Barnes, girl detective, is... under arrest?!
Getting arrested was the last thing Friday expected after solving the swamp-yeti mystery at her boarding school. But she better clear her name fast! She's got new cases to investigate, like a scandalous quiche bake-off, a decades old mystery buried in her school's backyard, and why the new boy, Christopher, is being so nice to her.
More adventures and intrigue ensue in Under Suspicion: A Friday Barnes Mystery, the second book in the illustrated Friday Barnes mystery series, starring a genius detective with the brains (and social skills) of Sherlock Holmes.
Don't miss any of the Friday Barnes books! Start the adventure all over again with Girl Detective: A Friday Barnes Mystery or continue on with Book Three, No Rules: A Friday Barnes Mystery by R. A. Spratt and illustrated by Phil Gosier.
Praise for Under Suspicion: A Friday Barnes Mystery:
"Spratt continues to hit just the right mix of dry humor and suspense. Her characterization of her protagonist shines . . . Readers know that, like Sherlock Holmes, Friday will solve every mystery; the book's fun is in seeing how she does it . . . A cliffhanger ending will have readers drumming their fingers as they wait for the next episode." —Kirkus Reviews
"[For] readers who like humor but also want more intelligent characters and jokes, as well as those who like quirky mysteries." —Booklist
"This second book in the Friday Barnes series is even funnier and quirkier than its predecessor." —School Library Journal
About the Author
R.A. Spratt is an award-winning author and television writer. Her Nanny Piggins series went into nine best selling volumes in Australia. She lives in Bowral, Australia with her husband, two daughters and a puppy called Henry. Like Friday Barnes, R.A. enjoys wearing a silly hat.

Phil Gosier is an independent art director and designer working in the Washington, D.C. area. His illustration and design clients include Kellogg's, the Discovery Channel, Marvel and DC Comics, and Macmillan, where he illustrates the Friday Barnes Mystery series as well as his own picture books, including Snow Beast Comes to Play. He graduated from the University of Maryland and lives in suburban Maryland with his family.
Praise For Under Suspicion: A Friday Barnes Mystery (Friday Barnes Mysteries)…
"This second book in the Friday Barnes series is even funnier and quirkier than its predecessor." —School Library Journal
"Spratt's droll humor, often expressed through Friday's spacey friend Melanie, is the perfect complement to the offbeat mysteries Friday encounters . . . Give this to readers who like humor but also want more intelligent characters and jokes, as well as those who like quirky mysteries." —Booklist
"Spratt continues to hit just the right mix of dry humor and suspense. Her characterization of her protagonist shines . . . Readers know that, like Sherlock Holmes, Friday will solve every mystery; the book's fun is in seeing how she does it . . . A cliffhanger ending will have readers drumming their fingers as they wait for the next episode." —Kirkus Reviews
"Spratt's effortlessly funny narration will keep readers laughing from start to finish." —Publishers Weekly, starred review on Girl Detective: A Friday Barnes Mystery
"With off-the-wall plot turns and small mysteries scattered throughout, this is the perfect choice for mystery fans with a silly sense of humor, and the cliff-hanger ending promises more sleuthing on the horizon. Gosier's black-and-white spot illustrations add to the charming atmosphere. A sheer delight." —Booklist, starred review on Girl Detective: A Friday Barnes Mystery
"Quirky, tongue-in-cheek... delightfully eccentric . . . A good choice for voracious readers who enjoy a blend of humor and mystery." —School Library Journal on Girl Detective: A Friday Barnes Mystery
"Spratt begins this new series with a nifty, engaging protagonist who can keep readers laughing and help young geeks feel good about themselves . . . Delightful, highly logical, and well-informed fun." —Kirkus Reviews on Girl Detective: A Friday Barnes Mystery