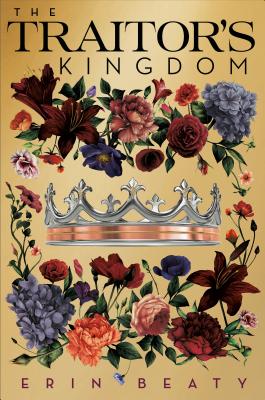 The Traitor's Kingdom (Traitor's Trilogy #3) (Hardcover)
Imprint, 9781250142351, 400pp.
Publication Date: July 9, 2019
Other Editions of This Title:
Paperback (7/7/2020)
* Individual store prices may vary.
Description
Unlikely alliances are forged and trust is shattered in the stunning conclusion to Erin Beaty's The Traitor's Trilogy--The Traitor's Kingdom.
A new queen under threat.
An ambassador with a desperate scheme.
Two kingdoms with everything to lose.
Once a spy and counselor to the throne, Sage Fowler has secured victory for her kingdom at a terrible cost. Now an ambassador representing Demora, Sage is about to face her greatest challenge to avoid a war with a rival kingdom.
After an assassination attempt destroys the chance for peace, Sage and her fiancé Major Alex Quinn risk a dangerous plot to reveal the culprit. But the stakes are higher than ever, and in the game of traitors, betrayal is the only certainty.
An Imprint Book
"Like a PG-13 Game of Thrones...a satisfying and suspenseful end to a solid political fantasy series." —Kirkus Reviews

Praise for The Traitor's Ruin
"A more YA-friendly Game of Thrones...Recalls classic novels such as Tamora Pierce's Alanna series and Robin McKinley's Blue Sword…should keep readers' appetites whetted for the third installment." —Kirkus Reviews
Praise for The Traitor's Kiss
"A thrilling tale with an unforgettable heroine and a love story that left me breathless." —Mary E. Pearson, New York Times bestselling author of The Remnant Chronicles and Dance of Thieves
About the Author
Erin Beaty was born and raised in Indianapolis, Indiana, which means she can't drive a tractor, but she won't eat veggies that come from a can. She graduated from the US Naval Academy with a degree in rocket science and somehow always ended up writing her study group's lab reports. After serving in the fleet as a weapons officer and a leadership instructor, it still amazes her when other people want to hear the stories that come out of her head.
She and her husband have five children, two cats, and a vegetable garden and live wherever the navy tells them to go.
The Traitor's Kiss is her debut novel.
Praise For The Traitor's Kingdom (Traitor's Trilogy #3)…
"Like a PG-13 Game of Thrones...a satisfying and suspenseful end to a solid political fantasy series." —Kirkus Reviews

Praise for The Traitor's Ruin:
"A more YA-friendly Game of Thrones...Recalls classic novels such as Tamora Pierce's Alanna series and Robin McKinley's Blue Sword… should keep readers' appetites whetted for the third installment." —Kirkus Reviews
Praise for The Traitor's Kiss:
"A Thrilling tale with an unforgettable heroine and a love story that left me breathless." —Mary E. Pearson, New York Times–bestselling author of The Remnant Chronicles and Dance of Thieves
"One of the most hotly anticipated young adult fantasy reads of 2017" —Bustle
"An action-packed, expertly plotted story, drenched in double crosses and intrigue, with an irresistible heroine and a sweet and sexy romance."—Publishers Weekly, starred review
"Complex characterization, deftly layered adventure story, and [a] balanced blend of political maneuvering, romantic interludes, and action scenes." —Kirkus Reviews

"Beaty balances a taut web of deceit...readers will be carried away by the mystery." —The Bulletin of the Center for Children's Books (BCCB)