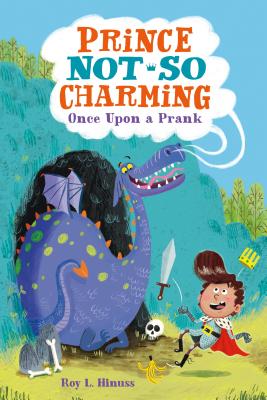 Prince Not-So Charming (Paperback)
Once Upon a Prank
Imprint, 9781250142382, 144pp.
Publication Date: August 28, 2018
* Individual store prices may vary.
Description
Turns out being Prince Charming isn't a fairy tale; it's more like a fart joke.
Prince Carlos Charles Charming is the youngest in a long line of Prince Charmings. But he'd much rather grow up to be a court jester. He dreams of juggling fire while riding a unicycle instead of fulfilling his princely duty. (And the word "duty" always make him think of a poop joke.)
But when a dragon is spotted in the Somewhat Enchanted woods, Carlos is going to have to figure out how to be a true Prince Charming fast. Because it's a slay-or-get-slayed world out there. . . .
The first in a hilarious new series of illustrated chapter books, Prince Not-So Charming: Once Upon a Prank by Roy L. Hinuss introduces a reluctant Prince Charming to every kid who might worry that it's hard to live up to the fairy tale.
Don't miss the second book in the series, Her Royal Slyness, on-sale alongside this book!
An Imprint Book
About the Author
Roy L. Hinuss is the authorized biographer of the Charming Royal family. He is also fond of the occasional fart joke. When he isn't writing about Prince Carlos Charles Charming's many adventures, he can be found in his basement laboratory making batches of homemade Brussels sprout ice cream.

Matt Hunt is the illustrator of the Prince Not-So Charming series of young readers books, including Prince Not-So Charming: Once Upon a Prank and Prince Not-So Charming: Her Royal Slyness.