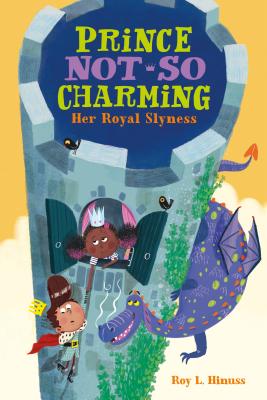 Prince Not-So Charming
Her Royal Slyness
Paperback

* Individual store prices may vary.
Description
Prince Charming is supposed to rescue a princess—but she has other ideas.
The youngest in a long line of Prince Charmings, Carlos is juggling a lot. That is, he is spending his time juggling balls in the air—instead of doing his princely duties.
But now he has a terrifying mission: There's a princess trapped in a tower—the Tallest Tower, on Witch Island, surrounded by Witch Lake. You don't need me to tell you how scary that sounds.
But Carlos soon discovers that rescuing a damsel in distress requires a damsel who's in distress. This princess doesn't need to be rescued—and definitely doesn't need a prince charming.
Her Royal Slyness by Roy L. Hinuss is the second illustrated chapter book in the hilarious new series about how hard it can be to live up to the fairy tale.
Don't miss the first book in the series, Once Upon A Prank, out now!
An Imprint Book
Imprint, 9781250142405, 144pp.
Publication Date: August 28, 2018
About the Author
Roy L. Hinuss is the authorized biographer of the Charming Royal family. He is also fond of the occasional fart joke. When he isn't writing about Prince Carlos Charles Charming's many adventures, he can be found in his basement laboratory making batches of homemade Brussels sprout ice cream.

Matt Hunt is the illustrator of the Prince Not-So Charming series of young readers books, including Prince Not-So Charming: Once Upon a Prank and Prince Not-So Charming: Her Royal Slyness.