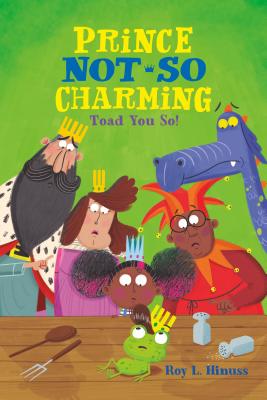 Prince Not-So Charming (Paperback)
Toad You So!
Imprint, 9781250142467, 144pp.
Publication Date: February 19, 2019
Other Editions of This Title:
Paperback (2/19/2019)
Paperback (11/13/2018)
Paperback (11/13/2018)
* Individual store prices may vary.
Description
The fifth chapter book in the Prince Not-So Charming series features Prince Carlos being turned into a toad.
Prince Carlos Charles Charming is finally figuring out how to be both a prince and a court jester. But then a mixed-up wizard transforms Carlos into a toad who eats bugs and croaks instead of speaks. Unfortunately, the wizard doesn't have a spell for reversing it. Even more unfortunately, "Toad Surprise" is on the menu for today's lunch at Fancy Castle! Can Carlos escape the kitchen and leap back into his normal life—warts and all?
Perfect for middle grade readers and filled with adorable illustrations, Prince Not-So Charming: Toad You So shows it's hard to live up to the fairy tale—but the first step is letting your true self show through.
An Imprint Book
About the Author
Roy L. Hinuss is the authorized biographer of the Charming Royal family. He is also fond of the occasional fart joke. When he isn't writing about Prince Carlos Charles Charming's many adventures, he can be found in his basement laboratory making batches of homemade Brussels sprout ice cream.