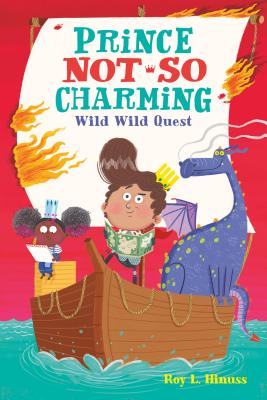 Prince Not-So Charming (Paperback)
Wild Wild Quest
Imprint, 9781250142481, 144pp.
Publication Date: February 19, 2019
Other Editions of This Title:
Paperback (2/19/2019)
Paperback (11/13/2018)
Paperback (11/13/2018)
* Individual store prices may vary.
Description
The sixth chapter book in the Prince Not-So Charming series features Prince Carlos going on a quest—and disaster is never far away.
Prince Carlos Charles Charming tells a lot more jokes than your standard prince is probably supposed to. But he's been working hard to live up to his princely expectations.
That's good, because the ultimate prince, Gilbert the Gallant, has gone missing! Carlos, his friend Pinky, and his pet dragon Smudge are assigned to go find Gilbert and complete his quest. But how can Carlos do what the oh-so-perfect Gilbert couldn't? Especially when Smudge sets their boat on fire before they've gone very far? And every princely voyage involves a sea monster!
Perfect for middle grade readers and filled with adorable illustrations, Prince Not-So Charming: Wild Wild Quest shows how even princes struggle sometimes—but the only way to get through it is one step at a time.
An Imprint Book
About the Author
Roy L. Hinuss is the authorized biographer of the Charming Royal family. He is also fond of the occasional fart joke. When he isn't writing about Prince Carlos Charles Charming's many adventures, he can be found in his basement laboratory making batches of homemade Brussels sprout ice cream.