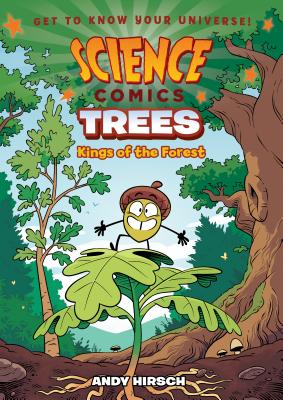 Science Comics (Paperback)
Trees: Kings of the Forest
First Second, 9781250143105, 128pp.
Publication Date: August 21, 2018
* Individual store prices may vary.
Description
Every volume of Science Comics offers a complete introduction to a particular topic--dinosaurs, coral reefs, the solar system, volcanoes, bats, flying machines, and many more. These gorgeously illustrated graphic novels offer wildly entertaining views of their subjects. Whether you're a fourth grader doing a natural science unit at school or a thirty-year-old with a secret passion for airplanes, these books are for you
This volume: In Trees we follow an acorn as it learns about its future as Earth's largest, longest-living plant. Starting with the seed's germination, we learn about each stage until the tree's maturation, different types of trees, and the roles trees take on in our ecosystem.
About the Author
Andy Hirsch is a cartoonist and illustrator living in Dallas, Texas. He has contributed to the Garfield, Regular Show, Adventure Time, and Peanuts comic book series. He has published Varmints and Science Comics: Dogs with First Second.