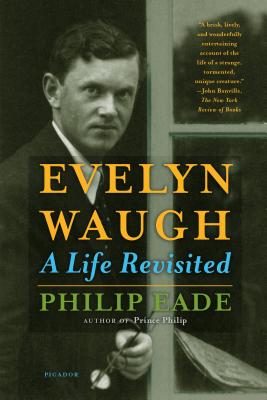 Evelyn Waugh
A Life Revisited
Paperback

* Individual store prices may vary.
Description
Named a Best Book of the Year by The Guardian, The Sunday Times, and the Financial Times

A completely fresh view of one of the most gifted—and fascinating—writers of our time, the enigmatic author of Brideshead Revisited
Graham Greene hailed Evelyn Waugh as "the greatest novelist of my generation," and in recent years Waugh's reputation has only grown. Now, half a century after Waugh's death in 1966, with Evelyn Waugh, Philip Eade has delivered a hugely entertaining biography that is both authoritative and full of new information, some of it sensational.
Drawing on extensive unseen primary sources, Eade's book sheds new light on many of the key phases and themes of Waugh's life: his difficult relationship with his embarrassingly sentimental father; his formative homosexual affairs at Oxford; his unrequited love for various Bright Young Things; his disastrous first marriage; his momentous conversion to Roman Catholicism; his unconventional yet successful second marriage; his checkered wartime career; and his shattering nervous breakdown. Along the way, we come to understand not only Waugh's complex relationship with the aristocracy, but also the astonishing power of his wit, and the love, fear, and loathing that he variously inspired in others. Waugh was famously difficult, and Eade brilliantly captures the myriad facets of his character, even as he casts new light on the novels that have dazzled generations of readers.
Praise For Evelyn Waugh: A Life Revisited…
"Philip Eade has written a brisk, lively, and wonderfully entertaining account of the life of a strange, tormented, unique creature. Through page after page one finds oneself laughing aloud." —John Banville, New York Review of Books

"Although there have been several other excellent biographies of Evelyn Waugh, this is perhaps the most penetrating and insightful one to date.....For all the value of the newly available sources and the good use to which Mr. Eade has put them, in the end it is his biographical skills and crisp way with words and phrase that make this such a valuable tool for understanding the perplexing figure." —Martin Rubin, Washington Times
"Any biography of Waugh is entertaining because he was so witty a man, and Mr. Eade does not fail to entertain. He is not only fair to Waugh, moreover; he evidently likes him. It's good to read an admiring rather than a debunking biography." —Wall Street Journal
"This crowded, witty biography follows Waugh from the ancestral home in Somerset…to the jungles of Brazil…. Eade plunges into correspondence and unpublished family papers to explore the writer's obsessions with social status and Catholicism, his jackknife turns from affection to contempt, and his torturous ambition." —The New Yorker
"Eade recounts Waugh's life in an admirably economic, straightforward manner, with a nice sense of measure and in a prose style free of jargon and cliché. He neither Freudianizes Waugh nor condemns his lapses into social savagery. Without a trace of tendentiousness, free of all doctrine, the biographer seeks to understand the strange behavior of his subject through telling the story of his life without commenting censoriously on it. The task is far from a simple one." —Joseph Epstein, The Claremont Review
"Entertaining and meticulously researched....Eade approaches his subject with empathy and an archaeologist's determination to excavate the past…. [He] skillfully narrates the ups and downs of the writer's life, from his conversion to Catholicism to his determined work on Brideshead Revisitedduring wartime. Waugh's episodes of outrageous behavior, heavy drinking, and generosity to fellow writers are all examined with admirable evenhandedness." — Harvard Review
"Unlike some of Waugh's biographers, Eade does not start from the premise that the twentieth century's great master of English prose was a fiend in human form: a wise decision that allows him to see, and portray, a complex personality in full." —George Weigel, First Things

"One gets the sense throughout his work that Eade has set his hounds to sniff out the documents and interviews that give the truth, even if unsensational, rather than the racy or amusing anecdote; yet in the end his evenhandedness serves to sharpen rather than blur the likeness he has crafted. In sum, Eade succeeds in giving a convincing picture of a complex man—one more interesting, in human terms, than the portrait the artist gave us of himself." —Paul V. Mankowski, First Things
"[Eade's] new biography deconstructs the monster and reattaches the man to the human race." —David Pryce-Jones, National Review
"For even more laughs, Philip Eade's Evelyn Waugh: A Life Revisited demonstrates that Waugh's life, already done by divers hands, really is worth another visit." —John Banville, GUARDIAN Best Books of 2016
"Eade's new biography draws on unpublished letters, diaries and memoirs to explore the eccentric larger-than-life story of one of the most acclaimed novelists of the 20th century. Will send readers back to the novels in droves." —FINANCIAL TIMES Books of the Year
"Anyone with the slightest interest in Evelyn Waugh - and who has not been intrigued by his steady return to favour? - should buy, and keep, Philip Eade's Evelyn Waugh: A Life Revisited. Why? Because it is packed with brand new, fascinating information about Waugh, his family, his friends and lovers. As well, it "rebalances" a number of entrenched, skewed perceptions of man and soldier. And it is irresistibly readable." —Donat Gallagher, editor of THE ESSAYS, ARTICLES AND REVIEWS OF EVELYN WAUGH
"Essential . . . compelling . . . Eade's pacey new biography delivers the raw material of Waugh's life. . . . Treat the Waugh aficionado in your life." —SUNDAY TIMES Books of the Year
"Eade is a gifted narrator and a master at providing the right quote at the right time at just the right length." —The Washington Free Beacon
"Thoughtful and intimate.... Drawing on previously unavailable letters, manuscripts and diaries, Eade illuminates connections between Waugh's much-lauded fiction and the author's concealed emotional life.... A convincing portrait of a flawed but gifted artist." —Booklist (starred review)
"Well crafted.... Eade focuses on Waugh's colorful personal life and exploits with the 'smart set' of his time.... Eade's treatment reveals a man of astonishing awareness of his gifts and failings, great sincerity, and wit." —Publishers Weekly
"If you like your Waugh fast, furious, and funny, there is much to enjoy in Philip Eade's sparkling Evelyn Waugh: A Life Revisited.... Waugh's letters are a joy to read, and Eade's coup is his access to a hitherto unpublished cache of them." —The Times (London)
"[Eade] is an assiduous researcher with a considerable narrative gift. He also, crucially, likes his subject. Waugh never much cared what anyone thought of him, but Eade does, and time and again he finds justification for what previous biographers have considered questionable behavior.... This is an exemplary piece of work." —The Daily Mail (London)
"Brisk and entertaining.... intelligent and illuminating.... the best single-volume life of the author available. To read [this book] is to experience a reckoning with a man whose life, like his work, is both a solace and a stimulus." —Irish Times
"A bright, breezy, and sympathetic portrait." —The Mail on Sunday (London)
"Read this book.... Eade is excellent on tracing the sources of Waugh's delights and horrors, from his life to his work and back again: the failures, the successes, the disappointments, the endless grist to the authorial mill." —Literary Review (U.K.)
"There isn't a single dull page in the whole book, and it could easily be twice as long without overstaying its welcome." – The Irish Independent (Dublin)
"It is the force of Waugh's energy— – creative, sexual and social— – that crackles through the pages of Philip Eade's meticulous and wildly entertaining biography…. . . . Eade supplies an astonishing wealth of detail… . . . and is sympathetic to Waugh's many failings without being sycophantic." ­– Daily Express
"A splendid treat. Eade's exploration of the most significant episodes in the life of this fearless, deeply melancholic comedian is a most worthwhile addition to the bowing shelf of Waughiana." – iNews
Picador, 9781250143297, 464pp.
Publication Date: October 10, 2017
About the Author
PHILIP EADE has worked as a criminal barrister, English teacher, and journalist. His first book, Sylvia Queen of the Headhunters, was a runner-up for the Biographers' Club Prize; his second, Prince Philip, became a Sunday Times bestseller. He lives in London.