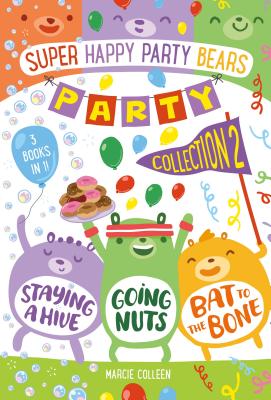 Super Happy Party Bears Party Collection #2 (Hardcover)
Imprint, 9781250143587, 432pp.
Publication Date: September 5, 2017
Other Editions of This Title:
Paperback (9/6/2016)
Paperback (8/15/2017)
Paperback (9/6/2016)
Paperback (3/14/2017)
Paperback (3/13/2018)
Paperback (9/5/2017)
Paperback (8/15/2017)
Paperback (3/14/2017)
Hardcover (1/17/2017)
Multiple copy pack (9/26/2017)
* Individual store prices may vary.
Description
This collection includes books three, four, and five in the Super Happy Party Bears chapter book series!
In Staying A Hive, Queen Beetrice and her hive of bees come to the Grumpy Woods and open up a honey shop, and the Super Happy Party Bears become their biggest customers. The bears eat and eat and eat until they go into early hibernation, and soon the forest is overflowing with uneaten honey! Can Mayor Quill, Squirelly Sam, and Opal Owl solve this sticky situation?
In Going Nuts, the bears accidentally cause a feud between the Twitchy Tails (the squirrels), and the Puffy Cheeks (the chipmunks) when they use each of their nut collections for doughnut decorating! Now there are no nuts left in the Grumpy Woods except for the legendary hidden stash of One-Tail Willy. Who will find it and eat it first?
In Bat to the Bone, the bat-only punk rock band, Flying Blind, stops at the Grumpy Woods for midnight performances. Soon tons of bat fans are keeping everyone awake at night! When the Super Happy Party Bears join the band, it's up to Opal Owl to return some peace and quiet to the woods!
Don't miss the next party in Super Happy Party Bears: The Jitterbug!
An Imprint Book
About the Author
Marcie Colleen is the author of the Super Happy Party Bears picture book series, illustrated by Steve James. She's a former classroom teacher and current Educational Consultant for the Picture Book Month initiative. In that role, she presented at a recent New York Public Library Literary Salon, which focused on the Common Core. She also creates Teacher's Guides for picture books and middle grade novels and is a huge advocate for using children's fictional literature in the classroom.
Steve James has ten years work experience in the art industry (animation, greeting cards and video game artwork).
Super Happy Party Bears
is his first children's book. Steve's art is influenced by
Adventure Time
, Oliver Jeffers and walks in the countryside. He lives near Leeds, a vibrant city in the United Kingdom.