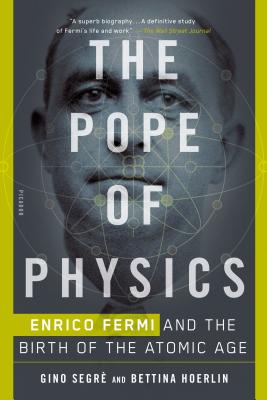 The Pope of Physics (Paperback)
Enrico Fermi and the Birth of the Atomic Age
Picador, 9781250143792, 384pp.
Publication Date: October 10, 2017
Other Editions of This Title:
Hardcover (10/18/2016)
MP3 CD (2/14/2017)
Compact Disc (2/14/2017)
* Individual store prices may vary.
Description
A New York Times Book Review Editors' Choice

Named a Best Book of the Year by Bloomberg (Chosen by Philip Tetlock), Booklist's Top 10 Science Books of the Year, and Shortlisted for Physics World's Book of the Year
A Major Biography of the Nobel Prize–Winning Physicist, Enrico Fermi, a Leading Architect of the Atomic Age
Enrico Fermi is unquestionably among the greats of the world's physicists, the most famous Italian scientist since Galileo. Called "the Pope" by his peers, he was regarded as infallible in his instincts and research. His discoveries changed our world; they led to weapons of mass destruction and conversely to life-saving medical interventions. This unassuming man struggled with issues relevant today, such as the threat of nuclear annihilation and the relationship of science to politics. Fleeing Fascism and anti-Semitism, Fermi became a leading figure in America's most secret project: building the atomic bomb. An examination of the human dramas that touched Fermi's life as well as a thrilling history of scientific innovation in the twentieth century, this is the comprehensive biography that Fermi deserves.
About the Author
Gino Segre is a professor of Physics and Astronomy at the University of Pennsylvania. He has been a visiting professor at M.I.T. and Oxford, chair of the Physics and Astronomy Department of the University of Pennsylvania, and Director of Theoretical Physics at the National Science Foundation. He is the author of three books of scientific history, Ordinary Geniuses, Faust in Copenhagen, and A Matter of Degrees.

Bettina Hoerlin served as Health Commissioner of Philadelphia and taught at the University of Pennsylvania. She has been a visiting lecturer at Haverford College and Oxford University. She is the author of Steps of Courage: My Parents' Journey from Nazi Germany to America. She grew up in the Atomic City of Los Alamos.
Praise For The Pope of Physics: Enrico Fermi and the Birth of the Atomic Age…
"[A] superb biography. . .[the authors] have produced a definitive study of Fermi's life and work."—Andrew Crumey, The Wall Street Journal
"[The Pope of Physics is] the first popular cradle-to-grave biography in English of the most famous Italian scientific investigator since Galileo Galilei…[The authors] quickly hit their stride with a lucid account of how Fermi was born in 1901 to a middle-class family in Rome and became one of the very few physicists to be in the front rank in both theory and experiment." —Nature
"[An] impressive new biography...[Segrè and Hoerlin] have combined sophisticated understanding of Fermi's scientific achievements with intimate, often charming stories of the famed physicist's personal life, to create a book that's both intelligent and extremely engaging...a story filled with drama, creativity, adventure."—The Washington Post
"Authors Gino Segrè, the nephew of Fermi's colleague Emilio Segrè, and Bettina Hoerlin, whose father Hermann Hoerlin was an industrial physicist and group leader at Los Alamos National Laboratory, are wonderful writers with a deep sense of the personalities, science, historical backdrop, and locales of Fermi's story. Although the book told a familiar tale, I literally could not put it down once I started it... I strongly recommend The Pope of Physics for anyone who wants to know more about Fermi or to use his example in teaching."—Physics Today
"Had Fermi turned his intuition to the problem it is likely that fission would have been discovered in Italy in early 1935, and not nearly four years later in Germany. Were that the case, Segrè and Hoerlin point out, it is possible that Hitler would have had an atomic bomb to use during the Second World War."—Gregg Herken, New York Times Book Review

[A]n informative biography of Fermi that also manages to deepen the sense of quiet mystery surrounding the legendary physicist...The authors...are to be thanked for deftly fleshing out a young Fermi through the pages of history." —The Wire
Editor's Choice, New York Times Book Review, November 27, 2016: THE POPE OF PHYSICS: Enrico Fermi and the Birth of the Atomic Age. An assured and informative biography of the pioneering nuclear scientist.
"A valuable new biography"—Albuquerque Journal
"Few writers are better positioned than that duo to bring Fermi's story to light....Combining family lore with intensive research, Segrè and Hoerlin offer unique insights into Fermi's life and work, set against the background of politics and the early years of the Atomic Age."—Dallas Morning News
"Fermi, who excelled in so many areas . . . resists simple iconization . . .a quick-paced and highly readable account that manages to distill Fermi's rich and productive life into a little over 300 pages....[a] welcome and admirable biography."—Natural History magazine

"Authors Segrè and Hoerlin keep the reader riveted with detail. Want to see the world's most heinous war through a lens of emerging technology? Give Pope a try. An enjoyable read for scientist and historian alike."—Edge Media Network
"By placing stunning scientific advances into historical context, this engaging biography of Nobel Prize–winning Italian physicist Enrico Fermi (1901–1954) captures the life and times of one of the 20th century's most creative and hard-working scientists…fans of pop science and history will thoroughly enjoy this entertaining and accessible biography of a scientist who deserves to be better understood." —Publishers Weekly, starred and boxed review
"[An] illuminating biography of the immigrant genius who earned a prime place among the elite scientists who watched the planet's first mushroom cloud rise above New Mexico sands...By exploring Fermi's friendships, his marriage and family life, and his postwar concerns about morality in an atomic age, the authors also give readers glimpses into something of Fermi's personal, nonscientific attributes. A balanced portrait, rich in revealing anecdotes." —Booklist, starred review
"Given his role in ushering in the Atomic Age, it is surprising that, until now, there has been no major biography of Fermi in English; The Pope of Physics: Enrico Fermi and the Birth of the Atomic Age… does an excellent job of filling that gap… Happily, the authors' clear explanations ensure that the reader is not only able to follow Fermi's contributions to science, but also understand their impact on his life story… this comprehensive and enjoyable biography is a valuable introduction to the life of Fermi." —BookPage
"The authors use this biography of Fermi's life—beginning with his university days, when he immersed himself in the new field of quantum physics, and culminating in his own groundbreaking accomplishments—to engagingly chronicle the major developments in nuclear physics that were the focus of his life's work. . . . A vivid retelling of events that still shape our lives today." —Kirkus Reviews
"Readers of history and physics will enjoy learning about this theoretical and experimental physicist, whose name lives on in the fermion particles, the element fermium, and the national accelerator lab near Chicago." —Library Journal
"Superbly written. This will set the gold standard for books on Enrico Fermi." —MICHIO KAKU, theoretical physicist and author of Physics of the Future and The Future of the Mind
"A delightful and compelling history of Enrico Fermi – a hero to anyone who knows about physics…With its detailed scholarship combined with insightful analysis, this book was clearly a labor of love for Segrè and Hoerlin, whose personal and scientific connections to Fermi make them the ideal biographers of this great man." —LAWRENCE M. KRAUSS, author of The Physics of Star Trek and A Universe from Nothing
"In The Pope of Physics, the first in-depth biography of Enrico Fermi, Segrè and Hoerlin bring the man and his work to life with exhaustive research and authoritative prose." —SYLVIA NASAR, author of A Beautiful Mind
"This beautifully written biography of Enrico Fermi brings us the whole man—the circumstances that molded him, his genius, his central contributions to the coming of the atomic age, and his very human qualities." —JEROME FRIEDMAN, Nobel Prize-winner and former graduate student of Enrico Fermi
"Segrè and Hoerlin have artfully incorporated a personal backdrop shedding light on the behaviors that drove the decisions and motivations of Enrico Fermi, a 20th century one-of-a-kind genius – a compelling story." —NIGEL LOCKYER, experimental particle physicist and director of Fermi National Accelerator Laboratory
"In the hands of Segrè and Hoerlin, enriched with fresh material from his inner circle, Fermi's life becomes a brilliant - and true – historical novel." —FRANK WILCZEK, Nobel Prize-winning physicist, Massachusetts Institute of Technology, and author of A Beautiful Question