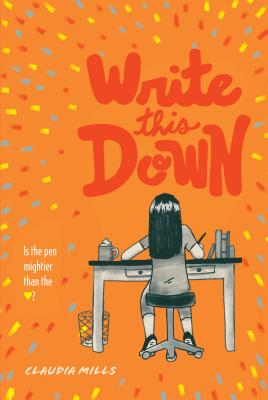 Write This Down (Paperback)
Square Fish, 9781250143914, 272pp.
Publication Date: March 6, 2018
Other Editions of This Title:
Hardcover (9/27/2016)
* Individual store prices may vary.
Description
An aspiring young writer wins a contest with an essay that is a little too personal in this middle grade novel from "master of the school story" Claudia Mills.
Twelve-year-old Autumn loves to write, and she can't wait to grow up and be a published author. She finds inspiration all around her, but especially in Cameron, the dreamy boy in her journalism class who she has a major crush on. When her older brother Hunter makes fun of one of her most personal poems—about Cameron—Autumn decides to prove that she is talented enough to become a published author.
But when her essay about Hunter wins a contest, and her dream of being published is finally within reach, Autumn has to decide whether being a real writer is worth the cost of sharing her family's secrets and hurting people she loves.
This touching story is sure to resonate with readers and prove that the heart is mightier than the pen. A great selection for preteens and aspiring writers.
A Margaret Ferguson Book
Praise for Write this Down:
"In a believable slice-of-life story, Mills (the Nora Notebooks series) writes eloquently of sibling rivalry, dreams turned sour, hard choices, and the insecurities that come with entering adolescence. Readers, especially younger siblings and budding writers, will easily identify with Autumn's plights." —Publishers Weekly
"Mills does a good job of showing the turbulence of being a preteen. The central focus of the novel is the sibling relationship . . . The girl's pain and confusion over being pushed away by an older sibling are honest and relatable . . . Realistic situations and a nuanced protagonist make this a recommended purchase." —School Library Journal
About the Author
Claudia Mills is the acclaimed author of many books for children including the Franklin School Friends children's book series, including Cody Harmon, King of Pets and Simon Ellis, Spelling Bee Champ. She lives in Boulder, Colorado.
Praise For Write This Down…
"In a believable slice-of-life story, Mills (the Nora Notebooks series) writes eloquently of sibling rivalry, dreams turned sour, hard choices, and the insecurities that come with entering adolescence. Readers, especially younger siblings and budding writers, will easily identify with Autumn's plights." —Publishers Weekly
"Autumn often describes feeling uncomfortable at being treated like Gallant to her brother's Goofus. The girl's pain and confusion over being pushed away by an older sibling are honest and relatable...Realistic situations and a nuanced protagonist make this a recommended purchase." —School Library Journal