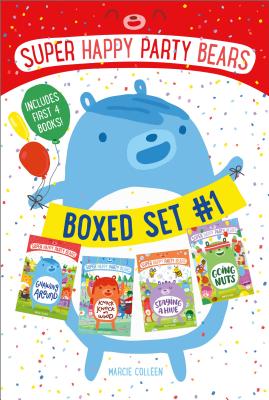 Super Happy Party Bears Boxed Set #1 (Multiple copy pack)
Gnawing Around; Knock Knock on Wood; Staying a Hive; Going Nuts
Imprint, 9781250143938
Publication Date: September 26, 2017
Other Editions of This Title:
Paperback (9/6/2016)
Paperback (8/15/2017)
Paperback (3/14/2017)
Paperback (9/6/2016)
Paperback (3/14/2017)
Paperback (9/5/2017)
Paperback (3/13/2018)
Paperback (8/15/2017)
Hardcover (1/17/2017)
Hardcover (9/5/2017)
* Individual store prices may vary.
Description
Join the Party!
The Super Happy Party Bears are super happy all the time, but their neighbors in the Grumpy Woods are grumpy all the time. The other critters never want to join in the fun! Dancing, doughnuts, and nonstop cheer are not for them.
Yet the Grumpy Woods has had a lot of pesky newcomers—including snooty beavers, a noisy woodpecker, busy bees, and some very fierce squirrels! But through sheer optimism, positivity, and downright silliness, the bears always save the day with a celebration!
The Super Happy Party Bears Boxed Set #1 includes:
Super Happy Party Bears: Gnawing Around
Super Happy Party Bears: Knock Knock on Wood
Super Happy Party Bears: Staying a Hive
Super Happy Party Bears: Going Nuts
An Imprint Book
About the Author
Marcie Colleen is the award-winning author of THE Super Happy Party Bears chapter book series, and picture books Love, Triangle and Penguinaut!. While she misses living down the street from the Brooklyn Bears Community Garden in New York City, Marcie now lives in San Diego, California where flowers bloom all year round. Visit her at www.thisismarciecolleen.com.
Steve James has ten years work experience in the art industry (animation, greeting cards and video game artwork).
Super Happy Party Bears
is his first children's book. Steve's art is influenced by
Adventure Time
, Oliver Jeffers and walks in the countryside. He lives near Leeds, a vibrant city in the United Kingdom.