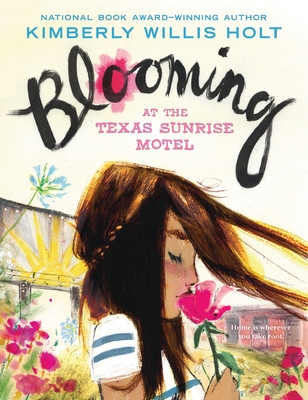 Blooming at the Texas Sunrise Motel (Paperback)
Square Fish, 9781250144041, 352pp.
Publication Date: July 3, 2018
Other Editions of This Title:
Hardcover (3/28/2017)
Prebound (7/3/2018)
* Individual store prices may vary.
Description
Twelve-year-old Stevie attempts to brighten the lives of her cranky grandfather and the residents of his motel by planting a garden in this middle grade novel by National Book Award–winning author Kimberly Willis Holt.
Stevie's world changes drastically when her parents are tragically killed and she is forced to live with her estranged grandfather at his run-down motel. After failed attempts to connect with her grandfather, Stevie befriends the colorful motel tenants and neighbors. Together, they decide to bring some color and life to the motel by planting a flower garden, against Stevie's grandfather's wishes. It will take Stevie's departure before her grandfather realizes just how needed she is by everyone.
Blooming at the Texas Sunrise Motel explores themes of loss, family, and love, and gets at the heart of what it means to find a place to call home.
A Christy Ottaviano Book
"Endearing and imperfect, Stevie establishes immediate rapport with readers." —Kirkus Reviews
More from Kimberly Willis Holt:
Skinny Brown Dog
Dear Hank Williams
Dinner with the Highbrows
The Water Seeker
Keeper of the Night
When Zachary Beaver Came to Town
The Piper Reed series:
Piper Reed, Navy Brat
Piper Reed, Clubhouse Queen
Piper Reed Gets a Job
Piper Reed, Party Planner
Piper Reed, Campfire Girl
Piper Reed, Rodeo Star
Piper Reed, Forever Friend

About the Author
Twenty three years ago Kimberly Willis Holt stopped talking about wanting to be a writer and started to pursue her dream. Because of her family's Louisiana roots she considers herself a southerner, but her father's military career took her to places beyond the South, including Paris and Guam.
She's the author of more than fifteen books for a wide range of ages, many of which have won awards and honors. Her third novel, When Zachary Beaver Came to Town won the National Book Award for Young People's Literature. She writes and gardens in Texas.
Praise For Blooming at the Texas Sunrise Motel…
"Endearing and imperfect, Stevie establishes immediate rapport with readers." —Kirkus Reviews
Praise for Dear Hank Williams:
"The strength of this novel lies in the insight Tate develops as she deals with tragedy and depends on the love of family. VERDICT Artfully told, this middle grade novel pleases on many levels." —Maria LaRocco, Cuyahoga Public Library, Strongsville, OH, School Library Journal, starred review
"With tidbits of history woven throughout and the rich cast of characters, especially an endearing protagonist, Dear Hank Williams is a novel that sings from the heart." —VOYA, starred review
"Soulful and satisfying." —Kirkus Reviews
"A heartbreaking revelation at the book's end secures Tate's place as a lovable protagonist, while opening the door to a hopeful future." —Booklist
"While readers will find plenty to love and to revisit if encountering this novel on their own, the snappy pace, engaging tone, and epistolary format make this an engaging classroom readaloud, with the skillful exposition and the incorporation of historical details providing discussion fodder and potential curricular connection." —The Bulletin

Praise for When Zachary Beaver Came to Town:
Winner of the 1999 National Book Award for Young People's Literature
"This book packs more emotional power than 90% of the so-called grown-up novels taking up precious space on bookshelves around the country."—USA Today

"Holt may not take her readers on wild flights of fantasy, but her quiet novel offers a slice of life that's hard to resist."—The New York Times Book Review

"In her own down-to-earth, people, smart way, Holt offers a gift. . . . It is a lovely—at times even giddy—date with real life."—The Horn Book, starred review

Praise for My Louisiana Sky:
"An unusually auspicious debut."—Publishers Weekly, starred review

"This lyrical first novel brings fresh perspective to the guilt and anger and caring that surround the mentally disabled. All the characters . . . are drawn with warmth but no patronizing reverence."—Booklist, starred review