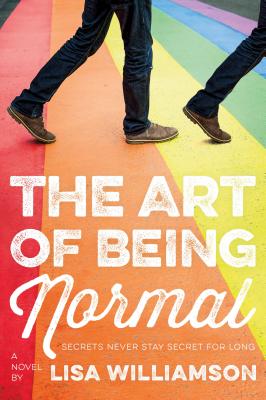 The Art of Being Normal (Paperback)
A Novel
Square Fish, 9781250144270, 352pp.
Publication Date: April 10, 2018
Other Editions of This Title:
Hardcover (5/31/2016)
* Individual store prices may vary.
Description
A young adult novel about two transgender teens who figure out how to navigate life with help from each other.
"A life-changing and life-saving book." —Philip Pullman

On the first day at his new school, Leo Denton has one goal: to be invisible. Attracting the attention of the most beautiful girl in his class is definitely not part of that plan--especially because Leo is a trans guy and isn't out at his new school.
Then Leo stands up for a classmate in a fight and they become friends. With Leo's help and support, the classmate, who is a trans girl, prepares to come out and transition--to find a new name, Kate, and live a truth that has been kept secret for too long. Kate and Leo are surrounded by bigots, but they have each other, and they have hope in their future.
The Art of Being Normal: A Novel by Lisa Williamson is an uplifting story about two teenagers set in the modern day in the United Kingdom. The author was inspired to write this novel after working in England's national health service, in a department dedicated to helping teens who are questioning their gender identity.
This novel, which won awards in the UK, is a first-person narrative about two transgender students, and is ideal for cisgender (cis) readers—people who identify with the gender assigned to them at birth—to learn more about gender identity and what it means to be transgender.
A Margaret Ferguson Book
Praise for The Art of Being Normal:
"The Art of Being Normal is a deeply powerful, important story that also happens to be a blast to read. You'll fall in love . . . right away, your heart will bleed at some moments and melt at others, and you'll root for them until the bitter end." —Bill Konigsberg, Stonewall Award–winning author of Openly Straight and The Porcupine of Truth
"The book alternates between [both characters'] viewpoints, but readers don't find out what they have in common until Leo's burgeoning romance gets derailed. . . . Debut author Williamson does a good job of depicting British class realities and [the characters'] struggles with family, bullying, friendship, and bravery. While the book doesn't sugarcoat the difficulty of being a trans teen, it offers hope and the sense that even if you can't get everything you want, you can get what you need." —Publishers Weekly
"Two British transgender teens try to come to terms with their lives while facing serious bullying in their school. . . . Williamson has worked with teens grappling with their gender identities, and she folds practical information, about hormonal therapy to freeze puberty, for instance, as well as empathy into her story. A welcome, needed novel." —Kirkus Reviews
"An important addition to collections for its first-person perspectives on the experiences and inner lives of transgender teens." —School Library Journal
"Williamson presents a fresh perspective in contemporary LGBTQ drama by presenting two heroes in different stages of transitioning and further bringing the teens to life through their foibles and family dramas. . . . The best part is that it is a friendship tale; romance plays a role in the story, but it is not the focus. This is a wonderful addition to any teen collection." —VOYA, starred review
Praise for the British edition of The Art of Being Normal:

"A passionate and gripping tale. Five stars." —The Telegraph
"The Art of Being Normal deserves to attract attention not only for its sensitive portrayal of life as a transgender teenager but for the author's aptitude for crafting vivid, engaging and convincing characters who keep you rooting for them through the many testing obstacles she puts in their way." —The Guardian
About the Author
Lisa Williamson splits her time between acting and writing. She was inspired to write The Art of Being Normal after working in England's national health services in a department dedicated to helping teens who struggle with gender identity issues.
Praise For The Art of Being Normal: A Novel…
"The Art of Being Normal is a deeply powerful, important story that also happens to be a blast to read. You'll fall in love . . . right away, your heart will bleed at some moments and melt at others, and you'll root for them until the bitter end." —Bill Konigsberg, Stonewall Award–winning author of Openly Straight and The Porcupine of Truth
"The book alternates between [both characters'] viewpoints, but readers don't find out what they have in common until Leo's burgeoning romance gets derailed. . . . Debut author Williamson does a good job of depicting British class realities and [the characters'] struggles with family, bullying, friendship, and bravery. While the book doesn't sugarcoat the difficulty of being a trans teen, it offers hope and the sense that even if you can't get everything you want, you can get what you need." —Publishers Weekly
"Two British transgender teens try to come to terms with their lives while facing serious bullying in their school. . . . Williamson has worked with teens grappling with their gender identities, and she folds practical information, about hormonal therapy to freeze puberty, for instance, as well as empathy into her story. A welcome, needed novel." —Kirkus Reviews
"An important addition to collections for its first-person perspectives on the experiences and inner lives of transgender teens." —School Library Journal
"Williamson presents a fresh perspective in contemporary LGBTQ drama by presenting two heroes in different stages of transitioning and further bringing the teens to life through their foibles and family dramas. . . . The best part is that it is a friendship tale; romance plays a role in the story, but it is not the focus. This is a wonderful addition to any teen collection." —VOYA, starred review