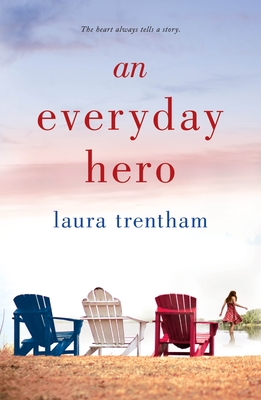 An Everyday Hero (Heart of a Hero #2)
Paperback

* Individual store prices may vary.
Description
From award-winning author Laura Trentham comes an emotionally layered novel about redemption, second chances and discovering that life is worth fighting for.

At thirty, Greer Hadley never expected to be forced home to Madison, Tennessee with her life and dreams up in flames. A series of bad decisions and even worse luck lands her community service hours at a nonprofit organization that aids veterans and their families. Greer cannot fathom how she's supposed to help anyone deal with their trauma and loss when everything that brought her joy has failed her.

Then Greer meets fifteen-year-old Ally Martinez, a gifted girl who lost her father in action and now hides her pain behind a mask of sarcasm. But Greer sees something undeniable that she can't walk away from. To make matters more complicated, Greer finds herself spending more and more time with Emmett Lawson—a man with both physical and emotional scars of his own. When a situation with Ally becomes dire, the two of them must become a team to save her—and along the way they might just save themselves too.
Praise For An Everyday Hero (Heart of a Hero #2)…
"By turns heartwarming and heartbreaking, this story will grip readers from start to finish." - Publishers Weekly, Starred Review

"Trentham (The Military Wife, 2019) explores the complex range of emotions facing members of the military and their loved ones, emphasizing the power of connection. Fans of Mary Kay Andrews' novels and Matthew Quick's The Reason You're Alive (2017) will enjoy this patriotic and heartwarming story of ambition, identity, and regained potential." - Booklist, Starred Review

"Readers will delight in the heartfelt way the characters' lives are woven together." - Library Journal
St. Martin's Griffin, 9781250145550, 336pp.
Publication Date: February 4, 2020
About the Author
An award-winning author, Laura Trentham was born and raised in a small town in Tennessee. Although she loved English and reading in high school, she was convinced an English degree equated to starvation. She chose the next most logical major—Chemical Engineering—and worked in a hard hat and steel toed boots for several years.

She writes sexy, small town contemporaries and smoking hot Regency historicals. The first two books of her Falcon Football series were named Top Picks by RT Book Reviews magazine. Then He Kissed Me, a Cottonbloom novel, was named as one of Amazon's best romances of 2016. When not lost in a cozy Southern town or Regency England, she's shuttling kids to soccer, helping with homework, and avoiding the Mt. Everest-sized pile of laundry that is almost as big as the to-be-read pile of books on her nightstand.