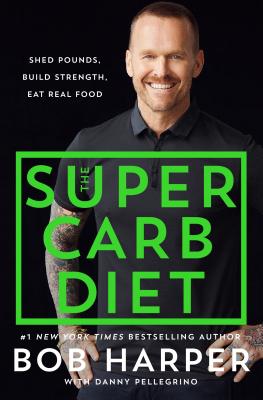 The Super Carb Diet (Hardcover)
Shed Pounds, Build Strength, Eat Real Food
St. Martin's Press, 9781250146601, 304pp.
Publication Date: December 26, 2017
* Individual store prices may vary.
Description
How do you prevent those constant food cravings and feelings of deprivation when trying to lose weight? Host of The Biggest Loser and celebrity trainer Bob Harper's Super Carb Diet is the answer. Harper focuses on nutrient-dense foods that are big in flavor and allow certain kinds of carbohydrates at targeted times during the day.
In The Super Carb Diet you'll find:
- How to eat carbs earlier in the day for sustained energy
- A list of super-carb foods
- Limited snacks but larger and more varied meals
- A way of eating that's sustainable
- Super-charged weight loss

The Super Carb Diet will keep millions of dieters from giving up after Week One. The program leads you through precise plate proportions, balancing good protein, low fat, high fiber, and nutrient density. Not only will you lose significant weight and whittle your waistline, you'll walk away from the table feeling happy and full.
About the Author
BOB HARPER is a fitness trainer and health expert who starred as the host of NBC's The Biggest Loser. A three-time #1 New York Times best-selling author, he has his own line of bestselling workout DVDs and an online fitness program called Black Fire. Since his much-publicized heart attack in February 2017, Harper has redoubled his efforts to educate and enlighten his fans about nutrition and its role in building health.

DANNY PELLEGRINO is a writer, comedian, and content creator, whose work has been featured in Buzzfeed, Cosmo, US Weekly, World of Wonder, People, Huffington Post, and W Magazine. He lives in Los Angeles.