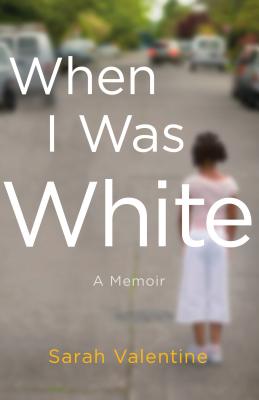 When I Was White
A Memoir
Hardcover

* Individual store prices may vary.
Description
The stunning and provocative coming-of-age memoir about Sarah Valentine's childhood as a white girl in the suburbs of Pittsburgh, and her discovery that her father was a black man.

At the age of 27, Sarah Valentine discovered that she was not, in fact, the white girl she had always believed herself to be. She learned the truth of her paternity: that her father was a black man. And she learned the truth about her own identity: mixed race.

And so Sarah began the difficult and absorbing journey of changing her identity from white to black. In this memoir, Sarah details the story of the discovery of her identity, how she overcame depression to come to terms with this identity, and, perhaps most importantly, asks: why? Her entire family and community had conspired to maintain her white identity. The supreme discomfort her white family and community felt about addressing issues of race–her race–is a microcosm of race relationships in America.

A black woman who lived her formative years identifying as white, Sarah's story is a kind of Rachel Dolezal in reverse, though her "passing" was less intentional than conspiracy. This memoir is an examination of the cost of being black in America, and how one woman threw off the racial identity she'd grown up with, in order to embrace a new one.
Praise For When I Was White: A Memoir…
Named one of PureWow's "Books We Can't Wait to Read in August"
One of Essence's "10 Books We're Dying to Toss Into Our Summer Totes"
A BookRiot "50 of the Best Books to Read this Summer"
One of Bustle's "21 New Memoirs that will Inspire, Motivate, and Captivate You this Summer"
A pick for The Millions' "Most Anticipated: The Great Second-Half 2019 Book Preview"

"Valentine is at her best when we see her shift through history, creating well-crafted scenes that resonate with depth and emotional weight in a commitment to get to the truth...Here, quite simply, is a masterful explication on the formation of self and identity—of learning to trust yourself instead of the lies other people, no matter how close, tell you about who you are."—NPR.com

"Forced to examine her docile suburban upbringing through the lens of a new racial identity, Valentine claims her power by deciding who she is and who she wants to be."—Essence

"Fervent and heartfelt. The narrative moves fluidly between past and present as Valentine tries to make sense of the lies and misconceptions that have plagued her throughout her life. This is a disturbing and engrossing tale of deep family secrets."—Publishers Weekly

"Deftly written . . . Valentine's journey of self-discovery is affecting, a hard-won quest to arrive at an origin story that suits the facts rather than turns away from them. A valuable contribution to the literature of race."—Kirkus Reviews

"We feel every step of Valentine's struggle, from feeling physically broken to becoming emotionally stronger as she reaches for self-acceptance and self-definition."—Booklist

"Moving and analytically rigorous. [When I was White] is most compelling as an exploration of identity."—Pittsburgh Post-Gazette

"[Valentine] has written a narrative that's honest, unflinching, and true to herself. In the last paragraph of When I Was White, the author offers readers a rich and complex idea, rather than a simple statement. 'It is in the breaking apart that we find beauty.'"—New York Journal of Books

"In this startlingly honest and yet tender memoir, Sarah Valentine unpacks the story of a young woman whose life is shattered by a dark family secret. How does a daughter forgive a mother for the betrayal of lying about her birth and her true father? How does a daughter cope with her mother's trauma and find acceptance in a family where she never fully belonged? How do you go from being white to black with one revelation? In elegant and gripping prose, Valentine takes us on a journey through America's suburban heart of darkness; in many ways, this is the story deep in America's history—racism, fear of miscegeny, and whether or not to believe a woman's accusation of rape—issues that continue to plague us today. All of this is woven into a story of anger, love and ultimately forgiveness. This book leans beautifully into transformation and a well-earned grace. A perfect book for our times."—Chris Abani, author of GraceLand and The Secret History of Las Vegas

"Transitioning between races and racial identities provokes interesting questions—and Valentine's memoir effectively deepens the conversation. Reading When I was White reminds me that learning to appreciate and love my skin is ongoing. Women of color who have complicated relationships with this process will find validation in this powerful memoir."—Women's Review of Books
St. Martin's Press, 9781250146755, 304pp.
Publication Date: August 6, 2019
About the Author
SARAH VALENTINE, Ph.D., is a widely published author and translator whose interests include Russian literature, poetry, mixed-race experience, mystery, horror, true crime, folklore, and ghost stories. In 2013 she was a Lannan fellow and has taught literature and creative writing at Princeton, UCLA, UC-Riverside, and Northwestern University. When I Was White is her memoir about growing up in Pittsburgh as a mixed race African American in a white family; she explores the process of unearthing family secrets, breaking deep-rooted taboos, and how to construct an identity that is made of contradictions.
or
Not Currently Available for Direct Purchase