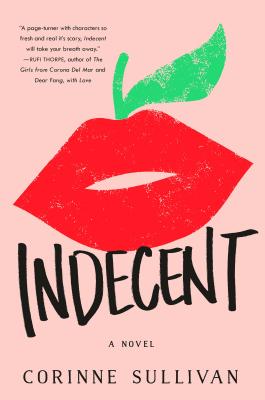 Indecent
A Novel
Hardcover

* Individual store prices may vary.
Other Editions of This Title:
Digital Audiobook (4/16/2018)
Paperback (3/5/2019)
CD-Audio (5/1/2018)
Description
theSkimm Reading Pick!

Blurring the lines of blame and moral ambiguity, Indecent by Corinne Sullivan is a smart, sexy debut.
Shy, introverted Imogene Abney has always been fascinated by the elite world of prep schools, having secretly longed to attend one since she was a girl in Buffalo, New York. So, shortly after her college graduation, when she's offered a teaching position at the Vandenberg School for Boys, an all-boys prep school in Westchester, New York, she immediately accepts, despite having little teaching experience—and very little experience with boys.
When Imogene meets handsome, popular Adam Kipling a few weeks into her tenure there, a student who exudes charm and status and ease, she's immediately drawn to him. Who is this boy who flirts with her without fear of being caught? Who is this boy who seems immune to consequences and worry; a boy for whom the world will always provide?
As an obsessive, illicit affair begins between them, Imogene is so lost in the haze of first love that she's unable to recognize the danger she's in. The danger of losing her job. The danger of losing herself in the wrong person. The danger of being caught doing something possibly illegal and so indecent.
Exploring issues of class, sex, and gender, this smart, sexy debut by Corrine Sullivan shatters the black-and-white nature of victimhood, taking a close look at blame and moral ambiguity.
Praise For Indecent: A Novel…
"[A] surprising debut...an affecting novel, examining self-doubt, self-sabotage, and the lasting impact of both." — Publishers Weekly
"[A] steamy debut, in which infatuation crosses the line into obsession... Imogene's backstory...will have readers sympathizing with her as she works through her past." — Library Journal
"A heart-breaking, entirely believable exploration of an illicit affair. Indecent captures the white-hot haze of first love, as obsessive and delicious as it is blinding and dangerous. You won't be able to put this down." — Georgia Clark, author of The Regulars
"Indecent is a fresh twist on the prep school novel, a thrilling ride that masterfully explores class, sex and obsession. Sullivan's debut novel is a sharp and complex coming-of-age story that will keep you hooked until the last page." — Jennifer Close, author of The Hopefuls
"A page turner with characters so fresh and real it's scary, Indecent will take your breath away. Sullivan explores subject matter that could be merely titillating, sex, power, desire, but is so ruthlessly honest about them that in the end she challenges everything we thought we knew." — Rufi Thorpe, author of The Girls from Corona Del Mar and Dear Fang, With Love
"Indecent is so astutely observed, so expertly crafted, I didn't realize I was riding a roller coaster until I was already buckled in and halfway to the top. A fractured coming-of-age story, a one-two punch about self-sabotage and obsessive love, Indecent is a page-turner of a debut by a ridiculously talented young writer." —Lauren Fox, author of Still Life With Husband
"Indecent asks the hard questions about just how low low self-worth can make a person go, and the even harder questions about what it means to truly grow up." — Elisa Albert, author of After Birth
"A suspenseful and excruciatingly true portrait of what it's like to be young, female, and desperate to be loved – by the wrong person. Corinne Sullivan's style is effortless and completely absorbing." — Swan Huntley, author of We Could Be Beautiful and The Goddesses
Wednesday Books, 9781250147073, 304pp.
Publication Date: March 6, 2018
About the Author
CORINNE SULLIVAN studied English with a Creative Writing Concentration at Boston College, where she graduated in 2014. She then received her MFA in fiction from Sarah Lawrence College in 2016. Her stories have appeared in Night Train, Knee-Jerk, and Pithead Chapel, among other publications. Indecent is her debut novel.
1. Imogene romanticizes the idea of boarding school long before she accepts a job at Vandenberg School for Boys. How does Vandenberg meet her expectations, and where do her expectations fall short?
2. Though she is given the opportunity to befriend her roommates, Imogene never feels that she is able to fit in. Is Imogene at fault for this failure to connect?
3. Imogene often finds herself thinking of Zeke from college, the guy she considers "the first great love of her life," despite her lack of attraction to him. Why does Imogene still think of him so often? Does she regret her relationship with him, or can she accept it for what it was?
4.  Kaya, the teacher apprentice with whom Kip supposedly had a relationship before, consistently haunts Imogene. What does Kaya represent for Imogene? Why is Imogene so bothered by the idea of her, beyond the fact that she'd had Kip's affection?
5. When Dale's behavior begins to verge on inappropriate, Imogene finds herself torn between disgust and flattery. Why does the idea of an older man being attracted to her excite Imogene? What about it scares her?
6.  Imogene's perception of Raj vacillates between annoyance and attraction, and though she has moments where she considers the possibility of a romantic relationship, she ultimately decides that being with Raj is not "how the story was supposed to go." What does this mean? Who does Imogene believe to be in control of her story?
or
Not Currently Available for Direct Purchase