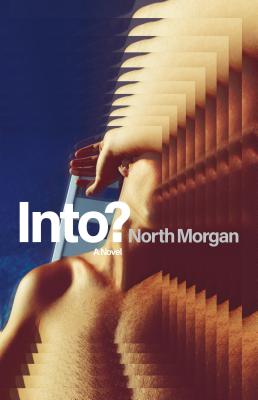 Into?
A Novel
Hardcover

* Individual store prices may vary.
Other Editions of This Title:
Digital Audiobook (5/21/2018)
Paperback (5/21/2019)
Description
"You must read this now!" - The New York Times Book Review

In Into? North Morgan shines a coolly mesmerizing light on the modern generation of gay men that are living firmly outside the closet, elevated by popular culture, but plagued by a new set of problems, insecurities and self-destructions. As the men of Into? swipe right from bed to bed, North Morgan spins a darkly hilarious, and shockingly perceptive story of excess and love that's like nothing you've ever read.

You know Konrad from your various social feeds – sun kissed, gym ripped and always having a better time than you. Or is he?

Konrad Platt needed to get out of town. Heartbroken after his boyfriend left him for another man, Konrad abandoned his life in London for the warm sun and blue surf of LA. Here he attends parties in the Hollywood Hills filled with handsome men and beautiful women, snorts mountains of Adderall, and dances the weekends away at Coachella with each move endlessly documented on social media. He mends his broken heart through dating apps, constantly scrolling through profiles and chatting with a seemingly endless supply of men, each one handsomer than the last. But when one captures his heart, a twisted modern romance takes root that's thrilling, confusing, and devastating – revealing that underneath this perfectly curated profile is a man desperate for real connection.
Praise For Into?: A Novel…
"Into? pulls off a wild feat: a hyperactive transcript of a life spent online that takes you outside of your own... Into? has a sense of urgency — "You must read this now!" I told a friend, shoving my copy into his hands. The novel is not clunking around with the literary halo of high advances and M.F.A. pedigree and overthought adjectives, but it's a brutal story about loneliness in this hyperactive social media age that was bursting to be told."
- The New York Times Book Review

"North Morgan shines a cell phone torch on all the bits of contemporary gay culture that we tend to sweep under the sofa. Reading Into? for me, was like holding up a hi-def selfie mirror with no filter. Comedic and horrific, it's a grand tour through gyms, bad hookups, and the infinite pursuit of immediate gratification. Morgan unblinkingly conveys what being gay is really all about these days. It's devastating. I read it in one sitting."
— Jake Shears

"This is as sad and funny as a manatee in a hip bath. The pursuit of happiness has never been more amusing or pointless."
— Edmund White

"Into? Captures this cyber gay moment so incisively I was snickering through every cringe. For Grindr-curious straight folks who have heard alluring stories, brace for an even weirder, raucous and relentlessly funny ride."
— Dave Cullen, New York Times bestselling author of Columbine

"Morgan flawlessly captures one of the most troubling subdivisions of our urban landscape. The message-only relationships, the gym-dysmorphia, and the app-driven depression make emojis more orgasmic than sex, biceps larger than calves, and numbness the peak. As you pray for an asteroid to hit earth or the Black Death to come back, you realize that you have adopted most of 'Into?' characters' traits—you are just not as good as they are. You pause and wonder what to hope for next. Into? becomes "Now what?". These are our gay times."
— Ioannis Pappos, author of Hotel Living

"A humane satire, a sharp and vividly drawn one, of a world not prone to introspection. With Into?, Morgan has created an immensely satisfying, modern tale of contemporary urban gay life with many twists and turns, not all of which are expected."
— Lambda Literary
Flatiron Books, 9781250147448, 304pp.
Publication Date: May 22, 2018
About the Author
North Morgan was born in Greece and educated in the UK. He currently lives and works in Los Angeles.
or
Not Currently Available for Direct Purchase