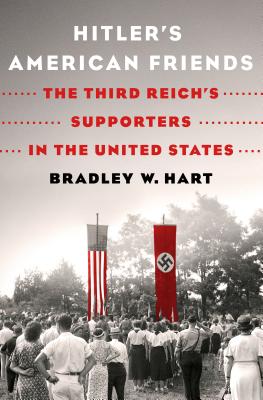 Hitler's American Friends
The Third Reich's Supporters in the United States
Hardcover

* Individual store prices may vary.
Other Editions of This Title:
Digital Audiobook (10/1/2018)
Description
A book examining the strange terrain of Nazi sympathizers, nonintervention campaigners and other voices in America who advocated on behalf of Nazi Germany in the years before World War II.

Americans who remember World War II reminisce about how it brought the country together. The less popular truth behind this warm nostalgia: until the attack on Pearl Harbor, America was deeply, dangerously divided.

Bradley W. Hart's Hitler's American Friends exposes the homegrown antagonists who sought to protect and promote Hitler, leave Europeans (and especially European Jews) to fend for themselves, and elevate the Nazi regime.

Some of these friends were Americans of German heritage who joined the Bund, whose leadership dreamed of installing a stateside Führer. Some were as bizarre and hair-raising as the Silver Shirt Legion, run by an eccentric who claimed that Hitler fulfilled a religious prophesy. Some were Midwestern Catholics like Father Charles Coughlin, an early right-wing radio star who broadcast anti-Semitic tirades. They were even members of Congress who used their franking privilege—sending mail at cost to American taxpayers—to distribute German propaganda. And celebrity pilot Charles Lindbergh ended up speaking for them all at the America First Committee.

We try to tell ourselves it couldn't happen here, but Americans are not immune to the lure of fascism. Hitler's American Friends is a powerful look at how the forces of evil manipulate ordinary people, how we stepped back from the ledge, and the disturbing ease with which we could return to it.
Praise For Hitler's American Friends: The Third Reich's Supporters in the United States…
"...well-written and well-researched...Hart's new book raises issues that are not limited to history. The streak in the American psyche for authoritarianism and racism is evident today. Hart's Hitler's American Friends should serve as a useful reminder of the calamity we must avoid." —New York Journal of Books

"This illuminating history will interest anyone who wants to know how nationalist movements succeed or fail." —Publishers Weekly

"Bradley W. Hart knows how to tell a good story. Hitler's American Friends is well paced, informative, and fun to read (if the word fun can be used when discussing how fascism threatened to come to power in the United States)." —The Journal of American History

"Anyone who believes that the movement to prevent America joining World War against Hitler can be confined to Charles Lindbergh and his sinister "America First" movement will be astounded by Bradley W. Hart's well-researched, well-written and fascinating book. The truth is that isolationism was not a Mid-Western, know-nothing fad; in fact it fed off a deep vein of anti-Semitic, anti-British and often even pro-Nazi sentiment right across America. For every one of the 800,000 members of America First, there 23 other Americans who were tuning into isolationist broadcasts just before World War Two broke out in Europe. This superb book lifts the lid on America's dark prewar secret." —Andrew Roberts, author of Napoleon: A Life and Churchill: Walking with Destiny

"Leveraging impeccable research, mining recently unsealed archives, and told with the eye of a cultural storyteller, Bradley Hart's Hitler's American Friends shows how devastatingly close pre-war American populism came to an embrace of fascism." —Tilar Mazzeo, New York Times bestselling author of The Hotel on Place Vendome

"Bradley W. Hart resurrects a history suppressed by our collective national subconscious. With the isolationist cries of 'America First!' once again being bellowed by politicians, Hitler's American Friends is an important reminder of where we once were as a country and what must be done to stop extremism from poisoning mainstream ideals of patriotism." —Arnie Bernstein, author of Swastika Nation: Fritz Kuhn and the Rise and Fall of the German-American Bund

"Bradley Hart has written a riveting account of a pivotal era in our history, but also a warning about today. In meticulous detail, he shows how easily extremism—even fascism—can take root in troubled times. Hitler's American Friends included U.S. corporations that put profit before principles, academics, politicians and people next door who joined the America First movement, posing a grievous threat to our democracy from within. A must read." —Mary Jo McConahay, author of The Tango War: The Struggle for the Hearts, Minds and Riches of Latin America during World War II

"Bradley Hart has written a startling book. Readers will discover the wide range of Nazi supporters and fellow travellers in the U.S., ranging from students to spies. Deeply researched and highly readable, Hitler's American Friends is not only eye-opening with respect to the past but offers a clear warning with respect to the present." —Dan Stone, Professor of Modern History at Royal Holloway, University of London, and author of The Liberation of the Camps and Concentration Camps: A Short History

"Hitler's American Friends is a deeply researched, eye-opening account of Nazi movements and pro-German lobby groups in America's age of extremes. Interweaving political and intellectual history, it provides genuinely new insights into the little known trans-Atlantic worlds of fascism during the interwar years. Challenging popular narratives of American exceptionalism, Bradley Hart shows that Americans have never been immune to Fascist temptations. His book will be essential reading not only for scholars working on the global history of fascism but for everyone interested in the contemporary wave of right-wing populism." —David Motadel, London School of Economics and Political Science

"A deeply researched and elegantly written account of America's Nazi sympathisers. Packed with new information, Hart presents a chilling but gripping story that will trigger debate and sober reflection on our own times." —Julia Boyd, author of Travellers in the Third Reich

"Hart shines the piercingly uncomfortable light of history into one of the darkest recesses of the American collective memory of World War II - the hitherto unknown and deeply shocking extent of sympathy and support for Nazi Germany among many Americans, from household names to the ordinary man in the street. A disturbing but important read." —Mark Felton, author of Castle of the Eagles and Zero Night

"This study, meticulously researched and highly readable, is a triumph. Hart's reflections remind us that history has to be respected and understood, if not the present and with it the future will inevitably take a regressive path. A work that is equally gripping and shocking, Hitler's American Friends should be read by all, but most importantly by those on Capitol Hill." —Ben Wheatley, Honorary Research Fellow School of History University of East Anglia

Thomas Dunne Books, 9781250148957, 304pp.
Publication Date: October 2, 2018
About the Author
Bradley W. Hart is Assistant Professor at California State University, Fresno, USA and a former by-fellow of Churchill College, Cambridge, UK. His previous works include a co-edited volume entitled The Foundations of the British Conservative Party: Essays on Conservatism from Lord Salisbury to David Cameron (2013).