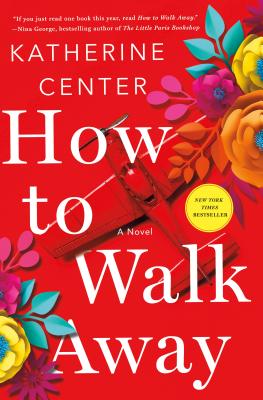 How to Walk Away (Hardcover)
St. Martin's Press, 9781250149060, 320pp.
Publication Date: May 15, 2018
Description
From the author of Happiness for Beginners comes an unforgettable love story about finding joy even in the darkest of circumstances.
Margaret Jacobsen has a bright future ahead of her: a fiance she adores, her dream job, and the promise of a picture-perfect life just around the corner. Then, suddenly, on what should have been one of the happiest days of her life, everything she worked for is taken away in one tumultuous moment.
In the hospital and forced to face the possibility that nothing will ever be the same again, Margaret must figure out how to move forward on her own terms while facing long-held family secrets, devastating heartbreak, and the idea that love might find her in the last place she would ever expect.
How to Walk Away is Katherine Center at her very best: an utterly charming, hopeful, and romantic novel that will capture reader's hearts with every page.
Praise for How to Walk Away
"A heartbreak of a novel that celebrates resilience and strength." --Jill Santopolo, bestselling author of The Light We Lost
"If you just read one book this year, read How to Walk Away." --Nina George, New York Times bestselling author of The Little Paris Bookshop
"Warm, witty, and wonderfully observed." --Emily Giffin, New York Times bestselling author of First Comes Love
"Sympathetic and refreshing " --Elinor Lipman, bestselling author of The Family Man
"I can't think of a blurb good enough for this novel...poignant, funny, heartbreaking." --Jenny Lawson, bestselling author of Furiously Happy
About the Author
KATHERINE CENTER is the author of several novels, including Happiness for Beginners, The Bright Side of Disaster, Everyone Is Beautiful, Get Lucky, and The Lost Husband. Her books and essays have appeared in Redbook, People, USA Today, Vanity Fair, and Real Simple, as well as the anthologies Because I Love Her, CRUSH, and My Parents Were Awesome. Katherine is a graduate of Vassar College and the University of Houston's Creative Writing Program. She lives in Houston with her husband and two sweet children.
Advertisement