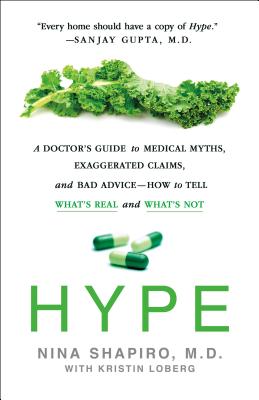 Hype: A Doctor's Guide to Medical Myths, Exaggerated Claims and Bad Advice - How to Tell What's Real and What's Not (Hardcover)
A Doctor's Guide to Medical Myths, Exaggerated Claims and Bad Advice - How to Tell What's Real and What's Not
St. Martin's Press, 9781250149305, 304pp.
Publication Date: May 1, 2018
Description
A straightforward appraisal of why health myths exist, dispelling many of them, and teaching readers how to navigate the labyrinth of health advice and the science and misinformation behind it.

Hype is Dr. Nina Shapiro's engaging and informative look at the real science behind our most common beliefs and assumptions in the health sphere.
There is a lot of misinformation thrown around these days, especially online. Headlines tell us to do this, not that--all in the name of living longer, better, thinner, younger. Dr. Shapiro wants to distinguish between the falsehoods and the evidence-backed truth. In her work at Harvard and UCLA, with more than twenty years of experience in both clinical and academic medicine, she helps patients make important health decisions every day. She's bringing those lessons to life here with a blend of personal storytelling and science to discuss her dramatic new definition of "a healthy life."
Hype covers everything from exercise to supplements, alternative medicine to vaccines, and medical testing to media coverage. Shapiro tackles popular misconceptions such as toxic sugar and the importance of drinking eight glasses of water a day. She provides simple solutions anyone can implement, such as drinking 2% milk instead of fat free and using SPF 30 sunscreen instead of SPF 100. This book is as much for single individuals in the prime of their lives as it is for parents with young children and the elderly.
Never has there been a greater need for this reassuring, and scientifically backed reality check.
About the Author
Dr. Nina Shapiro is the award-winning Director of Pediatric Otolaryngology and a Professor of Head and Neck Surgery at UCLA. She is featured in The New York Times, Time, The Wall Street Journal, NPR, and CNN.com among others. She is a regular on CBS's The Doctors.Kristin Loberg is the #1 New York Times, Wall Street Journal, and USA Today bestselling co-author of Grain Brain, A Short Look at a Long Life and others. She attended Cornell University and lives in L.A. with her husband and two sons.
Advertisement