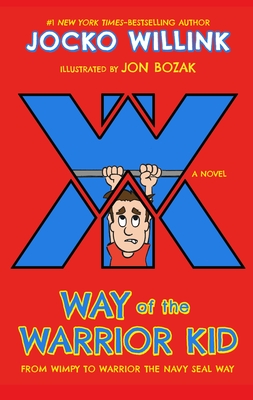 Way of the Warrior Kid
From Wimpy to Warrior the Navy SEAL Way: A Novel
Hardcover

* Individual store prices may vary.
Other Editions of This Title:
Digital Audiobook (5/1/2017)
Paperback (4/24/2018)
CD-Audio (5/30/2017)
Description
National Bestseller

Fifth grade was the worst year of Marc's life. He stunk at gym class, math was too hard for him, the school lunch was horrible, and his class field trip was ruined because he couldn't swim. But what was most awful thing about fifth grade? Kenny Williamson, the class bully, who calls himself the "King of the Jungle."

When Marc's mother tells him that his Uncle Jake is coming to stay for the whole summer, Marc can't wait. Uncle Jake is a for real, super-cool Navy SEAL. And Uncle Jake has a plan.

He's going to turn Marc into a warrior.

Becoming a warrior isn't easy. It means a lot of pull ups, sit ups, pushups, squats, swimming, eating right, and studying harder than ever before! Can Marc transform himself into a warrior before school starts in the fall – and finally stand up to the King of the Jungle himself?

The Way of the Warrior Kid is a new illustrated chapter book by #1 New York Times-bestselling author and retired Navy SEAL Jocko Willink.
Feiwel & Friends, 9781250151070, 192pp.
Publication Date: May 2, 2017
About the Author
JOCKO WILLINK served 20 years as a Navy SEAL. He was in combat in Iraq during the Battle of Ramadi, a conflict that resulted in numerous medals for his efforts. After his tours, Willink served as a Navy SEAL instructor before forming Echelon Front with Leif Babin, a leadership training group that uses the lessons and expertise the pair learned as SEALs to train leaders beyond the military. Willink lives in San Diego, California. He is the author of the #1 New York Times bestseller Extreme Ownership, the children's book Way of the Warrior Kid, and the New York Times bestseller Discipline Equals Freedom, and the creator of the popular podcast, JOCKO PODCAST.

Jon Bozak is a creative director in NYC where he develops award-winning programs and products in the digital media advertising world. Part of the new breed of multi-tool creatives, he's a prolific storyteller, designer, analytic problem solver and content developer who loves nothing more than meeting a new creative challenge. In 2008 he authored Demo: The Story of a Junkyard Dog, a modern fable for kids about America's disposable culture. He currently lives in Brooklyn, NY with his insta-famous, dog 'SmilingBrinks'.