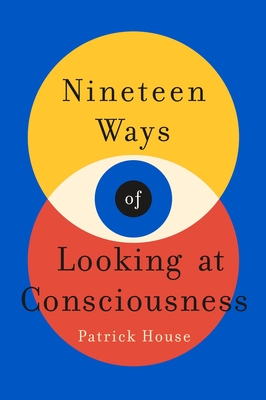 Nineteen Ways of Looking at Consciousness
Hardcover

* Individual store prices may vary.
Description
A concise, elegant, and thought-provoking exploration of the mystery of consciousness and the functioning of the brain.

Despite decades of research, remarkable imagery, and insights from a range of scientific and medical disciplines, the human brain remains largely unexplored. Consciousness has eluded explanation.

Nineteen Ways of Looking at Consciousness offers a brilliant overview of the state of modern consciousness research in twenty brief, revealing chapters. Neuroscientist and author Patrick House describes complex concepts in accessible terms, weaving brain science, technology, gaming, analogy, and philosophy into a tapestry that illuminates how the brain works and what enables consciousness. This remarkable book fosters a sense of mystery and wonder about the strangeness of the relationship between our inner selves and our environment.
Praise For Nineteen Ways of Looking at Consciousness…
"Intriguing...impressively rich. This is bursting with insight." —Publishers Weekly

"An exploration of the possibilities of consciousness. . .investigations recall Oliver Sacks. . . Mixing science, metaphors, and philosophy, House provides elegant frameworks for ways to think about thinking." —Kirkus Reviews

"The compressions and elisions of 'Nineteen Ways of Looking at Consciousness' are sometimes exhilarating and at other times exasperating, but this stylish, witty and insightful introduction to a frustrating discipline whets the appetite for more." --The Wall Street Journal

"Neuroscientist Patrick House. . . sketches an outline for how we might look at who we are from the inside out through wittily rendered observations plucked from neuroscience, quantum mechanics, and beyond. . . As befits a phenomenon that still evades a unifying theory, House's collage forms a picture of our minds that is far more nuanced, and more perplexing, than the sum of its parts." -- Scientific American

"House shows great ability as he translates these complex ideas - philosophical, neurophysiological, and evolutionary - into simple language . . . an informative read that makes us look at ourselves and the human mind in a series of fascinating ways." -- New Scientist

"House is a pleasure to read. Like Oliver Sacks . . . [he] distills the details of psychiatry and neurology into digestible forms." --Los Angeles Review of Books

"In Nineteen Ways of Looking at Consciousness, Patrick House explores intensely interesting, beautifully provocative ideas about the neurobiology of consciousness. In addition to being an intellectual pleasure, this is an aesthetic one as well – House writes like a dream, with great drollness and elegance of phrase. This book is a gem."
—Robert Sapolsky, New York Times bestselling author of Behave and Why Zebras Don't Get Ulcers

"A highly unusual but brilliant book...with a distinct voice that is fiercely unique."
—Christof Koch, president and chief scientist, Allen Institute for Brain Science and author of The Feeling of Life Itself and Consciousness


St. Martin's Press, 9781250151179, 272pp.
Publication Date: October 11, 2022
About the Author
PATRICK HOUSE is a neuroscientist and writer. His scientific research focuses on the neuroscience of free will and how mind-control parasites alter their host's behavior. He writes about science, technology and culture for The New Yorker.com and Slate. He has a Ph.D. in neuroscience from Stanford University. He lives in Los Angeles, California.