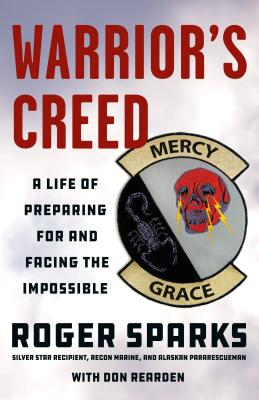 Warrior's Creed
A Life of Preparing for and Facing the Impossible
Hardcover

* Individual store prices may vary.
Other Editions of This Title:
Digital Audiobook (8/12/2019)
CD-Audio (8/13/2019)
Paperback (8/25/2020)
Description
The riveting story of how a young boy's upbringing with outlaw culture and charismatic role models forged him into an elite Marine and a decorated Pararescueman.

"Absence of self is my sword" comprises the final line in "The Warrior's Creed," a 14th century poem written by an unknown Japanese Samurai, and this is the code Master Sergeant Roger Sparks embodied as a Recon Marine turned Alaskan Pararescueman. A living legend in the military, Sparks first made a name for himself within elite Marine Reconnaissance units. He went on to become an instructor where he trained future Reconnaissance Marines with unorthodox and ancient indigenous warrior techniques. A decade later, the same methods would keep him and others alive, when he hoisted into a maelstrom of violence to rescue an embattled platoon in the rugged mountains of eastern Afghanistan.

Introduced to a tough code of honor, family, and brotherhood from birth, Roger Sparks rose to become a distinguished instructor in Marine Reconnaissance and a Silver Star recipient as an Alaska Pararescueman. A raw and exhilarating tale of guts, grit, and heart, Warrior's Creed recounts the hidden side of special operations training, heroic and heartbreaking Alaskan wilderness rescues, and the surreal and deadly rescues during Operation Bulldog Bite in Afghanistan's Watapur Valley.

This powerful and inspirational story is as much of a self-help book as it is an edge of your seat military memoir. Warrior's Creed reveals a motivating and mindful approach to overcoming the odds, facing the impossible, and finding mercy and grace in the aftermath.
Praise For Warrior's Creed: A Life of Preparing for and Facing the Impossible…
"Inspiring....fascinating and adrenaline-rushing....[Sparks's] book, extraordinary in its own gritty way, shows us what it is to be human and humane." —Anchorage Daily News

"Gripping, fast paced, and entertaining. Warrior's Creed shares an inside look into the intense challenges and hardships Roger and men like him have to endure and ultimately overcome to arrive at an enlightened and spiritual frame of mind. I related to so many tales and philosophies of this book, and it has left me inspired to work even harder, and to save any excuses I may have. Warrior's Creed reconfirms that no matter what type of warrior you are that all warriors live by a similar creed." —Laird Hamilton, legendary big-wave surfer

"One of the best books I've read all year. Words like honor, sacrifice, and duty get bandied around a great deal. Warrior's Creed gets down to the guts of it all, then digs even deeper. It's a book that speaks on many levels—wrenchingly visceral and entertaining. An incredible story, marvelously told." —Marc Cameron, New York Times bestselling author of Tom Clancy: Oath of Office

"Shaking Roger Sparks' hand that day in Afghanistan led me to re-think everything I thought I knew about being a man, an artist, a father, and an American. There isn't a day that goes by without me thinking about him and his story in someway." —Scott Campbell, Fine Artist

"Sparks' story provides a window into a harsh and violent human wilderness that few will ever encounter." —Seth Kantner, author of the national bestseller Ordinary Wolves
St. Martin's Press, 9781250151520, 320pp.
Publication Date: August 13, 2019
About the Author
Retired MASTER SERGEANT ROGER SPARKS has served within the military as both a Recon Marine and an Air Force Pararescueman for over 25 years. Sparks is a recipient of the Silver Star, one of our nation's highest awards for valor, for his actions during a fierce firefight with insurgents in Afghanistan's Watapur Valley on Nov. 14, 2010. Sparks has transitioned from a career of special operations into the civilian world as an artist, author and speaker. He lives with his family in Eagle River, Alaska.

DON REARDEN grew up on the tundra of Southwestern Alaska. An associate professor at the University of Alaska Anchorage, he is a produced screenwriter, a Rasmuson Foundation Project Fellow, and author of The Washington Post Notable novel from Penguin, The Raven's Gift. He lives in Anchorage, Alaska.
or
Not Currently Available for Direct Purchase