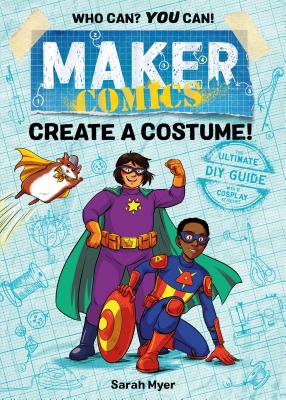 Maker Comics (Paperback)
Create a Costume!
First Second, 9781250152084, 128pp.
Publication Date: August 6, 2019
Other Editions of This Title:
Hardcover (8/6/2019)
* Individual store prices may vary.
Description
The comic convention is just a few short weeks away. All Bea and Parker need now are great costumes . . . but won't the supplies and materials cost a fortune? Not if Bea and Parker follow a few simple instructions from Costume Critter, the world's cutest cosplayer!
With Maker Comics: Create a Costume! you can create fun, easy, budget-friendly costumes. And you don't have to start from scratch: a few simple modifications can transform thrift store clothes into a variety of costumes. Even mastering the sewing machine isn't as hard as it looks! You can make amazing costumes—all you need are the right tools, a little know-how, and a lot of imagination.
Follow the easy step-by-step instructions and you can make these costumes!
Magical girl (or boy!)
Witch or wizard
Animal hoodie
Space traveler or astronaut
Superhero (or villain!)
Alien or monster
About the Author
Sarah Myer is a comic and storyboard artist hailing from a 10-acre farm in White Hall, Maryland. An old school anime fan, Sarah has attending anime/comic conventions as a fan and Artist Alley participant since 1999. Since 1999, Sarah has constructed and worn over 50 costumes. When she's not drawing, writing, or cosplaying, she enjoys cooking, weight training, and spending time with her mackerel tabby, Loki. Sarah graduated from Savannah College of Art and Design with B.F.A. and M.F.A. degrees in Sequential Art and teaches Foundation Studies classes as an adjunct faculty member at the college. Maker Comics: Create a Costume! is Sarah's first graphic novel with First Second.
Praise For Maker Comics: Create a Costume!…
"A nice touch is the addition of body empowerment that recognizes that cosplayers don't need to look exactly like comic-book characters in order to enjoy the experience... This user-friendly DIY cosplay guide is just the ticket for creating a fantastic cosplay persona." —Kirkus

"With tips on posing, con etiquette, and consent, this is a solid primer for kids who want to take their fandom to the next level." —Booklist

"Create a Costume is a cute, fun, colorful introduction to sewing presented as the kind of story-based graphic novels kids can't get enough of these days... Bea and Parker are such relatable characters that kids will undoubtedly see themselves and their friends in their enthusiasm and love of all things nerdy." —Nerdophiles
"If you're new to creating your own costumes, regardless of being an older age than the characters / target audience, I highly recommend you check this book out." —Sequential Tart