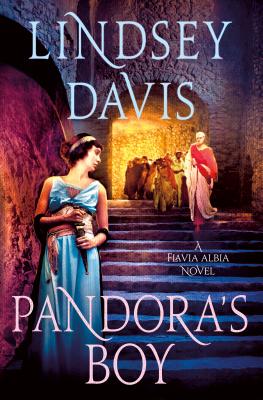 Pandora's Boy (Flavia Albia #6) (Hardcover)
Minotaur Books, 9781250152688, 320pp.
Publication Date: July 3, 2018
* Individual store prices may vary.
Description
A suspicious death and subsequent murder send Flavia Albia down a twisted path to expose corruption and betrayal in Lindsey Davis's next historical mystery.
First century Rome is not the quiet, orderly city that it pretends to be and in this environment, a very clever private informer can thrive. Flavia Albia, daughter of Marcus Didius Falco, is a chip off the old block. She's taken over his father's old profession, and, like him, she occasionally lets her love of a good puzzle get in the way of her common sense. Such is the case when one such puzzle is brought to her by the very hostile ex-wife of Albia's new husband.
It seems that over on the Quirinal Hill, a naive young girl, one Clodia Volumnia, has died, and there's a suggestion that she was poisoned by a love potion. The local witch, Pandora, would have been the one to supply such a potion. Looking into the matter, Albia soon learns that Pandora carries on a trade in herbal beauty products while keeping hidden her much more dangerous connections.
Albia soon discovers the young girl was a handful and her so-called friends were not as friendly as they should have been. The supposedly sweet air of the Quirinal hides the smells of loose morality, casual betrayal, and even gangland conflict. When a friend of her own is murdered, things become serious and Albia is determined to expose as much of this local sickness as she can--beginning with the truth about the death of little Clodia.
About the Author
LINDSEY DAVIS is the author of the New York Times bestselling series of historical mysteries featuring Marcus Didius Falco, which started with The Silver Pigs, and the mysteries featuring Falco's daughter, Flavia Albia, which started with The Ides of April. She has also authored a few acclaimed historical novels, including The Course of Honour. She lives in Birmingham, UK.