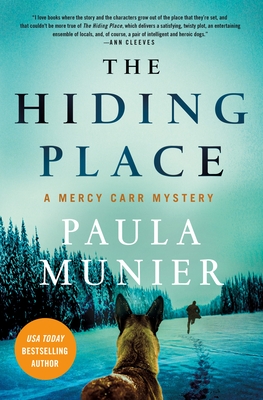 The Hiding Place
A Mercy Carr Mystery
Hardcover

* Individual store prices may vary.
Description
Mercy and Elvis are back in The Hiding Place, the most enthralling entry yet in USA Today bestselling Paula Munier's award-winning Mercy Carr mystery series. When the man who killed her grandfather breaks out of prison and comes after her grandmother, Mercy must unearth the long-buried scandals that threaten to tear her family apart. And she may have to do it without her beloved canine partner Elvis, if his former handler has his way….

Some people take their secrets with them to the grave. Others leave them behind on their deathbeds, riddles for the survivors to solve.

When her late grandfather's dying deputy calls Mercy to his side, she and Elvis inherit the cold case that haunted him—and may have killed him. But finding Beth Kilgore 20 years after she disappeared is more than a lost cause. It's a Pandora's box releasing a rain of evil on the very people Mercy and Elvis hold most dear.

The timing couldn't be worse when the man who murdered her grandfather escapes from prison and a fellow Army vet turns up claiming that Elvis is his dog, not hers. With her grandmother Patience gone missing, and Elvis's future uncertain, Mercy faces the prospect of losing her most treasured allies, the only ones she believes truly love and understand her.

She needs help, and that means forgiving Vermont Game Warden Troy Warner long enough to enlist his aid. With time running out for Patience, Mercy and Elvis must team up with Troy and his search-and-rescue dog Susie Bear to unravel the secrets of the past and save her grandmother—before it's too late.

Once again, Paula Munier crafts a terrific mystery thriller filled with intrigue, action, resilient characters, the mountains of Vermont, and two amazing dogs.
Praise For The Hiding Place: A Mercy Carr Mystery…
Praise for The Hiding Place:

"I love books where the story and the characters grow out of the place that they're set, and that couldn't be more true of The Hiding Place, which delivers a satisfying, twisty plot, an entertaining ensemble of locals and, of course, a pair of intelligent and heroic dogs." —Ann Cleeves, New York Times Bestselling Author of the Vera and Shetland series

"Mercy Carr lives in a winter world of snow, ice, and tangled relationships, but one love is clear—her rescue dog Elvis owns her heart and a chunk of her past. While the weather may be cold, the action is hot and Paula Munier delivers a very satisfying mystery with strong emotional anchors. This is a book mystery and dog lovers will adore. Highly recommended." —Carolyn Haines, USA Today bestselling author of the Sarah Booth Delaney mysteries

"I don't know the last time a mystery made me sob, but Paula Munier managed it with The Hiding Place...It's frightening at times, but it's also emotional. Munier is going to have to up her game to top this outstanding mystery." —Lesa's Book Critiques blog

"[The] characters of both Mercy and Elvis are quickly developing into classics." —Aunt Agatha's Bookstore

"With solid characters and two working dogs who are ready to search for the bad guys as well as the missing persons, this is a good mystery series for the dog lover." —Parkersburg News and Sentinel

"The sequel to Blind Search is a riveting, fast-paced story of family and small-town secrets. Tension builds quickly in the emotional story involving unforgettable working dogs and the people who love them." —Library Journal (starred review)

"[The] mysteries and thrilling chases compound, culminating in a lengthy, frightening scene that will keep readers gripped. Munier unobtrusively paints vivid pictures of both rural Vermont and family life as her exciting story unfolds." —Booklist

"Munier combines a complex plot with well-defined characters, both human and canine, as she keeps readers guessing. This action- and emotion-packed novel will hold a special appeal for dog lovers." —Publishers Weekly

"Another exciting, complex, dog-centric mystery that explores the heroine's inner strength and power to love." —Kirkus

"Twisty and tense, with occasional heroics by the dogs, The Hiding Place is a satisfying entry in this series" —Shelf Awareness

Praise for Blind Search:

"There's so much to praise here: Munier's deep knowledge of the culture of hunting (especially the bow-and-arrow variety); her brisk, incisive characterizations; the way she maintains a taut line of suspense throughout; and, best of all, her portrayals of wounded yet still courageous pairs of humans and dogs. A not-to-be-missed K-9 mystery." —Booklist

"Munier's affection for the dogs she depicts, as well as Henry's sweet bond with them, will warm hearts. Readers will look forward to the irresistible Mercy and Elvis's next adventure." —Publishers Weekly

"'Blind Search' reads like a treatise on how to craft a thriller bursting at the seams with converging subplots without ever moving us to throw up our hands in exasperation. Indeed, we're too busy using our fingers to turn the pages." —John Land for Providence Journal

Praise for A Borrowing of Bones:

"Munier's perfectly paced tale crackles with fast-paced dialogue and elegant descriptions that would make the likes of John Hart and James Lee Burke proud. But it's her writing about animals, dogs in particular, that truly sparkles and distinguishes her from the pack." —Jon Land, Booktrib

"Comparisons may be made between Munier's debut mystery and Margaret Mizushima's Timber Creek K-9 mysteries. A stronger read-alike is Julia Spencer Fleming's mysteries featuring Rev. Clare Fergusson, another female veteran. The believable dogs, the touches of humor, the independent, determined Mercy, and well-crafted characters will bring readers back." —Library Journal (starred review and debut of the month)

"The portrayal of working dogs will appeal to fans of David Rosenfelt and Margaret Mizushima. The blend of lovingly detailed setting and lively characters, both human and canine, makes this a series to watch." —Publishers Weekly
Minotaur Books, 9781250153074, 336pp.
Publication Date: March 30, 2021
About the Author
PAULA MUNIER is a literary agent and the USA TODAY bestselling author of the Mercy Carr mysteries. A Borrowing of Bones, the first in the series, was nominated for the Mary Higgins Clark Award and named the Dogwise Book of the Year. Blind Search was inspired by the real-life rescue of a little boy with autism who got lost in the woods. The Hiding Place debuted in March 2021. Paula credits the hero dogs of Mission K9 Rescue, her own rescue dogs, and a deep love of New England as her series' major influences. Paula has also written the popular books on writing: Plot Perfect, The Writer's Guide to Beginnings, and Writing with Quiet Hands, as well as Fixing Freddie and Happier Every Day. She lives in New England with her family and Bear the Newfoundland-retriever rescue, Bliss the Great Pyrenees-Australian cattle dog rescue, pandemic puppy Blondie, a Malinois rescue (much like Elvis in her books), and Ursula The Cat, a rescue torbie tabby who does not think much of the dogs.