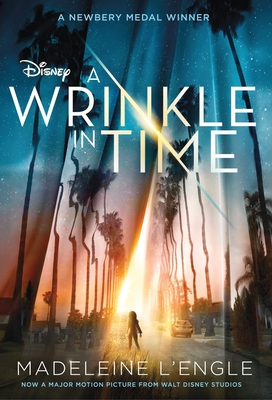 A Wrinkle in Time Movie Tie-In Edition (A Wrinkle in Time Quintet #1) (Paperback)
Square Fish, 9781250153272, 256pp.
Publication Date: November 7, 2017
Other Editions of This Title:
Digital Audiobook (1/9/2012)
Paperback (5/1/2007)
Paperback (3/31/2015)
Hardcover (1/1/1962)
Hardcover (9/1/2019)
Mass Market (5/1/2007)
Hardcover (10/2/2012)
Hardcover (11/7/2017)
CD-Audio (1/10/2012)
Prebound (5/1/2007)
Paperback, Large Print (4/1/2018)
Prebound (1/31/2012)
Prebound (3/31/2015)
Prebound (5/1/2007)
Prebound (5/1/2007)
Prebound (1/31/2012)
Pre-Recorded Audio Player (8/25/2006)
* Individual store prices may vary.
Description
A movie tie-in edition to the upcoming major motion picture, now including an introduction by director Ava DuVernay.
In 1962, Madeleine L'Engle debuted her novel A Wrinkle in Time, which would go on to win the 1963 Newbery Medal. Bridging science and fantasy, darkness and light, fear and friendship, the story became a classic of children's literature and is beloved around the world. Now Disney is taking it to the silver screen! With an all-star cast that includes Oprah Winfrey, Reese Witherspoon, Mindy Kaling, Chris Pine, and newcomer Storm Reid, the major motion picture bring the world of Wrinkle to life for a new generation of fans.
This movie tie-in edition of the timeless novel features the complete, unabridged original text; an introduction by the film's director, Ava DuVernay (Selma); and eight pages of photos from the movie. This title has Common Core connections.
Praise for A Wrinkle in Time:
"One of America's most beloved stories." —Andrew Liptak in Kirkus
"A coming of age fantasy story that sympathizes with typical teen girl awkwardness and insecurity, highlighting courage, resourcefulness and the importance of family ties as key to overcoming them." —Carol Platt Liebau, author, in the New York Post
"An exhilarating experience." —Kirkus Reviews
"This imaginative book will be read for a long time into the future." —Children's Literature
"A Wrinkle in Time is one of my favorite books of all time. I've read it so often, I know it by heart. Meg Murry was my hero growing up. I wanted glasses and braces and my parents to stick me in an attic bedroom. And I so wanted to save Charles Wallace from IT." —Meg Cabot
"A book that every young person should read, a book that provides a road map for seeking knowledge and compassion even at the worst of times, a book to make the world a better place." —Cory Doctorow
"[L'Engle's] work is one of the things that made me a writer, a science fiction and fantasy fan, an avid reader. Hers were the first books I read that mixed math and magic, the quest and the quantum." —Scott Westerfeld
"A Wrinkle in Time taught me that you can tackle even the deepest and most slippery concepts of physics and philosophy in fiction for young readers. It's a great lesson for all writers, and a tough tesseract to follow." —David Lubar
About the Author
Madeleine L'Engle (1918-2007) was the Newbery Medal-winning author of more than 60 books, including the much-loved A Wrinkle in Time. Born in 1918, L'Engle grew up in New York City, Switzerland, South Carolina and Massachusetts. Her father was a reporter and her mother had studied to be a pianist, and their house was always full of musicians and theater people. L'Engle graduated cum laude from Smith College, then returned to New York to work in the theater. While touring with a play, she wrote her first book, The Small Rain, originally published in 1945. She met her future husband, Hugh Franklin, when they both appeared in The Cherry Orchard. Upon becoming Mrs. Franklin, L'Engle gave up the stage in favor of the typewriter. In the years her three children were growing up, she wrote four more novels. Hugh Franklin temporarily retired from the theater, and the family moved to western Connecticut and for ten years ran a general store. Her book Meet the Austins, an American Library Association Notable Children's Book of 1960, was based on this experience. Her science fantasy classic A Wrinkle in Time was awarded the 1963 Newbery Medal. Two companion novels, A Wind in the Door and A Swiftly Tilting Planet (a Newbery Honor book), complete what has come to be known as The Time Trilogy, a series that continues to grow in popularity with a new generation of readers. Her 1980 book A Ring of Endless Light won the Newbery Honor. L'Engle passed away in 2007 in Litchfield, Connecticut.
Praise For A Wrinkle in Time Movie Tie-In Edition (A Wrinkle in Time Quintet #1)…
"One of America's most beloved stories." —Andrew Liptak in Kirkus
"A coming of age fantasy story that sympathizes with typical teen girl awkwardness and insecurity, highlighting courage, resourcefulness and the importance of family ties as key to overcoming them." —Carol Platt Liebau, author, in the New York Post
"An exhilarating experience." —Kirkus Reviews
"This imaginative book will be read for a long time into the future." —Children's Literature
"A Wrinkle in Time is one of my favorite books of all time. I've read it so often, I know it by heart. Meg Murry was my hero growing up. I wanted glasses and braces and my parents to stick me in an attic bedroom. And I so wanted to save Charles Wallace from IT." —Meg Cabot
"A book that every young person should read, a book that provides a road map for seeking knowledge and compassion even at the worst of times, a book to make the world a better place." —Cory Doctorow
"[L'Engle's] work is one of the things that made me a writer, a science fiction and fantasy fan, an avid reader. Hers were the first books I read that mixed math and magic, the quest and the quantum." —Scott Westerfeld
"A Wrinkle in Time taught me that you can tackle even the deepest and most slippery concepts of physics and philosophy in fiction for young readers. It's a great lesson for all writers, and a tough tesseract to follow." —David Lubar