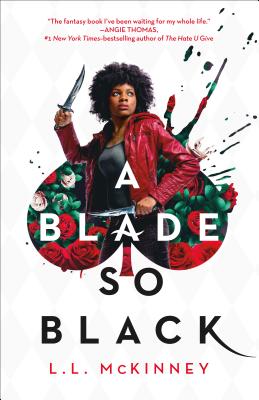 A Blade So Black (The Nightmare-Verse #1) (Hardcover)
Imprint, 9781250153906, 384pp.
Publication Date: September 25, 2018
Other Editions of This Title:
Digital Audiobook (10/8/2018)
Paperback (9/24/2019)
CD-Audio (10/23/2018)
* Individual store prices may vary.
Description
"Mixing elements of Alice in Wonderland and Buffy the Vampire Slayer... a delectable urban twist on beloved fantasy tales." —Entertainment Weekly

"This really is Lewis Carroll by way of Buffy, and it makes for a fun, gritty urban fantasy." —NPR
"A brash, refreshing, vitally diverse retelling of a classic... You need this book." —Tor.com
A Blade So Black delivers an irresistible urban fantasy retelling of Alice in Wonderland . . . but it's not the Wonderland you remember.
The first time the Nightmares came, it nearly cost Alice her life. Now she's trained to battle monstrous creatures in the dark dream realm known as Wonderland with magic weapons and hardcore fighting skills. Yet even warriors have a curfew.
Life in real-world Atlanta isn't always so simple, as Alice juggles an overprotective mom, a high-maintenance best friend, and a slipping GPA. Keeping the Nightmares at bay is turning into a full-time job. But when Alice's handsome and mysterious mentor is poisoned, she has to find the antidote by venturing deeper into Wonderland than she's ever gone before. And she'll need to use everything she's learned in both worlds to keep from losing her head . . . literally.
Debut author L.L. McKinney delivers an action-packed twist on an old classic, full of romance and otherworldly intrigue.
An Imprint Book

"With memorable characters and page-turning thrills, A Blade So Black is the fantasy book I've been waiting for my whole life. Alice is Black Girl Magic personified."
—Angie Thomas, #1 New York Times-bestselling author of The Hate U Give

"I loved the 'our world' framing and the 'other world' adventure so deeply. They were at such odds, but the overall effect was just chefkiss.gif perfect."
—E.K. Johnston, #1 New York Times-bestselling author of Star Wars: Ahsoka and A Thousand Nights
"Wholly original and absolutely thrilling—A Blade So Black kicks so much (looking gl)ass."
—Heidi Heilig, author of The Girl From Everywhere
"A dark, thrilling fantasy-meets-contemporary story with a kickass heroine." —Bustle
"Retold fairy tales have been a popular trend... but you've never read one quite like A Blade So Black." —Nerdist
"An action-packed twist on an old classic, full of romance and otherworldly intrigue." —The Mary Sue
"A Blade So Black is a novel that roars mightily in the face of all those Wonderland tales that have come before. L.L. McKinney is on her way to someplace special with this debut; get onboard now." —Locus magazine
"This isn't a retelling, this is Alice in Wonderland 2.0." —BlackSci-Fi.com
"An epic about Black Girl Magic." —We Need Diverse Books blog
* "An explosive, kickass debut... The Alice in Wonderland retelling the world has always needed." —Booklist, starred review
"Relentless action, spiraling stakes, and a fierce heroine... A heartbreaking cliffhanger will leave fans clamoring for a sequel." —Publishers Weekly
"A thrilling, timely novel that ensures readers will be curious for a sequel." —Kirkus Reviews

"With a modern flair, a rich backstory, and just enough emotional heft, this particular looking glass will have readers eagerly falling through it." —The Bulletin

"Teens will root for Alice as a strong, multidimensional black girl usually unseen in YA fiction... A must-purchase." —School Library Journal

"A Blade So Black is a modernized version of a well-known story that retains enough of the original to be lauded by both fans of the classic and readers wholly new to Wonderland." —Shelf Awareness
About the Author
L.L. McKinney is a writer, a poet, and an active member of the kidlit community. She's an advocate for equality and inclusion in publishing, and the creator of the hashtag #WhatWoCWritersHear. She's spent time in the slush by serving as a reader for agents and participating as a judge in various online writing contests. She's also a gamer girl and an adamant Hei Hei stan. A Blade So Black is her debut novel.
Praise For A Blade So Black (The Nightmare-Verse #1)…
"With memorable characters and page-turning thrills, A Blade So Black is the fantasy book I've been waiting for my whole life. Alice is Black Girl Magic personified."
—Angie Thomas, #1 New York Times-bestselling author of The Hate U Give

"I loved the 'our world' framing and the 'other world' adventure so deeply. They were at such odds, but the overall effect was just chefkiss.gif perfect."
—E.K. Johnston, #1 New York Times-bestselling author of Star Wars: Ahsoka and A Thousand Nights
"Wholly original and absolutely thrilling—A Blade So Black kicks so much (looking gl)ass."
—Heidi Heilig, author of The Girl From Everywhere
"Mixing elements of Alice in Wonderland and Buffy the Vampire Slayer... a delectable urban twist on beloved fantasy tales." —Entertainment Weekly

"This really is Lewis Carroll by way of Buffy, and it makes for a fun, gritty urban fantasy." —NPR
"A dark, thrilling fantasy-meets-contemporary story with a kickass heroine." —Bustle
"Retold fairy tales have been a popular trend... but you've never read one quite like A Blade So Black." —Nerdist
"An action-packed twist on an old classic, full of romance and otherworldly intrigue." —The Mary Sue
"A brash, refreshing, vitally diverse retelling of a classic... You need this book." —Tor.com
"A Blade So Black is a novel that roars mightily in the face of all those Wonderland tales that have come before. L.L. McKinney is on her way to someplace special with this debut; get onboard now." —Locus magazine
"This isn't a retelling, this is Alice in Wonderland 2.0." —BlackSci-Fi.com
"An epic about Black Girl Magic." —We Need Diverse Books blog
* "An explosive, kickass debut... The Alice in Wonderland retelling the world has always needed." —Booklist, starred review
"Relentless action, spiraling stakes, and a fierce heroine... A heartbreaking cliffhanger will leave fans clamoring for a sequel." —Publishers Weekly
"A thrilling, timely novel that ensures readers will be curious for a sequel." —Kirkus Reviews

"With a modern flair, a rich backstory, and just enough emotional heft, this particular looking glass will have readers eagerly falling through it." —The Bulletin

"Teens will root for Alice as a strong, multidimensional black girl usually unseen in YA fiction... A must-purchase." —School Library Journal

"A Blade So Black is a modernized version of a well-known story that retains enough of the original to be lauded by both fans of the classic and readers wholly new to Wonderland." —Shelf Awareness