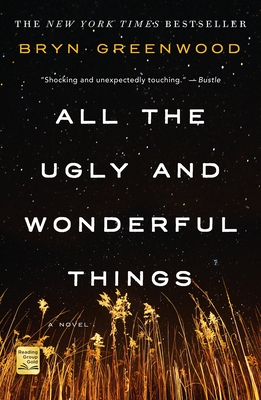 All the Ugly and Wonderful Things
A Novel
Paperback

* Individual store prices may vary.
Other Editions of This Title:
MP3 CD (10/25/2016)
Compact Disc (12/3/2019)
Library Binding, Large Print (1/17/2018)
Description
- A New York Times and USA Today bestseller
- Book of the Month Club 2016 Book of the Year
- Second Place Goodreads Best Fiction of 2016

A beautiful and provocative love story between two unlikely people and the hard-won relationship that elevates them above the Midwestern meth lab backdrop of their lives.

As the daughter of a drug dealer, Wavy knows not to trust people, not even her own parents. It's safer to keep her mouth shut and stay out of sight. Struggling to raise her little brother, Donal, eight-year-old Wavy is the only responsible adult around. Obsessed with the constellations, she finds peace in the starry night sky above the fields behind her house, until one night her star gazing causes an accident. After witnessing his motorcycle wreck, she forms an unusual friendship with one of her father's thugs, Kellen, a tattooed ex-con with a heart of gold.

By the time Wavy is a teenager, her relationship with Kellen is the only tender thing in a brutal world of addicts and debauchery. When tragedy rips Wavy's family apart, a well-meaning aunt steps in, and what is beautiful to Wavy looks ugly under the scrutiny of the outside world. A powerful novel you won't soon forget, Bryn Greenwood's All the Ugly and Wonderful Things challenges all we know and believe about love.

31 Books Bringing the Heat this Summer —Bustle

Top Ten Hottest Reads of 2016 —New York Daily News

Best Books of 2016 —St. Louis Post Dispatch
Praise For All the Ugly and Wonderful Things: A Novel…
"If you're looking for a dangerous, shocking, and unexpectedly touching story, this is it...This is a book that will shake you to the core." —Bustle "31 Books Bringing the Heat this Summer"

"Captivating and smartly written from the first page, Greenwood's work is instantly absorbing. Pithy characters saunter, charge or stumble into each scene via raw, gripping narrative. . . . [Greenwood] tells her story as if lifting a cloth thread by thread, revealing heartbreaking landscapes and riveting dialogue in perfect timing. This book won't pull at heartstrings but instead yank out the entire organ and shake it about before lodging it back in an unfamiliar position." —Christina Ledbetter, The Associated Press

"This book destroyed me. I have never read anything like it. I came to the end of the novel with my mind-reeling, my emotions scattered, and completely unsure exactly what I did feel about it...but one thing is certain: I felt. Oh hell, I felt. I don't think I'll ever get these characters off my mind." —Emily May, #1 Worldwide most popular reviewer, Goodreads

"The title says it all. You will hold your little heart in your hands and keep blowing on it to make sure it's alive." —The Top Ten Hottest Reads of 2016, New York Daily News

"This is one of those books whose story, if you heard about it on the news or glimpsed some sensationalist headline, would be horrifying, but in THIS book, with THESE characters, where you are privy to interior monologues and backstories and a hundred examples of what defines them as people, it makes sense. It's two damaged people finding something in the other that answers a need, and it's unexpectedly touching. It's so, so impressive. Vibrant. Heartbreaking. Sympathetic. Her writing is astonishing." —Karen, #1 US most popular reviewer, Goodreads

"Bryn Greenwood's All the Ugly and Wonderful Things [is] so freakishly good and dangerous that it should come with a warning label... The writing is direct and muscular, a snake with all the slithery danger of a coiled rattler on a hot rock. VERDICT: Greenwood (from Kansas, daughter of a "mostly reformed drug dealer") astounds in creating a world where assorted murderers, felons, and thieves are sympathetic." —Library Journal

"Bryn Greenwood has handed readers a strange - but strangely grabbing - tale." —Harry Levins, St. Louis Post Dispatch, Best of 2016

"Greenwood's haunting novel...is a story that will stay with readers long after the book is finished." —Lisa McLendon, The Wichita Eagle

"[A] powerful, provocative debut...intelligent, honest, and unsentimental." —Kirkus Reviews (STARRED)

"An emotionally resonant novel with an unlikely cast of characters you won't soon forget. Bryn Greenwood's unique voice and her understanding of human nature offer an amazing tale of family, loss, and love that's as unpredictable and inspiring as love itself." —Brunonia Barry, New York Times bestselling author of The Lace Reader

"Written in lyrical and searingly honest prose, Bryn Greenwood tells a powerful story of love and resilience against the bleakest of backdrops. Like the best fiction, this is a novel that means to disturb and challenge as it forces us to look with compassion on every last one of its flawed, memorable characters. I was captivated from the first page to the last." —Patry Francis, three time nominee for the Pushcart Prize and author of The Orphans of Race Point

"Gritty and dark and tough and uncomfortable, but it's brilliantly constructed...Greenwood develops an incredible and resilient character in Wavy. It's an outstanding debut novel and I am itching for Greenwood's next book." —Kelly Jensen, Book Riot

"Greenwood is a gifted writer, and Wavy's story will stick to your bones long after you put this book down. These characters will fast become friends, and you will find yourself reluctant to leave their ugly and wonderful little world." —Madeline Lemieux, Creative Loafing Charlotte

"Incredible book alert...Another true page turner as Greenwood takes her reader on an emotional bungee jump that requires you to decide for yourself what you can and can not accept given the grimmest of circumstances." (5 out of 5 stars) —Erin Woodward, The Girly Book Club

"All the Ugly and Wonderful Things is just that: ugly and wonderful all at the same time. An epic love story...This book will be the birth of a vibrant debate about the law and societal norms as your book club members will truly be divided by the actions of our male lead. I'd love to be a fly on the wall for this one!" —InStyle UK

"Achingly raw and beautifully written, All the Ugly and Wonderful Things is both a hypnotic coming-of-age story and a heartbreaking tragedy. Greenwood's emotional prose and her well-drawn characters immediately drew me in and kept me captivated. I'm still thinking about Wavy, and her ugly and wonderful world, long after I've turned the last page." —Jillian Cantor, author of Margot and The Hours Count

"Bryn Greenwood is so good it hurts. Her writing is lean, precise, elegant and dripping with the telling detail-the understated bit of dialogue that reveals everything." —Robert Ferrigno, New York Times bestselling author of Monkey Boyz, Horse Latitudes, the Prayer for the Assassin trilogy and other novels

"The author skillfully creates widely varied and original voices... a memorable coming-of-age tale about loyalty, defiance, and the power of love under the most improbable circumstances." —Publishers Weekly
A Thomas Dunne Book for St. Martin's Griffin, 9781250153968, 432pp.
Publication Date: October 3, 2017
About the Author
Bryn Greenwood is a fourth-generation Kansan, and the daughter of a mostly reformed drug dealer. She earned an MA from Kansas State University and continues to work in academia as an administrator. Her essays and short fiction have appeared in The New York Times, Chiron Review, Kansas Quarterly, Karamu, and The Battered Suitcase. She lives in Lawrence, Kansas.
1. From the first moment we meet Wavy, her life is filled with rules. Most are her mother's rules, but some are hers. What rules are holding Wavy back and which ones does she use to construct a sense of safety? How do the rules change as she grows up?
2. Wavy's fears and her efforts to resist fear are major themes in the story. How does the refrain "nothing left to be afraid of" guide Wavy's life?
3. More than once, it's remarked that the kitchen door of the farmhouse is unlocked, and Wavy points out that there isn't even a key to that door. On a practical level, what does it say about Wavy and the people around her that this door is never locked? As a metaphor, what does it tell us?
4. Kellen is a murderer and Wavy knows this from an early point in her relationship with him. How is she able to know this while still considering him a good person? What things in her life have prepared her to accept two seemingly contradictory ideas? How do you feel about this paradox?
5. The book provides multiple points of view of Wavy and Kellen, including their own. How are your impressions of them altered by a narrator's biases? Who seems like the most reliable narrator? Who seems the least reliable? How do you decide whose opinion to trust?
6. Aunt Brenda's perspective is the one that most clearly correlates to our current social attitudes toward relationships like Wavy and Kellen's, but is she the hero of this story? To what degree do you sympathize with her?
7. Compared to Wavy, her cousins and her college roommate are ostensibly the product of "normal" upbringings. In what ways are they more emotionally healthy than Wavy? In what ways do they have similar emotional issues?
8. Until 2006, the state of Kansas had no law requiring a minimum age for marriage, as long as the underage bride or groom had parental or judicial consent. On occasion this produced child brides far younger than Wavy would have been. The law now sets the minimum age at fifteen, a year younger than the age of consent. How does marriage change our views of what would otherwise be statutory rape? What if Kellen's wish had come true, and he and Wavy had married after her fourteenth birthday? How would we view that relationship once it was sealed by law?
9. When we talk about "consent" we have a bad habit of restricting it to the question of sex, but what other types of consent are at play in the story? Stress is placed on Wavy's capacity to consent to a sexual relationship with Kellen, but what about her capacity to consent or refuse consent to other things?
10. Of the female role models in Wavy's life, which has the greatest effect on her? How do these role models color her views about herself and her relationships?
11. As much as we may wish for Wavy and Kellen's relationship to remain platonic, what do you feel contributes to its steady shift toward becoming first romantic and then sexual? What might have happened if it had remained platonic?
12.Amy narrates a large portion of Wavy's life, while only revealing parts of her own. How does she choose what to reveal and what to hide? And why might she prefer to tell Wavy's story over her own?
13.What is the dynamic between Wavy and Kellen as husband and wife at the end? Who do you see as the decision maker? The moral compass? What other roles have they taken on, and how comfortable are they in those roles? Considering their backgrounds, how likely are they to succeed in creating a healthy relationship and a "normal" family?