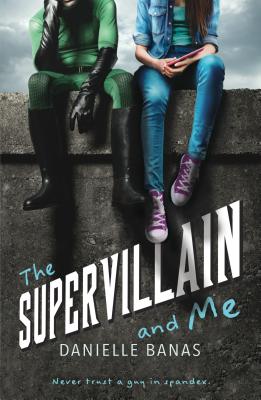 The Supervillain and Me (Hardcover)
Swoon Reads, 9781250154354, 320pp.
Publication Date: July 10, 2018
Other Editions of This Title:
Paperback (7/9/2019)
* Individual store prices may vary.
Description
As witty as it is heartpounding, this fresh take on the beloved superhero genre is all about finding your own way to shine even when it seems everyone else around you is, well... super.
Never trust a guy in spandex.
In Abby Hamilton's world, superheroes do more than just stop crime and save cats stuck in trees—they also drink milk straight from the carton and hog the television remote. Abby's older brother moonlights as the famous Red Comet, but without powers of her own, following in his footsteps has never crossed her mind.
That is, until the city's newest vigilante comes bursting into her life.
After saving Abby from an attempted mugging, Morriston's fledgling supervillain Iron Phantom convinces her that he's not as evil as everyone says, and that their city is under a vicious new threat. As Abby follows him deeper into their city's darkest secrets, she comes to learn that heroes can't always be trusted, and sometimes it's the good guys who wear black.
Chosen by readers like you for Macmillan's young adult imprint Swoon Reads, The Supervillain and Me is a hilarious, sweet, and action-packed novel by debut author Danielle Banas that proves no one is perfect, not even superheroes.
Praise for The Supervillain and Me:

"Get ready for a wild ride in this zany, high-action thriller." —Booklist

"Banas adeptly keeps readers guessing about Iron Phantom's identity and provides plenty of romantic tension, which will satisfy even die-hard fans of the genre." —School Library Journal
"Hilarious ... A zany, action-packed adventure." —VOYA
About the Author
Danielle Banas, a Pittsburgh native, earned a degree in communication from Robert Morris University. After years spent dreaming up characters instead of paying attention in class, Danielle joined the storytelling platform Wattpad, where her work has received millions of views online. When she isn't writing, she can be found loudly singing show tunes, spouting off Walt Disney World trivia, and snuggling with her puppy. The Supervillain and Me is her debut novel.
Praise For The Supervillain and Me…
The Supervillain and Me:

"Get ready for a wild ride in this zany, high-action thriller about good versus evil in the comic-book-universe city of Morriston. ... Realistic high-school scenarios and well-drawn characters add to the thought-provoking layers embedded in the action that address such tough issues as the prospect of high-tech mind control to solve crime and the devastation violence wreaks on families. Best of all, with a nod to gender equity, Abby does just fine helping to right her world in the climactic final scene, even without superpowers." —Booklist

"Underneath all of the action and intrigue of this adventure lies an interesting premise: living amongst superheroes from the point of view of the ordinary and powerless. Banas adeptly keeps readers guessing about Iron Phantom's identity and provides plenty of romantic tension, which will satisfy even die-hard fans of the genre." —School Library Journal

"Hilarious ... A zany, action-packed adventure ... Especially appealing is Abby discovering that her capabilities are different but equally as significant as the boys', with neither spandex nor superpowers necessary." —VOYA

"I can already tell you that Danielle Banas is going to become one of my insta buy authors–her writing style has to be one of my favorite that I've read in a while, and I can't wait to see what she comes out with next. ... Banas does a fantastic job of pulling the reader in with her fun and easy to follow writing style, and I found myself laughing out loud on several occasions. Overall, I thought the story was perfectly paced with no dull moments, and I just couldn't put it down." —Vibrant Reads
"Danielle Banas has written a stunning and heart-warming debut about family, first love, and what it really means to be a hero." —Buried in a Bookshelf
"It has the perfect balance of mystery, romance, and everyday teenage angst—with a whole heap of superhero on top!" —SineadH93, reader on SwoonReads.com
"Action, comedy, romance, you name it, this book has got it! The only suggestion I have for improvement is that it needs to be published then made into a film so that I can sit in a cinema and squeal like the pathetic fangirl that I am. Love it!!" —KayleyKing, reader on SwoonReads.com
"A perfect blend of adventure, humor, and romance. Definitely one of my favorite stories!" —Sarah Metcalfe, reader on SwoonReads.com