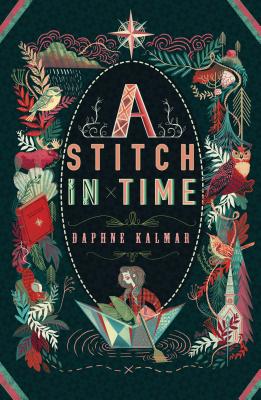 A Stitch in Time
Hardcover

* Individual store prices may vary.
Other Editions of This Title:
Paperback (1/1/2023)
Description
NPR's Best Book of 2018

An orphan grapples with her unpleasant aunt and the even more unpleasant idea of moving to Boston in this poignant middle-grade debut that handles loss and renewal.

"Heartbreaking and heartwarming at the same time, Donut's story is gritty, hopeful and ultimately all about the various ways that love shows up. I loved it."--Kathi Appelt, author of the Newbery Honor and National Book Award finalist novel The Underneath

"Taxidermy? What better journey to uncover the true stuff of character! A classic, indelible debut."--Rita Williams-Garcia, author of the Newbery Honor novel One Crazy Summer

Donut is an eleven-year old geography buff who keeps her taxidermied mice hidden in her late mother's hope chest. Her pops passed away, leaving her an orphan. Aunt Agnes has moved in, bringing along her lumpy oatmeal, knitting, and a plan to drag Donut off to Boston forever.

Donut stands to lose everything: her friends, her village, her home, the woods, and walks where the memories of her pops are stored up.

While Donut dodges the ache of missing her pops, she and her best friend Tiny plan how to keep her where she belongs.

A Stitch in Time by Daphne Kalmar is shot through with gorgeous, evocative language, and gets right to Donut's heart.
Praise For A Stitch in Time…
"Written in the third person limited to Donut's perspective, Kalmar's debut has an authentic voice that brings her protagonist vividly to life and lends her struggles with grief an immediacy that belies the 1927 setting. Donut is brassy and flawed but easy to love, especially in light of how much she values friendships and her growing self-awareness."--Booklist, starred review

"Kalmar introduces a delightfully intricate character in Donut, whose passions include bird taxidermy, memorizing tidbits from the atlas Pops gave her, and her friendships with affectingly portrayed Vermonters. The author leaves readers knowing that her insightful, articulate, and wry heroine will land—solidly—on her feet."--Publishers Weekly, starred review

"Kalmar transports readers into the woods of Vermont with her vivid descriptions. Readers will empathize with Donut's heartache over the loss of her father and her fierce desire to resist change at all costs. A superb read-aloud, educators and readers will find much to discuss."--School Library Journal

"Readers with an interest in historical fiction will appreciate this energetic and lively heroine dealing with loss as best as she can."--Bulletin of the Center for Children's Books

"For more than 20 years, debut novelist Daphne Kalmar was a teacher who loved introducing her students to the natural world. Her affection for the animals and landscapes of Vermont's northern kingdom is apparent throughout A Stitch in Time, but what will really win over readers is her novel's heroine. With her big heart and an openness to adventure, Donut is an affecting blend of toughness, vulnerability and fearlessness. A Stitch in Time would make a wonderful read-aloud and provides an opportunity for parents and children to talk about grief, love and self-reliance."—BookPage
Feiwel & Friends, 9781250154989, 176pp.
Publication Date: June 19, 2018
About the Author
Daphne Kalmar was an elementary and middle school teacher for over twenty years. Exploring the natural world with kids was her passion as an educator—she owned seventy-five pairs of rubber boots so she could outfit each new class in September and lead weekly expeditions to local creeks and ponds. She has an MFA from Vermont College of Fine Arts and is the author of A Stitch in Time, one of Bookpage and NPR's Best Books of 2018.