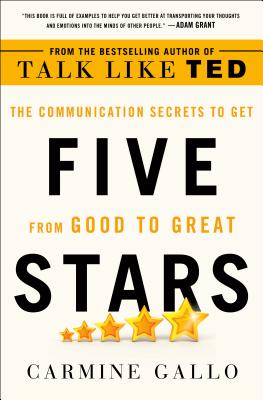 Five Stars
The Communication Secrets to Get from Good to Great
Hardcover

* Individual store prices may vary.
Other Editions of This Title:
Digital Audiobook (6/4/2018)
Paperback (7/23/2019)
Paperback, Chinese (10/1/2018)
CD-Audio (6/5/2018)
Description
"As technology threatens to displace countless jobs and skills, the ability to communicate is becoming more important than ever. This book is full of examples to help you get better at transporting your thoughts and emotions into the minds of other people." —Adam Grant, New York Times bestselling author of Give and Take, Originals, and Option B with Sheryl Sandberg

How to master the art of persuasion—from the bestselling author of Talk Like TED.
Ideas don't sell themselves. As the forces of globalization, automation, and artificial intelligence combine to disrupt every field, having a good idea isn't good enough. Mastering the ancient art of persuasion is the key to standing out, getting ahead, and achieving greatness in the modern world. Communication is no longer a "soft" skill—it is the human edge that will make you unstoppable, irresistible, and irreplaceable—earning you that perfect rating, that fifth star.
In Five Stars, Carmine Gallo, bestselling author of Talk Like TED, breaks down how to apply Aristotle's formula of persuasion to inspire contemporary audiences. As the nature of work changes, and technology carries things across the globe in a moment, communication skills become more valuable—not less. Gallo interviews neuroscientists, economists, historians, billionaires, and business leaders of companies like Google, Nike, and Airbnb to show first-hand how they use their words to captivate your imagination and ignite your dreams.
In the knowledge age—the information economy—you are only as valuable as your ideas. Five Stars is a book to help you bridge the gap between mediocrity and exceptionality, and gain your competitive edge in the age of automation.
In Five Stars, you will also learn:
-The one skill billionaire Warren Buffett says will raise your value by 50 percent.
-Why your job might fall into a category where 75 percent or more of your income relies on your ability to sell your idea.
-How Airbnb's founders follow a classic 3-part formula shared by successful Hollywood movies.
-Why you should speak in third-grade language to persuade adult listeners.
-The one brain hack Steve Jobs, Leonardo da Vinci, and Picasso used to unlock their best ideas.
Praise For Five Stars: The Communication Secrets to Get from Good to Great…
"An easy-to-read and practical journey through personal development, plus tips on structuring the storytelling that is still considered key to connecting with other people — and, crucially, with customers and investors in business."—Financial Times (Business Book of the Month)
"[A] to-the-point, appropriately persuasive guide to using narrative to build one's business or brand." —Publishers Weekly
"In Five Stars, communication coach Carmine Gallo skillfully builds the case that mastering the ancient art of persuasion is the key to thriving in a world of rapid technological change. Developing superior communication skills is no longer an option; it's fundamental for success. Five Stars is an enormously valuable tool for entrepreneurs and leaders in every field." —Tony Robbins, New York Times #1 bestselling author, philanthropist, & the nation's #1 life & business strategist
"Having worked at small startups as well as giant tech companies, I've worked with a lot of great people and a small number of really exceptional ones. In Five Stars, Carmine Gallo explains why the ability to communicate separates the 10xer. If your great ideas are locked in your head they are useless to you and your team. You have to be able to explain your ideas efficiently and persuasively. Anyone who hopes to survive and flourish in today's economy should read this book and learn." —Kim Scott, bestselling author of Radical Candor
"We live in an era of exponential growth technologies. Carmine Gallo brilliantly stretches our imagination how to use the art of persuasion to turn possibilities into probabilities. This is an amazing book every entrepreneur should read." —John Sculley, former Apple CEO, current RxAdvance Chairman
"As an entrepreneur, I know that my ability to effectively communicate and tell stories to our stakeholders is at the cornerstone of any success our business has ever enjoyed. In Five Stars, Carmine Gallo persuasively and entertainingly makes a compelling case for communication as the crucial differentiator of the digital age." —Danny Meyer, CEO, Union Square Hospitality Group and author of Setting the Table
St. Martin's Press, 9781250155139, 256pp.
Publication Date: June 5, 2018
About the Author
CARMINE GALLO, bestselling author of The Presentation Secrets of Steve Jobs, is the communications coach for the world's most admired brands. A former anchor and correspondent for CNN and CBS, Gallo is a popular keynote speaker who has worked with executives at Intel, Cisco, Chevron, Hewlett-Packard, Coca-Cola, Pfizer, and many others and writes the Forbes.com column "My Communications Coach." He lives in Pleasanton, California, with his wife and two daughters.
or
Not Currently Available for Direct Purchase