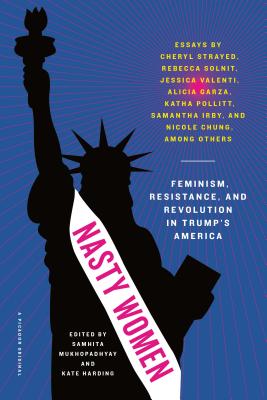 Nasty Women: Feminism, Resistance, and Revolution in Trump's America (Paperback)
Feminism, Resistance, and Revolution in Trump's America
Picador USA, 9781250155504, 256pp.
Publication Date: October 3, 2017
About the Author
Samhita Mukhopadhyay is a writer, editor and speaker. She is the former Senior Editorial Director of Culture and Identities at Mic and former Executive Editor of Feministing.com. She is also the author of Outdated: Why Dating is Ruining Your Love Life. Her work has appeared in Al Jazeera, The Guardian, NY Magazine, Medium, Talking Points Memo and Jezebel.Kate Harding is the author of Asking for It: The Alarming Rise of Rape Culture--and What We Can Do About It, which was chosen as a finalist for the Minnesota Book Award and as the freshman read for Tulane University's class of 2020. She is also a co-author (with Anna Holmes and Amanda Hess) of The Book of Jezebel and, with Marianne Kirby, of Lessons from the Fat-o-Sphere. In 2007, she founded the popular body image and self-acceptance blog Shapely Prose, and her writing has appeared in The Guardian, the Los Angeles Times, U.S. News and World Report, Cosmopolitan, Salon, Jezebel, and .Mic, among other publications.
Advertisement